Socceroos struggling for recognition
SYDNEY - Four years ago, Australia erupted in celebration when the Socceroos beat Uruguay in a penalty shootout to qualify for the World Cup for the first time in 32 years.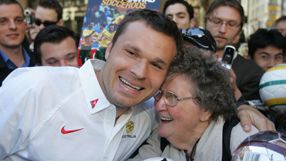 Australia are suddenly on the verge of qualifying for a second successive World Cup, but no-one is expecting any wild parties this time.
Part of the reason is that football has always struggled for mainstream recognition in Australia, but another part is that the Socceroos have become a victim of their own success.
Since ditching Oceania to join the Asian Football Confederation, Australia's progress to the World Cup has been all smooth sailing.
They are have not conceded a single goal in the final stage of qualifiers and need just one more point from their last three games to book their place in South Africa next year.
They could seal their spot as early as Saturday when they play Qatar in Doha and the odds are heavily stacked in their favour.
With all their top European players expected to be available, Australia will be close to full-strength and only needing a draw against a Qatar side sitting at the bottom of the pool A standings.
Despite the prospect of early qualification, the match has failed to garner the same interest as the corresponding game against Uruguay.
That match drew a full-house of 80,000 fans at Sydney's Olympic stadium and was watched by millions more on television while Saturday's game in Doha will be in the middle of the night Australian time.
Socceroos captain Lucas Neill said the players were no less excited despite the comparative lack of interest.
"It will be just as satisfying this time around," he told the Australian Associated Press at a training camp in Dubai.
"Playing in a World Cup, it's just the ultimate thing you can do as a player." Australia midfielder Tim Cahill said he was frustrated by the lack of recognition given to the team for their performances.
They have been criticised by sections of the Australian media for playing too defensively but Cahill said the results were proof their strategy was working.
"That's the thing I can't understand," Cahill said.
"The expectation level always rises, and we want it to, but we also want focus on the positives.
"I've not read anything positive about the manager, or really anything positive about the players and the team and although, to an extent, we haven't spanked teams ... the situation we're in is a huge positive.
"As a player, I find it fickle to hear (the criticism), going from never qualifying for the World Cup to qualifying for two in a row."
Thank you for reading 5 articles this month* Join now for unlimited access
Enjoy your first month for just £1 / $1 / €1
*Read 5 free articles per month without a subscription
Join now for unlimited access
Try first month for just £1 / $1 / €1