Guardiola spends week picking apart Goliath's tactics to see where he went wrong
Being massively better than opposition is not necessarily a bad thing, Back of the Net reveals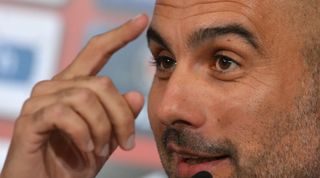 Manchester City boss Pep Guardiola has been analysing accounts of Goliath's defeat at the hands of David in the Valley of Elah, and has insisted that the favourite in the encounter would have won easily had he taken his chances.
City travel to Newport County in the FA Cup on Saturday, in a clash that has been dubbed a 'David v Goliath' encounter, and Guardiola has no problems with that tag.
Pointing out the gulf of class between Goliath and David, Guardiola guided the assembled press corps through the uncharacteristic tactical errors that the Philistine giant made that he has no intention of repeating.
Giant of the game
"People tend to forget that Goliath's record was phenomenal, while David is the Tim Buzaglo of the Biblical world," Guardiola told FourFourTwo.
"Sure, everyone will focus on the unexpected reverse against David, but why is nobody discussing Goliath's merciless victories over the assorted champions of the Israelite army?
"He put together an 80-game unbeaten run, so I would say that he's entitled to a bad day at the office, especially with the fixtures piling up like that.
"Of course you have to give credit to David, who played out of his skin that day, but you also have to question Goliath's defence. You can't allow your opponent to get a shot away from a sling from that range.
"It was a decent hit but you have to ask why Goliath didn't create any attacking movement while David was completely stationary, and ranting at length about the 'birds of the air and the wild beasts of the earth' – at this level, you have to take your chances."
If only he had Aguero
When asked whether he fears falling victim to an FA Cup upset at Rodney Parade, Guardiola seemed bemused and guided the room through the rudiments of Deuteronomistic history.
"You've got to remember here that Goliath captured the Ark of the Covenant and brought it to the temple of Dagon while wearing armour that weighed 60 tonnes," Guardiola pointed out.
"With the greatest of respect to Padraig Amond, I can't see him doing that.
"My game plan is to stove Newport's brains in immediately and without a morsel of humanity. And by that I mean for Sergio Aguero to score twice in the opening 20 minutes and for us to play keep-ball for the remaining 70."
Please note: Believe it or not, this satirical story is not real.
NOW TRY THIS... Sarri-ball has 'substantially different rules' to football, it emerges
Quizzes, features and footballing fun
Get the best features, fun and footballing frolics straight to your inbox every week.
Thank you for signing up to Four Four Two. You will receive a verification email shortly.
There was a problem. Please refresh the page and try again.