Sarri-ball has 'substantially different rules' to football, it emerges
Chelsea boss still planning to win second set, Back of the Net reports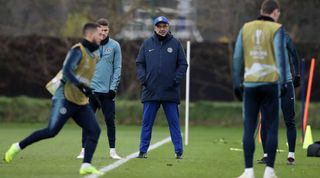 Sources inside the Chelsea camp have revealed that Maurizio Sarri may have a completely different idea of football's rules to everyone else after shrugging off a 6-0 loss to Manchester City surprisingly easily.
While players attending training today expected an ear bashing from the Italian tactician, he took the result in his stride, owing largely to his erroneous belief that the two sides were in a mid-match pause of some kind.
Iterating strongly his belief that 'he couldn't wait to get back out there' and that City 'won't know what hit them' in the 'second set', Sarri outlined his strategy for winning the game, which had ended in a comprehensive defeat yesterday evening.
Advantage City
"The gaffer insisted that while you never like to lose the first set to a bagel [6-0], it's not the end of the world," Cesar Azpilicueta told FourFourTwo.
"He then commended us on deciding that at 4-0 down we should conserve our energy for the second set rather than trying to chase down a lost cause.
"Finally he proposed how we could beat Manchester City 6-4 [in the EFL Cup final] to set up what he insisted would be a decider, which he was adamant we would win either 6-4 again or maybe 7-5."
Chelsea players had been keen to give Sarri time to implement his vision at the club, but after some strange training ground exercises they are beginning to feel the tactician's vision may be for an entirely different sport.
"He talks a lot about who is serving, considering that isn't actually a feature of football," Azpilicueta continued.
"Sometimes he seems to indicate that we can score 'bonus points' for playing five passes in a row between the same two players, which I'm not at all sure is the case.
"And he's absolutely sure that a team can't concede a penalty for a poorly-timed slide tackle in the box, and that if an opposition player is left unmarked in the six-yard box they actually can't score. Like the early FIFA games on the Mega Drive."
Maurizio's penny floater
There are reports that Sarri lost some of his more committed players towards the end of the session when he proudly brought out a 'Sarri ball' from his satchel and claimed that the yellow-and-black-striped ball, reminiscent of a playground flyaway with the manager's name crudely scribbled on it in marker pen, would be used for the remainder of the season's matches.
"The gaffer kept saying that he'd love to see [Kevin De Bruyne's] face when 'this bad boy' drops to him on the edge of the box," Azpilicueta said mournfully.
"Then he made us do kick-ups with it, which he believes are worth two goals apiece, before it got caught in a mild breeze and flew into the car park, an outcome he felt warranted 13 points of some kind."
Please note: believe it or not, this story isn't real.
Quizzes, features and footballing fun
Get the best features, fun and footballing frolics straight to your inbox every week.
Thank you for signing up to Four Four Two. You will receive a verification email shortly.
There was a problem. Please refresh the page and try again.