Frustration for Manchester United as Phil Jones subscription auto-renews
Nobody at Old Trafford got round to cancelling Phil Jones, Back of the Net reports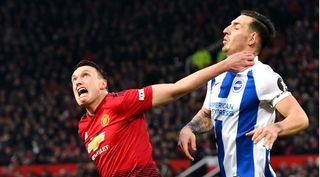 Manchester United have announced with a scowl that Phil Jones will remain at the club until 2023 after they failed to heed email warnings of the forthcoming extension.
Club officials were greeted by an email on Friday morning confirmed that Jones had auto-renewed and after a frenzy of fruitless clicking and sighing, United announced the news through their channels.
"This is how they get you," a Manchester United source told FourFourTwo.
Free trial
"We signed up for a free trial of Phil Jones and then that turned into a full, paid contract and now we've forgotten to cancel again so we're stuck with him for another four and a half years.
"From time to time we'd get emails about our Phil Jones subscription, but we'd just ignore them, just as we've done our best to ignore every other aspect of Phil Jones.
"Maybe we should've signed up to receive news of Phil Jones offers, updates and deals, but let's be honest nobody on earth would have ticked that box."
To soften the blow, United will now be sent some free Phil Jones accessories, such as a padded bench seat to keep him on and a replacement Phil Jones right knee.
"We made absolutely sure that this time we ticked the 'do not auto-renew' box, but it's shutting the stable door after Phil Jones has already bolted," the United source continued.
"By 2023, we'll have to pay for someone like Preston to take him away."
Office staff have been instructed to wade through the club's spam inbox to check for any further nasty surprises.
"We've cancelled the credit card we bought Matteo Darmian on just in case, you really can't be too safe," our source explained.
"So far though all we've found is lots of mailings for Ashley Young enlargement, a few approaches from Qatari royals and LinkedIn congratulating David Moyes on his work anniversary."
Please note: Believe it or not, this story isn't real. 
Quizzes, features and footballing fun
Get the best features, fun and footballing frolics straight to your inbox every week.
Thank you for signing up to Four Four Two. You will receive a verification email shortly.
There was a problem. Please refresh the page and try again.