In the mag: Stars of the World Cup! Messi and Ronaldo's last dance, Neymar and Mbappe's big chance and the birth of Jude Bellingham and Brennan Johnson. PLUS Nike Cage, Micah Richards, Fabio Grosso, Joshua Kimmich AND a mysterious World Cup curse
Get your hands on the latest issue of FourFourTwo magazine – available in print or on iPad and iPhone – from Wednesday, November 16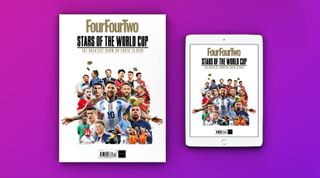 (Image credit: Future)
Order the new issue with free delivery here (opens in new tab) – just select 'December 2022'.
Subscribe to FourFourTwo today and save! You'll get 13 issues per year…
First a message from our editor, James Andrew:
Four years and four months on from Hugo Lloris lifting the World Cup as France triumphed in Moscow, we are back but this time in the desert. There are plenty of firsts for this edition: first time an Arab country has hosted the tournament, first one held in the winter, and the first time female referees have officiated at a men's tournament.
But it could also be the final time we see some of the game's greats. Qatar will give Lionel Messi and Cristiano Ronaldo one last shot at winning the World Cup, and in this issue we assess their chances of signing off on a high.
Four years ago, Germany arrived in Russia as defending champions but crashed out at the group phase, and in this issue Bayern Munich's Joshua Kimmich underlines their determination to do much better this time around.
And if Lloris and holders France are keen to avoid that same fate, they could do worse than read our 'winners' curse' feature and make sure their tournament doesn't unravel in the early stages.
Elsewhere, Nottingham Forest and Wales' Brennan Johnson sits down for a chat as he bids to build his cache on the global stage, and we revisit incredible stories behind 150 years of the Three Lions jersey. Enjoy the magazine.

Don't forget to click HERE to sign up to our daily tournament newsletter, bringing you all the latest news, views and reaction from Qatar. Enjoy the tournament.
Giant World Cup wallchart
All the groups, games, kick-offs, stadiums and channels on one massive, A1 wallchart
The Last Dance
Messi & Ronaldo, two of the greats on the biggest stage of all, for (probably) the last time. They're not the only vets in Qatar, but either have won a World Cup, can either do it in Qatar?
Now or never for Ney
Neymar's legacy is on the line in Qatar, Pele had three World Cup winners' medals around his neck at the same age. We take a deep dive into the context of the PSG star's desert pilgrimage.
Joshua Kimmich exclusive
We chatted to Germany's midfield metronome on the eve of the tournament, at 27 years old he feels like this will be his best chance of winning the biggest prize of all. They grow up fast.
Beware the curse
Jewellery scandals, war and Stefan Effenberg's middle finger, no nation has won back-to-back World Cups in 60 years. Read this feature and you'll realise why.
From wonderkid to wonderman
In Russia we witnessed Kylian Mbappe's transition into the world class category. There's been some bumps in the road since, but Julien Lauren wonders if Qatar 2022 has come at the perfect time.
Le Romantique
The presence of Herve Renard in the technical area, looking tanned, chiselled, buttons on his white shirt undone, has become a tournament staple. He'll be in Qatar with Saudi Arabia. We spoke to him about Cambridge United and Alex Ferguson!
Brennan Johnson exclusive
It's been a big year for the Wales and Nottingham Forest forward. We asked him about it, and Michael Sheen, and learning the Welsh national anthem and the World Cup banter that's been flying around the City Ground dressing room.
Fabio Grosso - memories never fade
He went to the 2006 World Cup as a low-profile left-back, and returned the hero having netted one of the tournament's decisive goals AND the winning pen in the final. Grosso charts his journey in his own words.
The Immaculate Deception
Hand of God ref Ali Bin Nassar talks exclusively about THAT game, THAT goal and the aftermath of one of the World Cup's most iconic moments and players.
Next goal wins
Who can forget Nike's iconic 'cage' advert of the early noughties? A multi-million pound budget, a blockbuster director and dozens of world class players jetting in for a game of 3-a-side. We revisit it with the people who were there.
Three lions on a shirt
We chart the history of the England shirt via knitwear, nicotine stains and pricey hand-me-downs.
Around The Grounds
Our dedicated section for all things EFL, non-league and Scotland brings you an interview with Stoke's Phil Jagielka, Best & Worst takes us all the way down to Plymouth where the 'dockyard derby' myth is addressed. Elsewhere we profile Sunderland's Costa Rican international Jewison Bennette who will be at the World Cup, Stockport's 1992-93 home shirt has been locked up in Kit Crime jail and one of the highest scoring games in English football history is remembered: Charlton 7-6 Huddersfield
Micah Richards answers YOUR questions
Why he hid the newspapers at Man. City's training ground, who won when he fought Mario Balotelli and why he didn't like Fabio Capello one bit.
Upfront
Up top we have Gianni Infantino facing off against a topless Maori warrior, Jonny Owen bumping into John Burridge doing sit-ups in Corfu, Toni Kroos dressed as a snake, holding a snake and Roberto Martinez contemplating his future. Subscribe to FourFourTwo today! (opens in new tab) Guarantee the finest football stories and interviews dropping on your doorstep every month.
Thank you for reading 5 articles this month* Join now for unlimited access
Enjoy your first month for just £1 / $1 / €1
*Read 5 free articles per month without a subscription
Join now for unlimited access
Try first month for just £1 / $1 / €1