Johan Cruyff's final months remembered, by his ghostwriter and dear friend
By Jaap de Groot published
Few people knew the Dutch legend as well as Jaap de Groot, the man who not only ghostwrote his weekly column for newspaper De Telegraaf and his 2016 autobiography, My Turn, but was his close friend for 30 years. A year on from Cruyff's death, aged 68, he recalls the moving last leg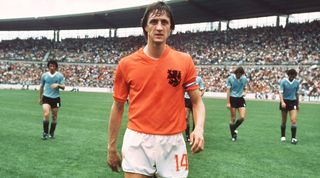 When helping Johan Cruyff write his autobiography, My Turn, I quickly realised that it could easily have filled more than double its 300 pages. This, as everyone knows, was a man who had plenty to say.
This is something that I was able to benefit from during the many years I collaborated with him for his weekly column in Telesport, the sport section of Dutch daily De Telegraaf. He enjoyed triggering a reaction with his analyses, and he provided the odd wake-up call not only for Dutch football but also the government. Cruyff once criticised the Ministry of Finance in relation to a tax law. Such was Cruyff's standing, it changed within a month.
Everyone knows that Johan was a phenomenal football player and manager. Most people also know he was an idealist; a pioneer; a rebel. But what most won't have had the chance to see is that he was a wonderful person. During this post-Barcelona period, Johan started his foundation and the Cruyff Institute for Sport Studies.
Both of these enabled him to continue being an inspiration to many other people, and these initiatives helped to change the perception of the stereotypical 'dumb footballer' as well as giving athletes more opportunities away from their chosen sport.
Daily schedule
Discussing new challenges and getting inspired to realise them became a great element of our friendship. One of those was writing My Turn. The contracts with Pan Macmillan were signed on October 15, 2015, but seven days later, he was diagnosed with lung cancer.
Our plans soon had to be changed. We had intended to start our interviews in November and December, then write the rough text in January, work on the finishing touches in February and deliver the manuscript in March.
Instead, the first interview wasn't until December 27, after his third session of chemotherapy. Because of his relatively frail physical state, we used the following schedule, at his home in Barcelona: two hours of interview in the morning; lunch; a two-hour siesta; two more hours of interview time in the evening; and then finish the day with a glass of red wine or cava.
Ever the professional, Johan immediately made it clear in that first session exactly what the overarching message of his book should be. Within 15 minutes he had explained the essence of his life. "I am not a person with college degrees," he said. "Everything I have learned, I've learned through experience."
That night I put it on paper and it became the foreword ofMy Turn. It's the only text of the book that Johan would read. His reaction the next day: "Perfect. Keep it like that."
Always looking forward
Because of the lack of time, we needed to work very efficiently, and soon I had 12 hours of interview on tape. The challenge was to give the reader the feeling that Cruyff himself was talking to them, so it was crucial to translate his precise way of talking into the book.
During all of our sessions between December 27 and March 2, Johan was extremely positive. As always, he showed he was a man forever looking to the future. That actually made interviewing him for the book a little difficult at times, as he wasn't interested in talking about goals and games of the past. He wanted to deliver to a new generation all the lessons he'd learned from great experiences.
This positive attitude was typical Cruyff, and it was a part of his character that became particularly prevalent during the darker chapters of his life. He expressed this to me in typical fashion on his 65th birthday [in 2012]. About 20 years earlier, he'd suffered serious heart problems and was forced to face the prospect that he wouldn't live to a particularly old age. When I asked on his birthday what was the first thing that popped into his mind when thinking back over all the years, he said, with a smile: "That I made it."
That's probably why My Turn reads like Johan is still here – during our sessions he never had the feeling that he would lose his fight against cancer. He was confident that he would make it. That is why, until his very last days, he always looked forward. He was still thinking about new opportunities for the future.
Precious time
Our last day together was March 2. In the afternoon we visited the young Dutch Formula 1 driver Max Verstappen, who was testing on the Circuit de Catalunya. It was a wonderful rendezvous between two talented sportsmen, and despite Johan being old enough to have been Max's grandfather, the pair clicked immediately.
After lunch in the hospitality of Red Bull Racing and then his daily siesta, we sat down to discuss the last chapters of the autobiography. When we had finished, his wife, Danny, came in with some Spanish cava served with toast, caviar and salmon. What followed then were probably the most precious hours of our friendship.
The three of us talked until midnight. Danny and Johan sat next to one another. It was a fascinating and beautiful sight; the woman and the man who needed her more than ever. We discussed all facets of our lives and the people who had a role in them. Particularly because of what would happen just a few weeks later, these are the moments I'll cherish for the rest of my life – spending this quality time with the vulnerable and appealing Johan and the strong and sensitive Danny.
It was Danny who would inform me 11 days later that something was wrong. It was 11am, when Johan would usually send his column. After a wonderful week in Israel, he'd woken up noticing that the left side of his body wasn't functioning correctly. He also had problems talking, so we made a column from a topic we'd discussed previously – the responsibilities of agents towards young players. On behalf of Johan, Danny asked me to keep this setback to myself.
From that Sunday morning, we had contact every day. Another tumour had appeared in his head and doctors were in the process of working out what could be done. His health was up and down: one day he would feel OK, then the next there'd be a setback. By March 23 it was clear things were going terribly wrong, and the next day Johan Cruyff closed his eyes for the last time.
Family man until the end
That farewell came with only his wife, children and grandchildren present. His bed was surrounded by the serenity he had wished for. He may have been a hero to many, but most of all he was the warm 'captain' of a family that he always guarded from the outside world.
He was cremated within 24 hours, in the presence of only his loved ones. This was all done before the world would embrace the family with a million pairs of open arms. Until the end, he was in control. His 18 months of struggle were now over – a period during which he had opted to keep his health problems hidden from the public.
It wasn't the first time that he had done this, however. In December 2014, he was invited to speak at a symposium held by the Dutch FA. He started magnificently, but as the discussion wore on, the level of his words dropped. He was criticised at the time, but few knew that he'd suffered a light heart attack.
After the conference, he even visited a charity event arranged by his foundation, and the next day he watched Ajax's training session. It was like nothing had happened. It was only when he got home that Danny insisted he go to hospital. The three days he spent in intensive care were kept under the radar, but it was a sign his health was deteriorating.
Legacy cemented
Thousands of the hours we spent together were spent talking about football, but we also raced two taxis through New Delhi and took the London Underground. The latter may seem mundane, but we did it because he had never ridden the Tube.
The other passengers may have stared at him, but he enjoyed the experience like a small child would. This was a man who for 23 hours and 59 minutes of the day didn't realise he was Johan Cruyff; a man who did so much to inspire the younger generation. Someone who once told me: "I don't care about money, I don't even know how much I have."
As he said at the end of My Turn: "How do I want to be remembered? As a responsible sportsman. If I was only judged as a player that would be about 15 to 20 years of my life. To be honest, that's too limited."
My Turn: The Autobiography by Johan Cruyff is available now, published by Pan Macmillan in hardback, priced £20
This feature originally appeared in the January 2017 issue of FourFourTwo. Subscribe!
Thank you for reading 5 articles this month* Join now for unlimited access
Enjoy your first month for just £1 / $1 / €1
*Read 5 free articles per month without a subscription
Join now for unlimited access
Try first month for just £1 / $1 / €1