One million TikTok followers and the 'non-league Haaland': The incredible story of the teenagers who bought Walton & Hersham
The Surrey-based club have aspirations of reaching the National League, having already disrupted the status quo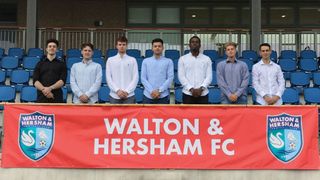 (Image credit: Walton & Hersham FC)
Calogero Scannella was 19 years old when he first texted his mates about buying a football club. It took a bit of convincing, but now Walton & Hersham – who will play in the English pyramid's seventh tier next season – have the youngest owners in the world and are creating a media buzz unlike anything else in the game.
They have amassed more than a million TikTok followers and established a fanbase touching every corner of the globe, with thousands tuning in each matchday.
"We deluded ourselves into thinking we knew what we were getting ourselves into, but we actually had no clue," Scannella tells FFT. "Luckily it's going pretty well, but every six months we'll have a chat and say, 'How the hell have we managed this?'"
It's taken dedication, desire and countless unpaid hours, but the Swans are flying: they secured a third promotion on the spin by winning April's play-off final against Hamworth Villa, and global viewings of single matches have reached a peak of 300,000.
This was a club staring at extinction only four years ago, but thanks to a group of teenagers with lofty ambitions and a nothing-to-lose mentality, the sky's the limit.
"We had to be mad to think it would go anywhere," Scannella says. "If we were 50 we wouldn't have had the energy to do it. We've used age to our advantage."
Scannella, club secretary and director of football, is aided by Sartej Tucker, Thomas Bradbury and Jack Newton, with Reme Edetanlen, Stephan Karidis and Ben Madelin no longer part of the original party of pals to buy the club.
They have known each other since school but now, aged 23, are living out a fantasy at odds with those of most men their age. So, how has this happened?
"It was boredom, not knowing what to do in my life," reflects Scannella in the boardroom of the club's stadium in Surrey, on the banks of the River Thames. "I was at this point where I'd moved to university in London and it was everything I didn't want from life.
"I was doing theoretical physics, living in halls away from home, and I just knew it wasn't what I wanted. I decided to drop out – but I needed an escape route or my parents would kill me."
His life-changing idea was born at a game against AFC Hayes at the end of 2018.
"I was applying for jobs but also coming to watch Walton," he says. "That was one of the worst games I've ever seen. There were 40 people there and I ended up talking to the chairman. He said that if they went down, he was scrapping it – Walton & Hersham would be no more! That's when I messaged the lads about us possibly taking over."
One of the recipients of that message was Tucker, who'd recently started uni.
"I was thinking, 'What the f**k is this?'" he confesses. "I entertained it for about a week and then left the group.
"But Calog kept pushing it and a couple of months later it began to sound credible. It all clicked one day when we spoke to the chairman in Calog's front room. One of the lads fell asleep on the sofa in the meeting, but that was when we realised that whatever we did, this club couldn't get any worse. If we totally f**ked it and it folded? Well, at least we'd managed to prolong its life and give it a go."
They each put in £2,000 to help get the project up and running, and installed Scott Harris as manager. Alongside assistant Billy Rowley, they have adopted a Manchester City-esque style of play that is crafted year-on-year, developing players and keeping the fans entertained.
They scored 102 league goals last season with striker Eddie Simon the poster boy – the dentist's feat of hitting four consecutive hat-tricks earned him a Sky Sports News interview live from his workplace and the moniker of the 'Non-league Erling Haaland'.
Success on the field has been reflected off it, too. Walton-on-Thames may have a population of about 23,000 and gates at Isthmian League South Central games last term rarely topped three figures, but the Swans' online fanbase is in a different stratosphere.
"We've got a TikTok following that's bigger than five Premier League sides'," says Tucker, Walton's director of operations and media. "Against Fleet last year, we had 15,000 people concurrent on TikTok and 300,000 views across the game, which is crazy. We stream our matches on YouTube – fans watch in Brazil, Australia, New Zealand, South Africa and beyond.
"Next season, the biggest driver of revenue is going to be merchandise. We are scaling up the operation."
At one stage after COVID, the co-owners had 45p in a shared bank account, but the potential for them to earn hundreds of thousands of pounds through future sponsorship, marketing and merch is now realistic.
It would be naive to believe they have fully earned respect among their non-league peers, though.
"We turn up at clubs, people look at us and say, 'How are you lot the owners?'," chuckles committee vice-chair George Cory, who joined in 2021. "There are all these old people in boardrooms wearing suits, baffled by it. They presume we've walked into the wrong room."
Walton's greatest achievement prior to their new owners' arrival was glory in the 1973 FA Amateur Cup, but they have become the team to beat at this level.
"We have a target on our back with the amount of stuff we throw out on social media," says Rowley. "As soon as we have a bad result everybody jumps on it, but I enjoy it. We're really trying to win every match and get somewhere with this. We play with a certain style and brand that probably brings more attention."
"The club has a young, modern feel about it," adds manager Harris. "Social media has a big input, but at some point what happens on the pitch has to keep everybody else interested. That's why the supporters keep coming back.
"It's a fantastic hook to have the world's youngest owners, but now we have 1,500 people coming to matches and that's not to see the owners, it's to see the product we've developed."
The target is to reach the National League, where Dorking Wanderers provide inspiration.
"They came from a ground like ours and have stayed up as a part-time team, which given how much money is floating around at places like Wrexham and Notts County is an unbelievable achievement," explains Tucker. "We have enough in terms of our resources and coaching expertise to be able to get there one day, so that's the ultimate aim. However, once we get there it'll be, 'OK, where do we go next?'"
Thank you for reading 5 articles this month* Join now for unlimited access
Enjoy your first month for just £1 / $1 / €1
*Read 5 free articles per month without a subscription
Join now for unlimited access
Try first month for just £1 / $1 / €1