Buffon to leave Juve if price is right
MILAN - Gianluigi Buffon would leave Juventus if he was the subject of a "fantasy football bid" like AC Milan playmaker Kaka, the goalkeeper said on Saturday.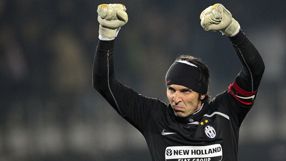 Media reports said Premier League Manchester City bid 110 million euros ($143 million) for Kaka and offered him unprecedentedly high wages. However, the Brazilian said he rejected the offer because of his love for Milan.
Italy goalkeeper Buffon has also been linked with City, the world's richest club after their takeover by the Abu Dhabi United Group last year.
"I am a man of football. I know you have to do your sums and I know teams are also businesses. Therefore, if a fantasy football bid came in I would be ready to go," the 30-year-old told Gazzetta dello Sport.
"I would also do it to relieve a justifiable embarrassment from a club like Juventus, to whom I owe so much."
Buffon, who was close to joining Milan two years ago, questioned whether Kaka was ever going to accept City's bid.
"It was a bit of theatre rather than a choice. Clubs like Juventus, Milan and Inter, if they want to do a deal they don't publicise it before concluding it," he said.
Buffon has been out for three months with a leg injury but returns for second-placed Juventus in Saturday's home game with Fiorentina.
Thank you for reading 5 articles this month* Join now for unlimited access
Enjoy your first month for just £1 / $1 / €1
*Read 5 free articles per month without a subscription
Join now for unlimited access
Try first month for just £1 / $1 / €1