Buffon makes his mark on Pjaca at Juventus
Marko Pjaca has been in awe of goalkeeper Gianluigi Buffon since his arrival at Juventus and hopes to prove himself worthy of such company.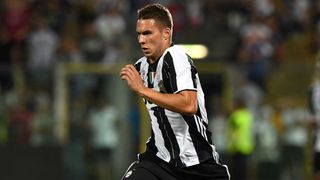 Gianluigi Buffon has impressed Marko Pjaca more than any other player since his arrival at Juventus, with the Croatian branding the goalkeeper "a legend".
Pjaca, 21, represented Croatia at Euro 2016 before completing his €23million move from Dinamo Zagreb to Juve in July.
The winger, who has been tipped to star by coach Massimiliano Allegri, feels he has joined a "unique club" and is delighted to be a part of the set-up at the reigning Serie A champions.
"It's a beautiful world [at Juventus], but I never doubted that, I was aware of it when I made my choice," Pjaca told La Gazzetta dello Sport.
"When you arrive it doesn't take long to figure out that you're at a club with a unique history, like few others in the world."
On who has impressed him the most, he added: "They're all top players, but if I had to name one then I'd say Buffon.
"You just have to talk to him for a moment to realise you don't have a player standing in front of you, but a legend."
Pjaca admits playing in the 3-5-2 favoured by Allegri would stop him featuring in his favoured position out wide, but hopes to prove himself capable of contributing to the first team.
"In the 3-5-2 of the current Juve I can play as the second striker, at most pulling back a bit because I think I can also play as an attacking midfielder," he said.
"My favourite position, though, is as a winger, preferably from the left where I can cut inside on my right foot.
"I have to work hard every day to improve, never losing my seriousness or concentration. Then my time will come, I'm sure.
"I am not worried [about being on the bench]. If anything I'm aware that this is Juventus, but I'm young and if I prove myself then I'll get my chances, even at a club of this level."
Thank you for reading 5 articles this month* Join now for unlimited access
Enjoy your first month for just £1 / $1 / €1
*Read 5 free articles per month without a subscription
Join now for unlimited access
Try first month for just £1 / $1 / €1