Dzsudzsak may stay at PSV
By Gregg Davies
PSV midfielder Balazs Dzsudzsak - reportedly wanted by Arsenal - has revealed that he would be willing to stay with the Eredivisie giants if the club qualifies for next season's Champions League.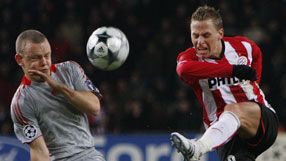 The Hungarian wide-man has been one of the Eindhoven outfit's star performers in 2009/10, scoring 10 goals in 26 league appearances.
The 23-year-old flanker, who is contracted to the club until 2013, is widely expected to depart in the summer, with several Spanish sides believed to be keen on recruiting him as well as the Gunners.
But he has since admitted that he is happy in Holland and would be willing to stay put, but needs to be playing in Europe's premier club competition in 2010/11.
"PSV are eager to hold onto me, but they've also told me that they will seriously consider any big offers. I have a limited fee release clause in my current contract and it's crisis everywhere, also in football," he told Voetbal International.
"I'd love to stay at PSV, but it's crucial that we qualify for next year's Champions League. I desperately want to play Champions League football again next season.
"It's an unbelievable feeling to enter the pitch for a game at the highest level. I hope that we manage to qualify with PSV, because I'm quite happy here. It's always hard to adapt to new circumstances and prove yourself again at a new club."
The left-sided midfielder claimed last summer that Gunners' boss Arsene Wenger was interested in taking him to the Emirates Stadium.
Arsenal scouts were believed to have been present to witness the starlet shine in PSV's 4-3 win against Ajax.
"I have received the news that Arsenal has formally made an approach for me," he told Hungarian website sporthirado.hu.
"Now, what can I make of this? Of course, I do not want to get ahead of myself.
"But if such a club is interested in you, there is nothing wrong with being proud of such a thing."