Furious brawl breaks out at children's game in Mallorca
It's often said that parents are much worse than their kids in youth matches – but these chaps in Spain took things further than verbals.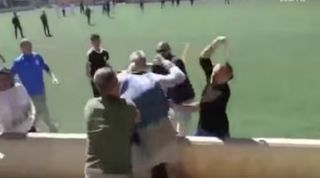 What sparked the fight is unknown, but the all-out scrap took place in Alaró, Mallorca between groups of disgruntled fathers.
Punches were thrown in the furious attack, as their bemused children looked on. At one point a mother can be seen (unsuccessfully) trying to pull her husband away from the melee.
The Balearic Federation have said they will charge any of the offenders involved and bring them to justice.
Remember, kids – do what they say, and not what they do.
Thank you for reading 5 articles this month* Join now for unlimited access
Enjoy your first month for just £1 / $1 / €1
*Read 5 free articles per month without a subscription
Join now for unlimited access
Try first month for just £1 / $1 / €1