Robinho denies sexual assault allegations
Britain's most expensive footballer Robinho has denied any wrongdoing or criminality after his arrest over allegations of serious sexual assault.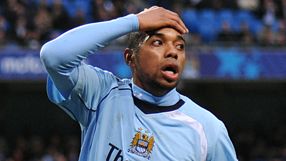 A statement issued on the 25-year-old Brazil and Manchester City striker's website on Wednesday said Robinho denied the accusations and was happy to cooperate with police.
Robinho, who played the whole 90 minutes and created one of Manchester City's goals in a 2-1 Premier League win over Newcastle United on Wednesday, had been arrested in connection with a sexual assault on an 18-year-old woman in a night club in Leeds two weeks ago.
"We can confirm that Robinho met the police today, as pre-arranged and as part of a criminal investigation," the player's spokesman Chris Nathaniel said in the statement.
"He strenuously denies any allegation of wrongdoing or criminality and is happy to cooperate with the police if required further."
West Yorkshire police confirmed the arrest but in line with British policing policy did not name Robinho.
"A man was arrested in connection with an alleged serious sex assault at a nightclub in Leeds on January 14. He was questioned and bailed pending further inquiries," a police spokeswoman said.
Manchester City said they had been helping the player and the authorities in the investigation.
"No charges of any nature have been brought against the player and no further statement will be made whilst the investigation is continuing," the club said on their website.
Robinho, whose full name is Robson de Souza, became Britain's most expensive player when he joined Manchester City from Real Madrid in September for 32 million pounds ($45.15 million).
The signing of the Brazilian, who has scored 12 goals this season, demonstrated Manchester City's sky-high ambition after the club was taken over by an Abu Dhabi-based group, turning it into the world's richest club.
CITY FANS! Check FourFourTwo.com's ever-expandinginterviews archivefor more stuff to read:
One on One Sven Goran Eriksson
Web Exclusives Joe Corrigan
Q&A Robinho
Boy's A Bit Special Michael Johnson
Ask A Silly Question Peter Reid, Alan Ball
What Happened Next? Jim Whitley, Tony Cunningham
Sing When You're Winning David Threlfall

Plus Joe Corrigan on Weekend Wonders and City on Talentspotter
Thank you for reading 5 articles this month* Join now for unlimited access
Enjoy your first month for just £1 / $1 / €1
*Read 5 free articles per month without a subscription
Join now for unlimited access
Try first month for just £1 / $1 / €1