Christian Benteke: How to become an 18-yard box bully
Crystal Palace striker Christian Benteke tells FFT about his admiration for Thierry Henry, why there is too much pressure on academy players and how to dominate centre-backs for 90 minutes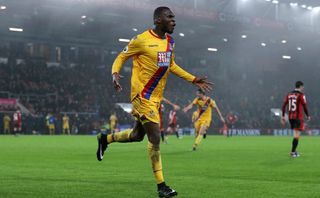 Hi Christian, which strikers did you look up to the most when you were a kid? 
Thierry Henry. My other heroes were Zinedine Zidane, Ronaldo and Ronaldinho, but the best was Henry. He had a particular way of scoring his goals. He was a gentleman, on and off the pitch. He is always spoken of as an Arsenal player, but he also played for Barcelona, Juventus and Monaco. He was a winner everywhere he went. In the modern game, I like Luis Suarez, Robert Lewandowski and Karim Benzema - they are killers in front of goal.
Did you try to model your game on those players as you developed?
I tried to learn from them but I never tried to copy their exact style. You can learn, but at the same time, you have to be yourself. I don't think it is a good idea to try and be like Cristiano Ronaldo or Lionel Messi, as they are very special. 
Do you think there is too much pressure on young footballers now?
Yes, when you are six, seven, eight years old, there shouldn't be any pressure. It should come later when you grow up. If you don't enjoy it when you are a child, you won't enjoy it later either.
What's the best coaching advice you've been given about being a striker? 
I was once told that it is the best job in the world to be a striker, because we are the only players who can understand how good it feels when the ball hits the net. That's something that has always stuck with me – only strikers truly know how great the feeling is to score goals. 
Your physical strength is a big part of your game. Is it something you have always worked on? 
I try to maintain my body to stay fit, but I don't lift weights every day to get stronger. I go to the gym every day to do my pre-activation exercises before training. I also stretch and do any exercises the physio gives me. You must listen to your body. Your body is your tool and taking care of it is up to you. If you're fit you can do everything you want to do on the pitch.
How do opposition defenders go about trying to stop you?
Every game is a battle. You try to be as ready as you can. It isn't easy, because in every game you play against different defenders. You have to prepare for that.
Do many teams use physical defenders to mark you? 
I'm not sure, you should probably ask the coach of the opposition! When I play against big defenders, it becomes difficult. It's a bit of battle and both players want to come out on top. I prefer zonal marking. It gives me some space, which allows me to make a difference. However, the rules have been changed and we can't grab the opponent or pull the shirt and tussle the way we used to. It happens quite a lot in the Premier League, as set-pieces are so important and can be the difference between winning and losing games. 
You're excellent in the air. Have you always been good at heading?
I was good when I was young, but I've improved my heading skills over time. I picked it up naturally. I improved it by training and doing the same thing every day.
If you were coaching a young player about heading the ball, what heading tips would you pass on?
It depends on how good your heading skills are, but it's about repetition: doing the same things over and over to try to improve. When you head the ball well you can master the penalty area. You are the boss over the ball, you dictate where the ball goes, not the other way around. You have to do everything you can to control the situation. 
What do you do to get in the zone before a game? 
I listen to music on the bus and in the dressing room, that's it. It's mostly R'n'B and French rap. I mix it up a bit so I don't always listen to the same songs. I would say that in the dressing room Wilfried Zaha and Bakary Sako are the DJ's. They have got their playlists.
Do you like to get really fired up or are you more of a calm person?
I am calm, but sometimes I can lose patience during or after the game. I play with my instincts and only after the game will I think 'I should have done this or that in a different way.'
Recommended stories:
What do scouts look for in strikers?
Jermain Defoe's six-step guide to striking
Zlatan Ibrahimovic: How to play as a target man
Quizzes, features and footballing fun
Get the best features, fun and footballing frolics straight to your inbox every week.
Thank you for signing up to Four Four Two. You will receive a verification email shortly.
There was a problem. Please refresh the page and try again.