Diego Costa: Silence those boo boys
By Andrew Murray published
Chelsea's raging bull on how to transform a venomous atmosphere into goalscoring fuel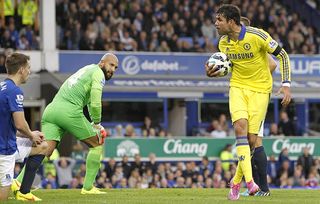 "I'm a semi-pro who plays in front of a few hundred fans. But when the opposition supporters get on my back I lose focus. How do you stay calm?"
Dan Hedges, via Twitter


Diego Costa says:
"I always use it as motivation. The more you shout at me, the more it increases my chances of scoring a goal.

Sticking one in the back of the net is the best response to any fans who are on your case. I don't worry about what opposition supporters sing. They're entitled to say what they like – they've paid to be there – but I don't really care.

A hostile atmosphere is why you play football – it's what inspires you to compete. Without that extra part of me, I feel there's something missing from Diego Costa. I need that fire.

Using it as an inspiration is important for any player because it gives you more desire to compete and overcome any obstacle.

I'm quite shy off the pitch, but on it I've always fought to protect myself and my team, and part of that comes from my reaction to boos and whistles from the crowd.

Of course, some players prefer to ignore those shouts because that works best for them. It's all about getting yourself in the best mindset to cause the most damage. If you score, they'll soon shut up."

Chelsea'sDiego Costa wears the latest adiZero F50, the top scoring boot in Europeanfootball. To buy your pair visit (opens in new tab)www.adidas.co.uk/football (opens in new tab) or follow @adidasuk (opens in new tab)#F50 (opens in new tab)

For more football tips see:
Feed off crowd abuse
Cool down your team-mates
Keep a cool head
Dealing with the red mist
How to deal with a mouthy player (opens in new tab)
How to deal with a wind-up merchant
Mikel Arteta: Handling a hatchet man (opens in new tab)
Thank you for reading 5 articles this month* Join now for unlimited access
Enjoy your first month for just £1 / $1 / €1
*Read 5 free articles per month without a subscription
Join now for unlimited access
Try first month for just £1 / $1 / €1
Andrew Murray is a freelance journalist, who regularly contributes to both the FourFourTwo magazine and website. Formerly a senior staff writer at FFT and a fluent Spanish speaker, he has interviewed major names such as Virgil van Dijk, Mohamed Salah, Sergio Aguero and Xavi. He was also named PPA New Consumer Journalist of the Year 2015.
Quizzes, features and footballing fun
Get the best features, fun and footballing frolics straight to your inbox every week.
Thank you for signing up to Four Four Two. You will receive a verification email shortly.
There was a problem. Please refresh the page and try again.