Mourinho plotting next Machiavellian cock-up, he confirms
Special One ready for next brilliant blunder, Back of the Net report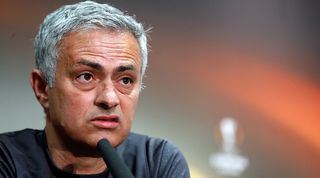 Jose Mourinho is ready to make his next fiendishly cunning cock-up in Thursday's Europa League clash with Celta Vigo.
Manchester United's Champions League hopes hang by a thread after their 2-0 defeat by Arsenal on Sunday, which saw Mourinho hailed once again as a master of mind games.
And now, the man whose genius could not be greater if he was the lovechild of Syd Barrett and Marie Curie is ready to repeat the trick against Eduardo Berizzo's team of hard-running Galicians.
One step ahead
"I cleverly picked Henrikh Mkhitaryan and Juan Mata as wing-backs to lull Arsenal into a false sense of security," explained Mourinho, looking as ever like a sleep-deprived cruise ship captain.
"Then, in a stroke of characteristic brilliance, I lost the game anyway, to force us to focus on Europe.
"Next we will lose to Celta Vigo, to emphasise how much we care about the Premier League.
"We will then lose to Tottenham in the Premier League, to underline the fact that sport is only a brief distraction from the true meaning of the universe, which is to suffer. If you don't believe me, ask any of our season-ticket holders."
Fooling everyone
Arsenal boss Arsene Wenger said: "I thought by winning the match I'd got one over on him, but now it is clear that by playing seven defenders in a must-win game, he had actually outmanoeuvred me.
"Jose is always one step ahead, even when he appears to be languishing permanently in sixth."
Celta boss Berizzo added: "I am confident that we can overturn our first-leg deficit. Or is that what Mourinho wants me to think? Or does he want me second-guessing myself? Or would that be playing into his perfectly smooth hands?
"Whether we win or lose, he will still be Mourinho, and I will still be nothing but Berizzo, crying myself to sleep every night over a copy of Mourinho's Mourinho On Football, full of Mourinho's Mourinho-esque thoughts on Mourinhology and all related subjects."
Football writer Cuncan Dastles chipped in: "Mourinho is a genius – nobody else would have thought of losing to Arsenal."
Please note: This satirical news story is not real. Like, obviously.
Quizzes, features and footballing fun
Get the best features, fun and footballing frolics straight to your inbox every week.
Thank you for signing up to Four Four Two. You will receive a verification email shortly.
There was a problem. Please refresh the page and try again.