Progress not enough as Galaxy attack comes up short against Portland
A late own goal saved the home side, but as Scott French notes for FourFourTwo USA, improvement was subtle for Bruce Arena's side.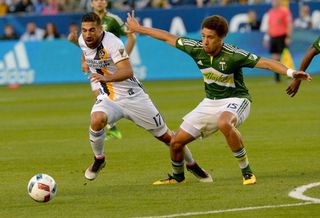 CARSON, Calif. -- The LA Galaxy's troubles in the final third persist with Robbie Keane and Steven Gerrard on the sidelines, and although Giovani Dos Santos -- the third of their Designated Players -- offered some positives Sunday night in his return from a leg injury, he wasn't precise enough to provide what this team most needs.
The Galaxy's front four was dynamic, again, weaving pretty passing patterns leading to and around the Portland Timbers' box, but if their clear territorial advantage and superior possession led to greater opportunity -- they took 13 shots, to just four for their foe -- it failed to usher many legitimate chances. The Galaxy were fortunate to escape with a 1-1 draw in a showdown at StubHub Center between MLS's last two champions.
Fanendo Adi's goal, on the Timbers' only worthy shot all night, should have been sufficient after Caleb Porter's group, playing in a new formation after last weekend's debacle in Orlando, gave an extraordinary effort to contain an LA attack that had created chances in every game except their Week 2 loss at Colorado.
RECOMMENDED
Some superb goalkeeping performances and ornery goal frames have limited LA's production so far -- they might have nine more goals across two competitions, with better fortune -- but they've struggled to connect in the final third, with most of their attacks breaking down as crosses, the final pass and the final shot go awry.
That's largely about chemistry, which is a work in progress after an offseason rebuild. They look good, and have all year, between the boxes, but not so beyond, and the absences of Keane and Gerrard, and of Gio for the past three and a half games, aren't helping.
Last week's scoreless draw at Vancouver was a low point. LA dictated terms from start to finish and were in command after a red card and two injuries depleted the Whitecaps before the break. The Galaxy took 15 shots, but couldn't figure out Whitecaps goalkeeper David Ousted.
Portland was far more formidable than the 'Caps thanks to a change of system, superb defensive organization and big stops when required from, especially, Nat Borchers, who was exquisite most of the evening.
That should have been enough for Portland to claim their second straight triumph on this field, following last October's game-changing 5-2 romp, but LA got an equalizer on an 85th-minute own goal by Borchers - an unfortunate header from a Sebastian Lletget cross that angled inside the far post, leaving the Timbers with two fewer points than they deserved.
Here's some of what worked for Portland, and what didn't for LA:
Timbers try a different approach
Portland has been reeling somewhat following the injury to backline leader Liam Ridgewell nearly a month ago, The team had conceded the first two goals in each of their last three games, losses at San Jose and Orlando sandwiched around a 2-2 draw against nine-man Real Salt Lake.
STATS ZONE
So Porter switched things up, from a 4-3-3 formation to a 4-2-3-1. The extra holding midfielder -- Jack Jewsbury slotting in next to Diego Chara -- made all the difference.
LA had room to move in the middle of the field, and its constant interchange up top among Dos Santos, Lletget, Gyasi Zardes and Mike Magee, before Alan Gordon and Bradford Jamieson IV came on late, put heavy pressure on the back six. But the Timbers remained compact in and at the edge of their box, leaving the Galaxy little room to exploit. LA got off just four shots on goal.
The Timbers won nearly everything in their box, winning the vast majority of aerial duels as LA pumped in 37 crosses, connecting on just nine of them.
Galaxy's connections are frayed
LA's movement, of the ball and off the ball, hasn't been bad, but it's not leading to the kind of things it's supposed to. Keane's absence has thrown up something of a road block, it seems, but they weren't linking up in the first three games, when he was healthy, except when they pulled away to lopsided victories over D.C. United and San Jose with big second halves.
Zardes, Magee and Lletget have moved from one spot to another, up front and on the wings, and they've had some success. Magee was astounding after coming on for Dos Santos in the opener against D.C., and Zardes twice finished succinctly to beat the Quakes.
Their connections -- with each other, with the central midfielders, the outside backs, even Jelle Van Damme when he surges forward, as he's wont to do -- look solid everywhere except into opponents' boxes. They face a lot of packed-in defenses, and did so again Sunday, but their passing game breaks down once the reach the box. When they do penetrate, often from Lletget on the dribble or little passes for Zardes and Magee, too little comes of it.
Zardes had a little more success penetrating Sunday, but nobody was efficient enough. LA created only four reasonable opportunities, not counting the own goal, and the only time goalkeeper Adam Larsen Kwarasey was really tested was on Steres' glancing header from a corner kick in the 56th minute.
Fanendo Adi needs only an inch or two
The Galaxy did a fine job keeping Adi quiet most the evening, with Van Damme and Steres denying him the ability to turn with the ball and twice leaving the 6-foot-4 striker on his rear end.
RECOMMENDED
Adi's something of a Galaxy killer, however, and he delivered again -- his fifth goal in 403 minutes of play over six games against LA -- with a stunning finish seven minutes into the second half. The Nigerian star had both of Portland's shots on goal, and the first one was highlight-reel stuff.
It came off a counterattack, with Darlington Nagbe doing well to get the ball into space at midfield for Diego Valeri to run onto. Valeri then turned up field and sent a through ball up the left flank for Adi, who then turned in against left back Rafael Garcia - a midfielder subbing in for Robbie Rogers, who left in the fifth minute with a hip contusion after he was kneed by Adi in an aerial fight.
Adi needed just three touches to find a narrow corridor, then fired sharply past Garcia, across the goalmouth, past goalkeeper Brian Rowe and just inside the right post. It was a glorious shot and should have been a winner.
Nigel de Jong's influence is massive
The most important player for LA has been Nigel de Jong, the Dutch defensive midfielder who arrived on a free transfer from AC Milan in early February. He's provided a backbone for a club that's still trying to figure out what its about, richly supporting the defenders behind him while serving as the starting point -- and deep outlet -- for an attack that's actually been pretty good, except in front of the net.
De Jong completed 54 of his 59 passing attempts Sunday, the vast majority of them finding space, switching the point of attack, or solving dilemmas presented by the Timbers' defense. He's a chief reason LA has enjoyed so much possession in the middle of the field so far.
Quizzes, features and footballing fun
Get the best features, fun and footballing frolics straight to your inbox every week.
Thank you for signing up to Four Four Two. You will receive a verification email shortly.
There was a problem. Please refresh the page and try again.