Tim Howard: American hero or modern-day myth?
The World Cup hero has struggled in the Premier League this season, notes Neil Adderley...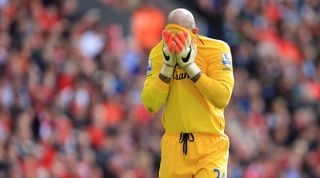 As a global audience watched in shock and awe as Belgium managed to hit 16 shots straight at Tim Howard, the USA and Everton goalkeeper's profile went instantaneously stratospheric.
Howard hadn't gone viral, he'd gone pandemic. He'd become an overnight World Cup sensation. An omnipresent, all-American, digital marketer's dream. Even President Obama, the most powerful man on earth, couldn't help but get in on the action.
Not only did Obama call to offer his commiserations for Team USA's loss, but in his weekly address to the nation, the president jokingly stopped just short of offering Howard the post of US Secretary of Defense.
Perhaps a little ruffled and possibly somewhat confused, Chuck Hagel - the actual defence secretary - phoned Tim Howard a few days later to thank him "for defending the United States of America at the World Cup."
Poor old Chuck then informed the all-new American hero that "he could, with some training, someday become the real Secretary of Defense."
Obviously this madness couldn't last. Hysteria rarely does. However, there remains a lingering sniffle to this particular viral episode. The huge World Cup hype has given Howard a perplexing aura of invincibility - yet it doesn't seem to be having much effect on his Premier League opponents.
Mitigating circumstances
In fairness, there are mitigating circumstances here. Namely, another World Cup phenomenon involving the sluggish early-season form of the usually reliable Phil Jagielka and the normally outstanding Leighton Baines.
Throw the frequently unreliable and sometimes accident-prone Sylvain Distin into the mix and the whole picture becomes clearer: Everton's tendency to leak soft goals cannot be blamed on Tim Howard alone.   
PL goals conceded (select)
1. Southampton 10
2. Chelsea 11
3=. Man City 14
3=. Swansea 14
5. Arsenal 15
--------------------
15=. Burnley 22
15=. Everton 22
17=. Palace 23
17=. Sunderland 23
19. Leicester 24
20. QPR 27
Unfortunately for Howard, the arrival of Roberto Martinez, and with him a noble but risky philosophy of possession football, hasn't helped the American keeper's cause.
Distribution was never his strongest suit, but whereas under former boss David Moyes he was rarely under orders to release the ball quickly - and certainly not to pass to either of his centre-backs - Howard now finds himself a key player in a footballing ideology he is simply not capable of exemplifying.
Nevertheless, a goalkeeper has to be judged on what he is being paid to prevent. In the 14 Premier League games played so far, Everton's defence, with an ever-present Howard, has shipped 22 goals - a total only Crystal Palace, Sunderland, QPR and Leicester have managed to surpass.
Despite an alarming number of goals conceded, Howard doesn't seem to have come under fire in the same way keepers at other big clubs have in recent years - just look at the treatment Simon Mignolet, who has conceded three fewer, is getting across Stanley Park. The question is, why?
'Uncharacteristic'?
When Howard gifted Crystal Palace three points at Goodison Park in September - the American firstly reacting too late and upending James McArthur in the box, before his wretched flap at a hopeful cross allowed Frazier Campbell to nod home unchallenged - the overwhelming response was to label Howard's glaring mistakes as 'uncharacteristic'.
In Everton's previous home fixture, Chelsea managed eight shots on target and duly left Merseyside with another six goals added to their tally. These are not great stats in any keeper's book.
Again, Howard couldn't solely be blamed, but when a keeper is conceding through his legs, at his near post, diving too early or not reacting at all, you have to wonder at what point 'uncharacteristic' becomes, well, 'characteristic'.
Conceding six goals from eight shots at home. Beaten at his near post by a Steven Gerrard free-kick in the derby at Anfield. All but throwing a couple in against Palace. Bizarrely lining up a wall outside of his right hand post before watching, rooted to the ground, as Seb Larsson's free-kick sailed by him at the Stadium of Light.
Pushing Harry Kane's low shot into the path of the on-rushing Christian Eriksen. Diving to the left and beyond his near post, the same post he was supposed to be covering, and leaving a gaping goal for Roberto Soldado to register his first Premier League strike of the season.
Once again being beaten at his near post as Everton were held to a tepid 1-1 draw at home to Hull, a game in which Steve Bruce's struggling side managed just one solitary shot on target. The list goes on. And this is just the current campaign.
Despite Howard's propensity for a howler, and the ever-swelling goals-against column, the American firmly remains Everton's first-choice keeper. Joel Robles, the club's back-up goalkeeper whom Roberto Martinez brought with him from Wigan Athletic, has yet to mount any sort of significant challenge on Howard's status in the first team.
In 17 months as an Everton player, the 24-year-old Robles has yet to muster more than two cup appearances for the club. Which perhaps says more about the young Spaniard's abilities than it does Howard's.
In the aftermath of a disappointing defeat at White Hart Lane, manager Martinez felt the need to defend his No.1. When asked why Howard hadn't had the best start to the season, the Catalan suggested a World Cup hangover was the root cause of his keeper's shaky form.
Martinez also claimed Howard was on his way back to his very best, and to be fair, he was one of the stand-out performers in Everton's excellent Europa League away victory in Wolfsburg last Thursday. This is the infuriating thing - for all his sporadic flaws, his erratic decision-making, his poor distribution, and his tendency to lose focus, Howard can be outstanding. Unfortunately, he is more often culpable than reliable.
Nice guys come last?
Martinez went on to praise Howard, in particular highlighting the leadership role he plays in the dressing room, on the pitch, and the example he sets every day in training. And here's the crux.
Tim Howard is a nice guy, an exemplary professional, an ambassador for club and country and for the game in general. He is a role model for players both young and old, as well as for fans across the globe. Held in high esteem by team-mates both past and present, he is also adored by thousands of Everton supporters.
Thanks to his World Cup exploits, Howard has been put on a pedestal across the Atlantic. Having already captured the 2014 US Soccer Male Athlete of the Year award, he is also nominated for a raft of other accolades, including Sports Illustrated's coveted American Sportsman of the Year 2014.
Howard is American hot property. His autobiography, The Keeper, due for release in the US within the week, will no doubt sell like the proverbial 'hot cakes' Stateside.
He is a role model, an idol, a genuine major-leaguer. However, he is also an ordinary, 35-year-old Premier League goalkeeper prone to more than just the isolated gaffe. And by no means should he be beyond criticism.
Tim Howard is not the worst keeper in the Premier League, neither is he anywhere near the best. In fact, he may not be the best keeper on Merseyside. 
Quizzes, features and footballing fun
Get the best features, fun and footballing frolics straight to your inbox every week.
Thank you for signing up to TO_UPDATE_FROM_FLEXI_UI. You will receive a verification email shortly.
There was a problem. Please refresh the page and try again.