From Colts to Stallions – the rise of Burkina Faso
Finalists in 2013, Burkina Faso are a team on the up and their rise shows no signs of tailing off, writes Sam Crocker...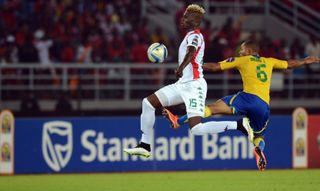 Not many people know a lot about Burkina Faso. In many ways, there's not a lot to know. With the Sahara preying on the country from its northern border, the dusty West African state is perhaps most famous among geography nerds for its novelty-named capital, Ouagadougou. That was, until AFCON 2013.
Rising from the shadows of obscurity, the Stallions, as they are known, produced a month's worth of glorious footballing entertainment, with their loveable selection of players and evident passion for playing the game rubbing off on all who laid eyes upon them. While doing well at AFCON tournaments creates relatively minor shock waves in the world of football, Burkina Faso had very much announced themselves, and have maintained that reputation as a fine football team to this day, just as AFCON 2015 kicks off.
Burkinabes on the beach
The story of AFCON 2013 in South Africa is generally not a story worth telling. It was a fairly dire tournament in terms of the football on show, after the 2010 World Cup hosts traded their 2017 hosting rights with Libya, whose civil war rendered hosting a tournament inconceivable. But even the ready-to-go infrastructure from three years previous didn't live up to the expected standard.
With a fungal infection on the Nelspruit pitch due to excessively high rainfall, the stadium managers chose to coat the pitch in sand, as a filler for the wasting surface. Having to play every group in such challenging conditions, this should have been Burkina Faso's downfall, but making the Mbombela Stadium their home – playing every game there up until the final – they became every spectator's favourite team.
Drawing Togo in the quarter finals after a win and two draws saw them through the group, they were forced to limp on without striker Alain Traore after he was injured against Zambia. Still playing in Nelspruit, they endured a sapping 1-0 win over the Togolese in extra-time, with main man Jonathan Pitroipa scoring the only goal, taking them through to the semi-finals of a tournament he would go on to be crowned MVP of.
While this was unfamiliar territory for the Stallions, it was not unheard of. Burkina Faso finished fourth back in 1998 – when they hosted the tournament – but to get this far in the competition was completely unexpected. At this point they met Ghana, once again in Nelspruit, having already played 390 minutes on the beach-like pitch.
After going behind to a Wakaso Mubarak penalty – his third spot-kick of the competition – the Burkinabes managed to equalise in the second half through Aristide Bance. Bance, a lanky, awkward man sporting a haircut not dissimilar to a bleached tarantula on his head, encapsulates everything about his national team, and would play an equally important role later in the game.
LAST FIVE AFCONS
2006 - Did not qualify
2008 - Did not qualify
2010 - Group Stage
2012 - Group Stage
2013 - Runners-up
As the game dragged into extra-time and then penalties, Bance stepped up at 2-2, needing to score to keep his team in the game. Lumbering up, he clipped a wonderfully executed Panenka down the centre of the goal before a smile of sheer elation spread across his face, and he whirred his hands around the side of his head in the extraordinary way that only he can. Emmanuel Badu misses the Ghanaian penalty and the story was complete. Burkina Faso were in the final.
Sadly, it was not meant to be. A 1-0 loss to Nigeria away from their sandy second home appeared to stifle them, as a flat, presumably drained Stallions side struggled their way through. But, given the unexpected circumstances, there was no need to mourn as they kick-started their climb to the continent's summit.
Pitroipa and personalities
The initial inspiration that football fans need to fall in love with a team, from a neutral perspective at least, is often thanks to the football on show. Burkina Faso unstylishly flout that rule. Employing a fairly sensible, sit-back-and-counter strategy, it is rather the joyful personalities that make up the team that make them such a joy. The sandy pitch suited them – both in football terms and metaphorically. Tactically it allowed them to sit back and break forward at pace, leaving Pitroipa or Bance to do the rest. But in many ways, Burkina Faso are the sandy pitch. In so many ways it shouldn't work, but it just does.
The team is packed full of characters, all of whom combine their mostly-average qualities to produce something far greater than the sum of its parts. The central defensive partnership of Bakary Kone and Paul Keba Koulibaly – possibly the most chilled, most unfazed man you'll ever see – function wonderfully; captain Charles Kabore at the base of the midfield is superb in his distribution and leadership; Bance bumbles along in his very special way, while Pitroipa is electric.
Indeed, Pitroipa is probably the most intriguing of the lot. Consistently average for his club side, he is a different animal when he pulls on the green of Burkina Faso. Even his recent move to the UAE from Rennes hasn't deterred his motivation, as his tricky dribbling and boundless energy plough his team through games.
And that's not even counting the influence of manager Paul Put. A Belgian convicted of match-fixing in his native land, his obscurity is exactly why he's so perfect for them, with the affection he feels for the players a glorious sight to behold.
The best thing about this side is that South Africa 2013 was no flash in the pan. They only failed to qualify for the World Cup in Brazil after an away goals defeat to Algeria in the play-off, and with a relatively navigable group in Equatorial Guinea 2015, many have justifiably tipped them to go all the way.
What will be a concern is the result of their first match of AFCON 2015, with a 2-0 loss to Gabon echoing the troubles they had against Pierre-Emerick Aubameyang & Co. in qualifying; the Gabonese winning 2-0 before a 1-1 draw in Ouagadougou. It's highly likely that their other opponents Congo, and the hosts Equatorial Guinea, will provide no issue for the Stallions, but a second-place finish behind Gabon leads to a more challenging opponent in the quarter-finals.
Gabon are one of the few sides to have bothered them in recent years, however, beating them at their own game – counter-attacking. Boss Put said after the game that they need better efficiency with their chances as the tournament goes on, but remain confident of going far in this tournament.
No matter what, though, you'll see one of the most together units at the tournament, made up of affable personalities that make you remember why you first started watching football in the first place.
Watch every match of the Africa Cup of Nations LIVE on British Eurosport HD or sign up to Eurosport Player and follow the action on mobile, tablet and other devices:www.eurosportplayer.com
Quizzes, features and footballing fun
Get the best features, fun and footballing frolics straight to your inbox every week.
Thank you for signing up to Four Four Two. You will receive a verification email shortly.
There was a problem. Please refresh the page and try again.