Def Leppard: Sing When You're Winning
"Bill Shankly said, 'Tony Currie's such ?a lazy bastard, I bet he lives in a bungalow'"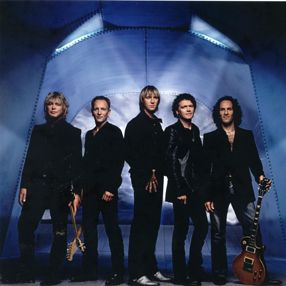 Richard Savage knew he would never make Sheffield United's first team the morning, over a quarter of a century ago, that he made his debut for United's reserves. He played centre-forward in a practice match against the first XI.
"The ball was played up to me," he remembers. "I dummied, turned, beat Eddie Colquhoun as if I was Kenny Dalglish and shot at goal. Next goal kick, Eddie Colquhoun walked up behind me and gave me the biggest kick on the back of my ankles and said, 'Do that to me again and I'll f**king kill you.'
"This was the club captain and I really looked up to him. Being shy, I wasn't the sort who would say 'F**k you' and do it again.
"I retreated into my shell and didn't make the grade. It's not all about natural talent: it's belief and dedication. I played against Peter Shirtliff. He was very average, but he had a fantastic mind and great determination which I didn't have."
Perhaps it's best United turned him down, for Savage is a Wednesdayite. He didn't do too badly though. Today he is better known as Rick 'Sav' Savage, bassist of rock superstars Def Leppard, who have sold 51 million albums.
The product of a football family, his parents (father United, mother Wednesday) held their wedding reception on Hillsborough's East Bank on Christmas Eve 1948, as winger Dennis Woodhead scored Wednesday's goal in a draw against the mighty Bradford Park Avenue.
"Jesus, that must have p*ssed your dad off..." chuckles Joe Elliott, Def Leppard's singer. Elliott wasn't much of a footballer ("I was great on concrete though - a sh*t-?liner like Allan Clarke") but he too had the passion.
"I WAS ALWAYS BEATEN UP"
"Everyone at my school was a Wednesdayite. I was always beaten up for liking Marc Bolan instead of Slade, so becoming a Unitedite was just a continuation of that."
United won promotion to the old First Division in 1971 and Elliott's father paid £12 apiece for season tickets for himself, his wife and little Joseph.
"Tony Currie, Alan Woodward – who works for American Airlines: he lives in Tulsa and came to see us when we played Kansas City the other week – John Hope, Geoff Salmons, Gil Reece, who's just had a leg amputated... I went to nearly every game through the '70s until Def Leppard started rehearsing. We were in Division Three by then."
Before the rot set in, Elliott, in common with all Blades, knelt at the alter of Tony Currie.
"Bill Shankly said, 'Tony Currie's such a lazy bastard, I bet he lives in a bungalow.' I told Currie that and he said, 'I wasn't f**king lazy, I just looked lazy.' He'd do nothing for 80 minutes and then win the game. Bobby Charlton said Currie's goal for Leeds at Highbury was the best he'd ever seen: that's how good Tony Currie was."
"THAT WAS AS LOW AS IT GOT"
Wednesday were in similar decline. Savage's early heroes - David Ford, Johnny Fantham ("he had a barber's shop but he never cut my hair"), Tommy Craig ("a magician with his left foot") and David Sunley - were long gone, but he was there the Thursday night in 1976 when they defeated Southend United to avoid slipping into the old Fourth.
Even when his football career looked promising, he'd play for United juniors on Saturday mornings and nip off to Hillsborough in the afternoon.
When United tumbled into the basement division in 1981, Elliott was there.
"In the last game against Walsall, Don Givens missed a f**king penalty. It wasn't his fault – he was only in on loan and had no emotional contact and Tony Kenworthy bottled taking it. That was as low as it got."
Meanwhile, as the Sheffield clubs clawed their way back, Def Leppard had broken America. Elliott moved to Ireland's south Dublin rock star belt (Chris de Burgh and Bono live close by). Cannily, United saw the potential of courting Sheffield's most famous son and by the time they joined the old Division One in 1990, Elliott was part of the furniture.
"THEY NAMED A ROOM AFTER ME"
In fact, he bought some furniture for them: a stretching table worth £3,000. "It got Brian Deane seven or eight more games than he would have done. Harry Bassett was dead chuffed. They named a room after me."
He commuted from Ireland for every home game, flying to Manchester, and then driving to Sheffield to meet his parents, who had moved to Skegness.
"United were always badgering me to get on the board, but I couldn't afford to buy someone's left leg, let alone chuck all my money in. I tried to explain that we're not like Elton John: there's five of us in Def Leppard and we take 20 percent each. You put £25m in and you'll never get it back.
"When you don't put any more in, you're the biggest bastard on earth. They'd drag me out at half- time to draw the bingo and I used to go in the dressing room at five to three and listen to Harry's team talk. Or should I say his team scream.
"The players were a bunch of nutters, but they had such spirit. I used to go clubbing with them. David Barnes was mad, he used to run around restaurant tables with his trousers around his ankles and tissue paper hanging out of his arse while we sang Lord Of The Dance. Other diners were always surprised."
In contrast, Wednesday ignored Savage.
"I was always treated better at United. There was an elitist attitude at Wednesday. Now there are people I know on the board and they look after me quite well. They're realising that so-called celebrities like myself or Paul Carrack might help. Had I got the money Elton John has, though, I am stupid enough to put it in."
It's already looking like another hard season ahead for Sheffield's clubs. Savage advocates managerial change at Hillsborough.
"THEY SHOULD NEVER HAVE SACKED TREVOR FRANCIS..."
"I don't think Terry Yorath is the right man for the job. I'm biased because they should never have sacked Trevor Francis. Pleat was a disaster, Wilson ended up being a disaster but he was unlucky, and Paul Jewell was a non-starter. Yorath was Jewell's number two, so that wasn't a great qualification."
Likewise, Elliott would change things at Bramall Lane.
"I've never met Neil Warnock, but I'm not sure. I'm a fan of the fact that he's a fan, but he's over-passionate. Last season he was taunting the Kop at Hillsborough which is not clever.
"If I was 17, I wouldn't have been laughing at that. I was thinking 'You f**king tosser'. Be passionate, but use it as a positive energy. He's a very cocky winner but a very ungracious loser.
"In interviews he talks like the street fan, but you've got to rise above it and talk as an ambassador for the club. I? would rather someone with no emotional connection with the club comes in. Kenny Dalglish is free, isn't he?"
From the December 2002 issue ofFourFourTwo.
Thank you for reading 5 articles this month* Join now for unlimited access
Enjoy your first month for just £1 / $1 / €1
*Read 5 free articles per month without a subscription
Join now for unlimited access
Try first month for just £1 / $1 / €1