Former Chelsea goalkeeper Lenny Pidgeley tried to play through depression until someone else announced his retirement
Farnborough released a statement saying Lenny Pidgeley retired from football in 2018, against his wishes. Here, he explains to FourFourTwo what playing professionally with depression was like, and his feelings towards the club after that statement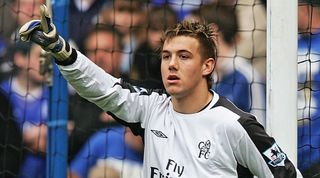 (Image credit: Getty Images)
Lenny Pidgeley came through Chelsea's youth academy and made two first-team appearances for the club, before moving onto other teams such as Watford, Millwall, Exeter City and Newport County during the course of his career.
A goalkeeper by trade, Pidgeley spent the majority of his playing days in the lower reaches of the Football League, before dropping down to the then-Conference with Newport in 2012.
Following three years at the club, though, and the former Chelsea goalie - whom John Terry had gone out of his way to provide a Premier League medal for the 2004/05 season with - found himself at semi-pro teams lower down the pyramid.
All the while, though, Pidgeley played with depression, something he tried to manage at each of the clubs he went to. Speaking exclusively to FourFourTwo, Pidgeley explains what he had to deal with during his career.
"I'd been carrying on playing semi-pro football with teams such as Leatherhead and Hastings United until I found myself at Farnborough – ideal, as it wasn't far at all from where I was living," Pidgeley explains to FFT.
"I was playing the odd match, but not really enjoying it. At this time, I'd managed to wean myself off anti-depressants as I didn't want to become reliant on them, but I was able to control my feelings a little better. I was working as a labourer during the day, and one weekend I was shattered and could tell that I was about to have a tough period."
Indeed, in May 2018, he joined Southern Football League side Farnborough. However, just three months later, in September, the club announced Pidgeley had retired due to mental health problems, something he hadn't intended on doing himself.
"I phoned the manager at Farnborough, saying I wouldn't be able to play an evening game where I'd have had to drive for more than two hours to get there. I knew my body. I hadn't been sleeping or eating properly, and I was as white as a ghost as the depression began to kick in.
"My palms were sweating, my heart was racing, and the thought of even leaving my flat was alien to me. If my girlfriend had asked me to pop down the road to get a Chinese takeaway, I wouldn't have done, let alone drive to Lewes to play in goal for 90 minutes.
"After speaking to the manager, I was told that Farnborough's other keeper was also unavailable and that I had to play. He tried to give me no option. My attempts to explain myself weren't getting through to him. I told him this wasn't simply a phase – I'd completely had it with football and was going to call it a day."
Pidgeley explains how confiding in managers at previous clubs would always end in support and empathy. At Farnborough, though, he didn't receive anything similar.
"His reaction couldn't have been more polar-opposite to the reactions of previous bosses I'd confided in, so I hung up the call before I got too angry.
"Farnborough lost this FA Cup tie on penalties with an outfield player in goal, but before the game they posted this on their website: 'Lenny Pidgeley has informed us that due to a "significant long-term personal medical condition" he is retiring from football with immediate effect. This is the first anyone at the club was aware of the condition, and although the timing is shocking we wish Lenny and his family all the best in his retirement.'
"That was disgusting."
While Farnborough received plenty of backlash for announcing both Pidgeley's retirement and mental health problems, the former Chelsea goalkeeper explains how the club made the decision for him to retire, rather than leaving it up to him to make the choice.
"The manager had made me feel so small and suggested it was all my fault if they lost, because I couldn't play. It wasn't for him to announce my retirement like that – he completely stole my moment, something that every professional has a right to tell the world when they want to.
"That could have tipped somebody else over the edge, but luckily for me I had the coping mechanisms in place to put it to one side. The manager received a big backlash after that statement – which the club eventually deleted – and I received lots of support online, but once again, it illustrated how some people view mental health and depression."
Opening up on the anxiety issues that ended his career, Pidgeley explains what he had to deal with in his head on a day-to-day basis.
"People wouldn't have thought that there was anything going wrong with my life," he says. "But that's one of the toughest things about depression. It's called a silent killer for a reason.
"At my worst, I couldn't leave my bedroom. I would be crippled with anxiety and fear, even though the logical side of my brain was telling me that I was being ridiculous. It could be the smallest of things, such as looking out of the window and seeing a huge gust of wind, and I would start panicking.
"I have sympathy for those who don't understand, because unless you've experienced it, it's pretty hard to explain. I didn't want to do anything. It wasn't that I didn't want to live, but I couldn't face waking up each morning and trying to get through the day. It was that bad, and it led to suicidal thoughts."
Pidgeley adds: "My favourite part of the day was going to bed and starting to feel tired. Otherwise, my head would be racing for the rest of the day and I'd be thinking about just the most ridiculous stuff. Anything could trigger me into having anxiety and panic attacks."
Now 38-years-old and a landscaper, he describes to FFT what it felt like when he stopped playing football in 2018 and the struggles that retirement bought.
"When I stopped playing football, my drinking got worse because of how my social life changed. There's loads more going out now, rather than living the life of a footballer.
"There was a structure that I had to follow; now I'm running my own landscaping business and everything is on my time. There doesn't need to be much of an excuse to go for a pint after work. But one pint can lead to two, two to five, and the next thing you know you've had 10."
However, people within football have offered their support to Pidgeley in the intervening period, while the aforementioned coping mechanisms he spoke about are enabling him to live a more managed life.
"Sky Sports presenter Rob Wotton has reached out to me, as has Chris Kirkland, the former Liverpool, Wigan and Sheffield Wednesday goalkeeper. Both have been extremely generous with their time. Rob is a counsellor and has been taking me for sessions where we chat things through. He's also a massive Chelsea fan, so we're never short of subjects to break the ice.
"Sporting Chance [a sports mental health charity set up by Tony Adams] have been in contact too, offering me a 28-day rehab course if I hit rock bottom again. It's amazing to have this support network, as I feel responsible for not letting any of them down. I can tick off each week knowing that I haven't had a drink, and I'm able to manage my mental health a lot better. There were plenty of chances for me to have sunk into a deeper depression over the last few years, especially after losing my father to cancer, but without all the pressures of football in my life I've found it easier to strike a balance.
"I'm in control now. I'm very proud of my career. It's tempting to wonder how different it could have panned out if I wasn't one of the thousands who suffer from depression, but I am where I am and I'm finding peace. After all, not many football fans grow up to lift the Premier League title for their boyhood club 10 minutes after making their debut."
Thank you for reading 5 articles this month* Join now for unlimited access
Enjoy your first month for just £1 / $1 / €1
*Read 5 free articles per month without a subscription
Join now for unlimited access
Try first month for just £1 / $1 / €1
Get FourFourTwo Newsletter
The best features, fun and footballing quizzes, straight to your inbox every week.