How Pep Guardiola is proving his critics wrong – and changing the Premier League landscape
Manchester City's manager is dramatically shifting the type of football that title-winning sides play, argues Thore Haugstad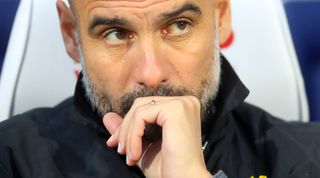 There is a stat that had Manchester City all but doomed before the start of the season. In the last eight years, the Premier League winners have never topped the possession ranking.
Since at least 2009, the busiest passers have never lifted the trophy. As Spain and Germany have been dominated by teams who keep the ball, the Premier League has belonged to sturdy back lines, powerful engine rooms and lethal counter-attacks.
No wonder Pep Guardiola drew scepticism when he arrived last year. Whatever you consulted at the time will have suggested that his style was incompatible with the demands of the English game, from stats and trends to old-school pundits or young managers such as Andre Villas-Boas.
Just 18 months ago, the value of possession was still declining in England. Guardiola is now reversing a stylistic trend that has characterised the league for years.
The AVB warning
Do not underestimate the conviction behind the theory that Barcelona would have struggled if they were in the Premier League. Many believed it to be true – and for a long time, they seemed to have a case.
In one way, the scepticism was a version of Andy Gray's argument that Lionel Messi would struggle on a wet and windy night at Stoke. Like Messi, Barca – or at least anyone trying to copy them – would be found too fragile and elaborate in England. Crunching tackles would scare silky playmakers. Long balls would ruffle cultured centre-backs. Gritty defences would resist sterile build-up play, then strike on the break.
It wasn't just Gray and his kind who believed it. Ex-Chelsea coach Andre Villas-Boas, a disciple of quixotic attacking football, said back in 2011 that Barca's 4-3-3 system would never work in England "because of the higher risk of losing the ball".
His theory initially looked correct. Manchester City came third in their first year under Guardiola, and did indeed gift away goals by losing the ball in dangerous areas. They dominated games without deciding them. On cold away days in December and January, they were hammered 4-2 by Leicester and 4-0 by Everton, two reactive sides who sat back and went long.
Most of it was in line with what had worked in England in previous years. Had Guardiola had any regard for recent history, he would have changed his ways.
Get rid of the ball
That's because nobody in England had relied almost entirely upon possession before and won the league. Even when the Manchester clubs shared four titles between 2011 and 2014 – three of which came under attack-minded managers in Sir Alex Ferguson and Manuel Pellegrini – they mixed silk with steel. Ferguson built from the back, with gifted midfielders backed by commanding centre-backs. Pellegrini had warriors such as Vincent Kompany and Fernandinho.
More recently, since 2015, the winners have been far more reactive. The recipe has been a solid defence, a workmanlike midfield and speed up front.
First up was Jose Mourinho, who had Chelsea playing slick football early on before retreating to a defensive style that delivered the title. They had the sixth most possession. Then came Claudio Ranieri, whose Leicester had the ball less than all but two teams in the entire division. The next title went to Antonio Conte who, like Mourinho, based his success on robust defending and quick transitions. His Chelsea were also sixth in the possession ranking.
The winning formula denoted a wider change in the league. Smaller teams also shored up their defence and ceded the initiative. Between 2011/12 and 2015/16 the average possession of winning teams in the league declined steadily from 52.8% to 50.3%.
As a result, the number of away wins shot up. Arsene Wenger noted that teams had become stronger and more durable, equipped to defend deep for 90 minutes, while their transitions from defence to attack had improved. "Possession is not rewarded any more like it was before," he said.
This was clearly bad news for Wenger, who perhaps symbolised the changes more than anyone given that Arsenal had not won the title since 2004, a time when they had these very qualities. It was also a warning for Guardiola, yet he ignored it and got punished. This season, he has defied it once again.
Trend setters
In fact, City have become even more extreme than they were last season. Their possession average has gone from 60.9% to 66%. Rather than seeking a compromise between his own ideals and the English culture – which seemed sensible in the summer – Guardiola has gone the other way.
Little has actually changed at City beyond their ability to master his style. They have spent big, but the only new outfield player to feature regularly has been Kyle Walker. The rest of the difference is down to technical and tactical improvements, and a deeper understanding of what Guardiola demands. He has been given more of what he said he'd always need: time.
Now read...
The results have been 15 wins and one draw in 16 games, as well as 48 goals. In what is supposed to be the most competitive elite league in Europe, flush with rich mid-table clubs and some of the most high-profile managers in the world, City have made it a one-horse race by mid-December.
And so Villas-Boas seems to have been wrong. "People said we couldn't play the way we did in Barcelona in England, but it is possible and we did it," Guardiola said after the Manchester derby. "I knew that last season. Always I believed we could do it."
Should City win the title, they would emphatically reverse the anti-possession trend at the top of the table. Some Guardiola supporters did not only predict that he'd win the league, but that others would copy his style to the extent that you could call it a revolution. Whether that happens remains to be seen, but what looks certain is that a myth has been busted. The old Barca way can work in England too.
New features you'd love on FourFourTwo.com
Quizzes, features and footballing fun
Get the best features, fun and footballing frolics straight to your inbox every week.
Thank you for signing up to Four Four Two. You will receive a verification email shortly.
There was a problem. Please refresh the page and try again.