Jurgen Klopp, Liverpool and the seven-year itch
At both Mainz and Borussia Dortmund, Klopp left after seven years as things turned stale - can he turn it around at Liverpool and rediscover his infamous intensity?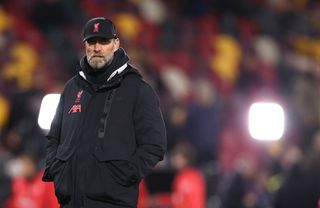 (Image credit: Getty Images)
The last time Wolves played at Anfield, their hosts came within nine minutes of winning the Premier League title.
A mere seven months later and Liverpool resemble nothing of the side that was two wins away from winning an unprecedented quadruple.
Where there were scenes of joy and anticipation on that sunny day last May, at times in the first half of the FA Cup third-round tie the atmosphere threatened to turn toxic. Without Darwin Nunez's well-taken goal just before the break, the reception at half-time would've been moody, to say the least.
There were frustrated shouts from the crowd and players looking just as angry at each other, such as when Alisson put a pass straight into the stands and received the ire of Andy Robertson. Mind, the 'keeper would've been better doing that than passing the ball straight to Goncalo Guedes in the 26th minute.
Alisson has been, by a country mile, Liverpool's best and most consistent player this season, but even he showed he isn't immune to a costly individual error. When it rains, it pours.
And it's certainly pouring at Anfield at the moment.
But Liverpool haven't simply fallen off a cliff in seven months. What we're seeing now is a result of the years that have preceded Jurgen Klopp's seventh full season in charge.
The problems are plenty
Conceding first vs. Wolves meant the 14th time in 27 games this season that Klopp's side had gone behind. Yet again, it meant the mentally and physically draining task of having to get back into a game - a trend that began at the end of last season and has continued long into this one.
Klopp was asked about it early this season and suggested the two seasons couldn't be compared. "You have 63 games and you fight through it somehow, completely different," he said, suggesting that tiredness at the end of last season played a part.
If so, then what's the reason for going behind in over half the games this season?
It's just one in a myriad of Klopp's baffling claims this season. The day before this fixture he insisted the midfield wasn't the issue, then after the match he criticised the lack of winning challenges, having seen Jordan Henderson and Fabinho win a combined total of one tackle - five fewer than Thiago, who has looked like a one-man midfield in recent fixtures, having to be chief ball winner and playmaker.
Midfield is clearly a major, major issue and despite Klopp's public stance on it, he knows it too, hence the pursuit of Aurelien Tchouameni last summer, loan signing of Arthur, and desire to bring in new midfielders in 2023.
But Klopp also backed his 'eight midfield options' in the summer and the issues now run so deep that they won't simply be solved by adding a midfielder or two.
This was Liverpool's strongest XI, up against the 19th-placed team in the Premier League, who had two fewer days to prepare/rest ahead of the fixture and made nine changes, basically playing a reserve side.
That in itself is an embarrassing indictment of where Liverpool find themselves today.
No team in the Premier League have scored fewer than Wolves this season, yet they sliced through Liverpool's midfield with ease time and again and looked threatening every time they broke the half way line. Much like Brentford did six days earlier.
The best midfielder on show at Anfield was Matheus Nunes, a player Liverpool turned down five months ago but now seem set to buy in five months' time. Another absurdity in this 2022/23 at Anfield.
Where are the improvements?
While Klopp bemoans the fixture schedule in this strange season, the truth is that this season has been far from congested thus far (that's to come in the second half of the campaign).
Klopp and his staff had a two-week gap in September without a game due to the Queen's passing. An opportunity then to work with the players early on to eradicate the issues that had arisen.
Then there was the World Cup, six weeks to work with the majority of the squad. Truth is, Liverpool have returned no better. The intensity, if anything, is even lower. They're weak in challenges, second to every second ball, out-run in every fixture, outfought individually and collectively, and out-thought tactically time and again.
According to data in the Times newspaper, Liverpool have gone from being the top-ranked team in the Premier League for sprints and high-speed runs in 2018/19, to 16th and 11th respectively. They're also covering far less distances per game, down from second to 14th.
The drop-off is huge. Clearly, Liverpool's squad that won the Premier League and Champions League have come to the end of their cycle.
The 7-year itch
If the so-called 'seven-year itch' is real, Klopp is experiencing it for the third time in his career.
Klopp's final season at Dortmund saw players run out of steam after seven years, as also happened at Mainz. That Klopp hit his seven-year milestone at Liverpool this season is perhaps not a coincidence. Has he learned from his previous experiences? It seems not.
You can point to no shortage of glaring issues but they all come back around to the same two; the midfield and a lack of intensity.
And it's that lack of intensity that is a culmination of the years that have preceded where we are now.
Just like at Dortmund and Mainz, Klopp at Liverpool has overhauled the squad he inherited, nurtured that squad in its prime years and achieved incredible success, but, thus far in his career, he's never been able to rebuild his own squad.
Alex Ferguson did it multiple times at Man United, re-building his squad to achieve sustained success. Pep Guardiola has done/is doing it at Man City now, although largely thanks to a large open chequebook.
But can Klopp rebuild again? His squad has somehow been allowed to get to the point where its midfield, an absolutely key component of Klopp's side, has no midfielder with Klopp-like attributes.
Fabinho is arguably the only midfielder who could still be considered in his prime years, at age 29, but he looks - like many of this Liverpool squad - like a player who has played too much football in a physically demanding style for the past four seasons. Those running and sprinting stats look great at the time, but there has to be a physical toll down the line.
Klopp said in summer 2020 that his two full-backs "cannot play every season 50-something games - it would limit their careers." Since those words, Robertson played 50 games the following season, plus another 19 with Scotland, then 47 last season.
Klopp's squad now has a real dearth of prime-aged players, while the senior players look - as evidenced by all running data this season - incapable of reproducing the same physical numbers as they have in the past three, four or five seasons under Klopp.
One of many great quotes attributed to Bill Shankly is that of a football team "being like a piano - you need eight men to carry it and three who can play the damn thing."
Right now, Liverpool are severely lacking those to do the heavy lifting. And that has to be on Klopp's shoulders.
Thank you for reading 5 articles this month* Join now for unlimited access
Enjoy your first month for just £1 / $1 / €1
*Read 5 free articles per month without a subscription
Join now for unlimited access
Try first month for just £1 / $1 / €1
Quizzes, features and footballing fun
Get daily World Cup 2022 news, updates and other football frolics to your inbox
Matt Ladson is the co-founder and editor of This Is Anfield, the independent Liverpool news and comment website, and covers all areas of the Reds for FourFourTwo – including transfer analysis, interviews, title wins and European trophies. As well as writing about Liverpool for FourFourTwo he also contributes to other titles including Yahoo and Bleacher Report. He is a lifelong fan of the Reds.
Quizzes, features and footballing fun
Get daily World Cup 2022 news, updates and other football frolics to your inbox
Thank you for signing up to Four Four Two. You will receive a verification email shortly.
There was a problem. Please refresh the page and try again.