Juventus vs Fiorentina: A rivalry based on bitterness, rather than geography
As Juventus and Fiorentina prepare to face-off in a two-legged Europa League last 16 tie, Adam Digby explains why there is no love lost between the two Serie A sides...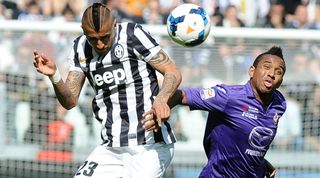 Most genuine footballing rivalries are based on geography, with either two clubs sharing a town or being from neighbouring cities, Liverpool's duel rivalries with Everton and Manchester United being a prime example. Further afield however, we find 'derbies' based on other things, and these always seem to carry more venom and vitriol, usually because those origins lie in one side feeling wronged by the other.
In England, Arsenal supporters are quickly building hatred towards Stoke, a team who appear to have joined Bolton in being struck off Arsene Wenger's Christmas card list. Yet their animosity is nothing compared to that on show when uttering the name of Juventus to a Fiorentina fan, a word instantly met with bitterness by anyone with sympathy for the Viola.
The rivalry began when, like many other areas of Italy, locals grew tired of seeing people from other Tuscan towns heading off to support the Bianconeri. Like many of Europe's biggest clubs, Juve attract followers from far and wide, but never from Florence, the Renaissance city loyal to its own side almost exclusively. Then, in 1982, Liam Brady made things even more intense.
Juventus and Fiorentina were battling closely for the Scudetto that season, a race which would reach the final day with them equal on points and each desperate to emerge triumphant. The Viola travelled to Cagliari to see a seemingly valid second half goal disallowed and their side unable to breach the Sardinian defence, playing out a 0-0 draw. Then news came from Catanzaro, the Irish midfielder had slotted home a penalty to hand the points – and a 20th league title – to the grand Old Lady.
As another golden star was stitched onto those famous black and white shirts, Fiorentina fans cursed Juventus, unable to hide their loathing of the despised Torinese side. "Meglio secondi che ladri," they said, "better to be second than to be thieves," convinced that the chance of only their third league title had been stolen.
Soon it would be more than just a championship lost by the Viola, who eight years later had built an impressive side that would carry them all the way to the UEFA Cup final. As the 1989/90 season drew to a close, Roberto Baggio had emerged as the star of the team, filling supporters with dreams of glory. They had carefully nursed him back to fitness after a horrific knee injury, reaping the rewards as he netted 43 goals over two seasons and captured attention from across Europe.
Much to their despair however, it emerged that the Pontello family were not only keen to cash in their prize asset, but were willing to sell him to Juventus in order to earn maximum profit. With La Madama also reaching the final, the two sides would go head-to-head, with talk of the impending transfer rumbling on in the background. Roberto Galia gave Juve a third-minute lead, only to see Fiorentina equalise just seven minutes later, leaving current Juve assistant coach Angelo Alessio to play a vital role as a substitute.
Coming on at half-time, his deflected shot led to the essential second goal, allowed to stand despite a shove from Pierluigi Casiraghi on Celeste Pin, leaving the defender incensed as the striker slotted home. Luigi de Agostini netted to complete a 3-1 victory. As Juventus coach Dino Zoff gave his post-match interview to RAI, Pin walked past and yelled, his cry of "thieves" clearly audible to everyone watching. In the face of claims that another game had been stolen from the Viola, Casiraghi would simply respond "we are Juventus, you are Fiorentina!"
The Bianconeri emerged victorious two weeks later, holding on to a 0-0 draw away, lifting the trophy for the second time in their history as fighting broke out in the stands. Baggio's world-record £8 million move was finally announced shortly after, and the frustration of Fiorentina's supporters finally erupted. They rioted on the streets, laying siege to the club's headquarters for three days and leaving 50 people injured as the city burned, unable to accept the loss of their talismanic forward to their hated rivals. The player refused to take a penalty on his return to Florence the following season, donning a Viola scarf as he was substituted.
Just this past weekend, fans on both sides displayed just how strongly they despise one another, with vile chants and banners on display at Juventus Stadium as La Madama held on for a narrow 1-0 victory. Yet the two clubs – who currently sit first and fourth in Serie A – are very different than they were in 1990, both enduring difficult journeys back to the top in recent years, as off-field issues left each shattered beyond recognition.
Fiorentina were declared bankrupt in 2002, forced to be reborn in the fourth tier as owner Vittorio Cecchi Gori's poor business sense left them with no option but to completely start over. Juventus were also relegated in 2006, left to carry much of the responsibility for the Calciopoli scandal in which most clubs were involved but ultimately only one was sent to Serie B. From there, they too were mismanaged, enduring some painful seasons following their top-flight return after just one year in the second tier.
Shoe and leather entrepreneur Diego Della Valle took control of the Viola, with former Juve man Angelo Di Livio ironically the only player to remain with the club at its lowest ebb. The new owner built a remarkably well-run club, buying talented youngsters and trusting in his coaches. Cesare Prandelli took them into the Champions League before taking the Italy job, and now Vincenzo Montella has taken up the mantle.
With the help of sporting director Daniele Pradè, the former Roma forward has shaped an impressive team, unfortunately losing the prolific Giuseppe Rossi in January. Even without the striker – who already had 14 goals before his knee injury – the Viola boast a superb squad, Colombian winger Juan Cuadrado catching the eye of Europe's top clubs. They play a possession based game, their midfield making short, quick passes as they look to pick opponents apart, and their 58.6% possession average only narrowly trails Milan and Roma.
Juventus too have been reformed by Andrea Agnelli and Beppe Marotta, building an unstoppable team which has lifted back-to-back titles under Antonio Conte, a third not so far away as they currently enjoy a 14-point lead on the rest of the league. With Fernando Llorente and Carlos Tevez now working well together, they have added the missing pieces to an already dominant squad and boast an attacking duo to rival any across the continent.
Together, along with Napoli and Roma, the two clubs represent the bright new face of Italian football, dispelling the old myths of underhanded business practices and dire defensive football. Their excellent work off the field and stylish play on it has seen that quartet leave the Milanese clubs behind, their aging squads looking out of touch with the direction Serie A is quickly moving. With even many of the league's minnows following suit, Juventus and Fiorentina will look to showcase these positives as the world once again watches on.
Both clubs have aspirations that reach much higher than the Europa League, but that is now where their collective focus lies. That lent a strange air to their most recent meeting, as each team appeared to be feeling out the other's strengths and weaknesses, neither wanting to reveal their hand tactically with two more matches in the next week. Some rotation from Sunday's meeting is inevitable at this stage of the season, particularly as Andrea Pirlo and Borja Valero were suspended for that fixture.
Those changes will only add to the huge transformation each club has undergone, but the history of their rivalry demands that both will give their all in their first meeting in Europe since that 1990 final. The names and faces may be very different, but Juventus against Fiorentina will always be about Baggio and Brady, thieves and riots, with much more at stake than merely a quarter-final berth.
Thank you for reading 5 articles this month* Join now for unlimited access
Enjoy your first month for just £1 / $1 / €1
*Read 5 free articles per month without a subscription
Join now for unlimited access
Try first month for just £1 / $1 / €1
Get FourFourTwo Newsletter
The best features, fun and footballing quizzes, straight to your inbox every week.