Kaka: Q&A
By Nick Moore published
"I think it was God – he saved me from something worse."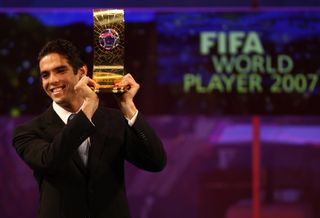 Was there a moment when you really started to believe that you could be one of the best players in the world?
Honestly, no. I like to have my objectives. The first was to become a professional, then to win a regular place in the Sao Paulo team but as time goes on these objectives change. When I got to Milan that was when my objectives really started to change. To win the Champions League, to become a great player, to take on more responsibility at the club. I won that responsibility but at the time that wasn't a goal, that came after I established myself at the club.
There is a story that you gave yourself 10 goals as a player, is that true?
Yes, it was in an interview with a Brazilian magazine and they asked me for my goals and I listed my short term goals. And I achieved them all within two years – much quicker than I imagined.
So what happened once you'd achieved them?
Well, now I have others. Once I achieved them I gave myself others. I always like to set myself goals in my career.
What are your current goals then?
Well, let's speak about this year. I'd like to win the European Supercup, that's a goal. Win the World Club Cup, that's another objective. Then there's the national side. I'd like to play in the Olympics. The Olympics are next year and Brazil has qualified and I'd like to play. That's for the future.
And the World Cup?
That's three years away, but yes, I'd like to play in another World Cup, this time in South Africa. I want to continue in the national side and keep doing well. But let's take it by stages, the first stage is the Olympics.
How do you arrive at these goals? Do you sit down with friends or family on January 1 each year and make a list? How does it work?
It's a natural process, and it's all me – I don't do it with anyone else. These things motivate me, these are the goals I go after. Those are the things I try and achieve.
Who influences you most?
The most important influence is my dad. Obviously, my wife and my mum are always at my side, and there are friends, players, coaches… I listen to them all. If the advice is good, I take it on board. If it's not, I put it to the side. But the most influential person in my career has been my father. He has helped me with all my professional decisions, and has always given me good advice.
What about on the playing side? Carlinhos Neves at Sao Paulo, for example, was a big influence wasn't he?
Neves was very important, Carlinhos helped me when I was with the Brazil U23 team. He taught me a lot about fitness, how to prepare myself for games and training, and about motivation.
Is there anyone else?
I learned something from all my coaches – the ones that played me and the ones that didn't. The ones that didn't like me taught me perseverance, patience, how to fight for what I wanted. From the ones that did pick me I learned about technique and tactics. If am going to name names I'd say Vadão, my first coach as a professional at Sao Paulo. He was in charge of the juniors there and he believed in me and he was very important for me. Then there's Felipao (Luis Felipe Scolari), who when I was just 20 took me to the World Cup in 2002 and gave me the opportunity to be a champion and participate in that team which was very important to me. And then there's Ancellotti. This is my fifth season with him, we have a great relationship, he is a winner. Those are the guys that are important.
Who were your idols when you were starting out?
The big example I had was Rai, who played at Sao Paulo and then went to Paris St Germain. I admired him because he was the top player at Sao Paulo when I was starting out. He was a leader who decided games and he was the big name. He was an elegant player and very talented and that impressed me.
People also mention you and Leonardo in the same breath…
People compare us but I think we are very different, starting with the fact that he is left-footed and I am right-footed. I think it's more to do with the way we conduct ourselves.
Do such comparisons bother you?
Not at all. When people compare me to people who are a good example then it is a compliment.
A coach at Sao Paulo showed us a picture of you when you were a kid. You were tiny! One trainer said you were so frail that when he saw you step up to take a penalty he worried that you wouldn't have the strength to kick the ball all the way to the goal! How did you transform yourself into the physically imposing specimen that you are today?
Well, when I was young I had a physical problem. My bones were two years slow in developing. When I was 12, I physically looked 10 and that was the way it was until I was about 15 or 16 when it normalized So it was normal to me. Sao Paulo worked with me to build me up but we had to just wait and when the time came I filled out. It was hard but I learned from it, I learned to fight for what I wanted and that was important.
The Sao Paulo medical team have graphs showing how your muscle mass grew at an incredible rate. How did you manage that?
That was in1997, they took me to see some specialists at Sao Paulo who developed a program for me and followed me every three months to see how I was growing. They worked on building up my muscle mass so I'd be able to cope physically with those difficulties and battles that a football players faces.
When you hit your head on the pool and fractured your neck, you were out for a long time, it was a real threat, not just to your career but your life. What effect did that have on you?
It helped shape me, principally as a person, but as a player too. It was a time in which I learned that you have to be very determined and that you have to give your best every single day because the next day you might not be able. It was very sudden. Friday I was training, Saturday I had the accident and on the Monday I was out. I couldn't do anything, I had to wait and let the bones in my neck heal. So I said, when I get back I am going to do my best because the thing I most love to do I can't do now. So when I can I'm going to do it to the best of my ability.
Were you afraid?
No, not after having all the tests. The doctors said I was very lucky, that I could have been paralysed because I fractured my neck. But I think it was God - he saved me from something worse.
So you never thought your career could be over before it had begun?
No, I never thought that.
Is it true that in 2000 you might have gone to a Turkish club Gazientspor but that they baulked at the transfer fee?
No, I never had any proposals from Turkey. There was an offer from Brescia in Italy – in January 2002, but Sao Paulo turned it down. Bayer Leverkusen also made an offer and Sao Paulo turned that down too. And when I was negotiating with Milan, CSKA Moscow were also interested. I chose Milan because I had just been playing along side Leonardo and he had spoken so highly of the club. And so when the chance presented itself right at that moment I thought: this is it.
FourFourTwo elected you the best player in the world. If you were to vote who'd be your top five?
I'd vote first for Ronaldo, my team-mate at Milan. I like Ronaldo a lot, I love playing with him and he's always been an example to me and I still think he is a great player. I like Eto'o, I like his speed and how he controls the ball at speed and his ability to score goals at speed. Henry for his elegance, ability, speed, he's a great striker. Cristiano Ronaldo for his speed and how he manages to do tricks even when he is moving at great speed. And Ronaldinho for his skill and talent.
What do you expect from the new Serie A season? It looks like it should be an exciting one…
This season is going to be excellent, I think. Some big teams are back in Serie A, not just Juventus but also Napoli and Genoa and they will make the league more competitive. Lots of teams have strengthened. Milan and Inter are strong. It is going to be a hotly contested championship. One crucial thing is that all the teams will start with zero points. Last year we started with minus points. This time we are all the same and that will be a key factor.
And what about the Champions League?
We'll be defending our title, but there are always surprises. Last year no one singled us out as possible champions and in the end we won it. I think Milan will be there fighting at the end again.
Which teams do you view as Milan's main challengers?
Barcelona have a strong side and they will be one of the favourites, Bayern Munich, Chelsea, Liverpool. Manchester United, of course. Inter have an excellent side, I think those are the main sides that can do well in the Champions League.
Can you tell us a bit more about your views of the English sides?
Arsenal and Manchester United are different from the other English teams. They play a bit more, they're more open; they are different from the typical English teams who have a tall striker up front and hold on to the ball. That's more typical of Liverpool and Chelsea, who are very tactical sides – more English. Manchester United and Arsenal are more agile, they let other teams play and they play too.
What do you expect Milan to achieve this season?
Well, as I said, winning the league title and the Champions League is always Milan's core target. And then there are the two finals, the World Club Cup in Japan and the European Supercup final on 31 August – we'll be going all out to win both of those.
Thank you for reading 5 articles this month* Join now for unlimited access
Enjoy your first month for just £1 / $1 / €1
*Read 5 free articles per month without a subscription
Join now for unlimited access
Try first month for just £1 / $1 / €1
Nick Moore is a freelance journalist based on the Isle of Skye, Scotland. He wrote his first FourFourTwo feature in 2001 about Gerard Houllier's cup-treble-winning Liverpool side, and has continued to ink his witty words for the mag ever since. Nick has produced FFT's 'Ask A Silly Question' interview for 16 years, once getting Peter Crouch to confess that he dreams about being a dwarf.
Quizzes, features and footballing fun
Get the best features, fun and footballing frolics straight to your inbox every week.
Thank you for signing up to Four Four Two. You will receive a verification email shortly.
There was a problem. Please refresh the page and try again.