Man City extend Wright contract to avoid awkward questions about Wright
Manchester City officials were strangely vague when discussing Richard Wright's contract extension at the Etihad Stadium, Back of the Net reports...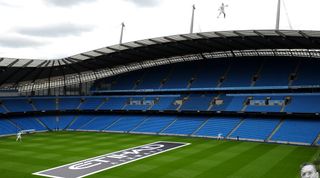 While Manchester City insisted at a press conference that they were 'delighted' to extend their working relationship with Wright, the mood turned tense when reporters asked if they could speak to the goalkeeper. Club officials stated that Wright, who was last seen in public nearly three years ago, was "too busy" to talk to the press, before adding that he was "definitely alive though."
However, an undercover investigation undertaken by FourFourTwo revealed a sinister motive to the decision to keep Wright on their books.
"You occasionally hear talk of Richard Wright - a whisper in the corridor, a blurry shadow on a CCTV picture, a stubbly, forlorn face in the mirror, but nobody here is willing to say outright that they have seen him," an insider told FourFourTwo.
"We know that at some point there was a man called Richard Wright and that Man City employed him to keep goal, but that's about it, and even that seems hard to believe these days.
"Everything else is just folklore. Is he really nine foot tall with goalkeeper gloves for hands? Does he stalk the corridors at the Etihad Stadium berating phantom defenders for short backpasses? Did he really once give away two penalties against Malta? We just don't know."
In documents leaked to FourFourTwo, it emerged that the decision to keep Wright was seen as the safest way to prevent further questions about where or indeed what Richard Wright was.
"The club had been dreading the point at which people would be reminded of his existence, so they tried to sneak through a renewal," our insider said.
"There would be impossible questions to answer, such as 'Why haven't we even seen him warming up or on the bench?' 'Why wasn't he preferred to Costel Pantilimon?' and 'If he was back-up to Nigel Martyn for England then isn't he like 45 or something by now?"
Manchester City will be hoping that by offering a new deal to Wright they will calm a flurry of sightings of the phantom keeper that have scared staff over recent weeks.
"After months of barely any visitations there were suddenly scores of people seeing Wright stalking the corridors, flanked by a shadowy man in a suit repeatedly stating his need for a signing-on bonus," the insider said. "Maybe now we can live in peace again for at least 11 months."
Quizzes, features and footballing fun
Get the best features, fun and footballing frolics straight to your inbox every week.
Thank you for signing up to Four Four Two. You will receive a verification email shortly.
There was a problem. Please refresh the page and try again.