Manchester City players scared they may now be expected to drink Carabao
The Premier League leaders have deftly avoided drinking even a drop during their cup run, Back of the Net reports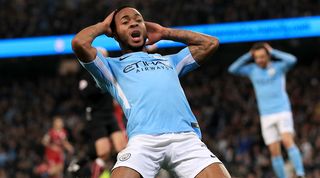 The elation in the Manchester City dressing room at Ashton Gate last night gave way to trepidation after some senior players insisted they would now almost certainly have to drink at least a sip of Carabao after reaching the Carabao Cup final.
Pep Guardiola's men have navigated their way to Wembley without being obliged to sample as much as a can of Carabao collectively, but to manage to lift the trophy without being forced to take even one swig of the drink may be too much to ask even for the on-song Citizens.
Carabao, Thailand's third-favourite caribou-based soft drink, made a bold marketing play in sponsoring the EFL Cup but sales haven't seen the expected boost – an anomaly widely attributed to the UK market's reluctance to try a drink that boats it is 'exactly like drinking a deer' and which frequently uses the slogan: 'Oh boy, that's a gamey drink'.
"As soon as the draw for the third round was done, I had two questions in my mind: can we go all the way, and will we have to let any of that venison-enthused, bubbly sludge down our gullets?" Pep Guardiola explained to FourFourTwo.
"So far, so good. We've been photographed with closed cans of Carabao, but barring a freak accident there was no genuine risk of any of my players being exposed to it, even if the sponsors vetoed Hazmat suits.
"The question for me now is - how do we approach the final at Wembley, in terms of tactics and also in terms of ensuring that if we do win it we aren't made to consume even a spoonful for a photo opportunity?
"Let alone if any of it gets sprayed playfully, like champagne. My God, it could take out the whole squad in one fell swoop."
Manchester City doctors have estimated that even a pipette drop of Carabao could incapacitate Kevin De Bruyne's fragile digestive system, while a whole can would be able to dissolve Sergio Aguero entirely.
It's not the first time that sponsorship of the Football League Cup has caused conflicts of interest.
The Birmingham City side that won it in 2010/11 were forced to down pints of Carling in the royal box, bringing about a seven-year downturn in fortunes, while many Manchester City players are still struggling with interest payments on Capital One credit cards from 2016.
Please note: This satirical news story is not real. Like, obviously.
Quizzes, features and footballing fun
Get the best features, fun and footballing frolics straight to your inbox every week.
Thank you for signing up to Four Four Two. You will receive a verification email shortly.
There was a problem. Please refresh the page and try again.