Arsenal offend Aubameyang by discussing very personal terms
Gunners officials have been much too forward for the Gabon international's taste, Back of the Net can reveal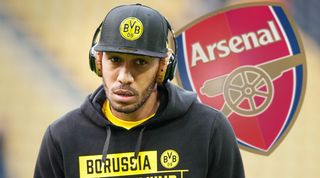 Arsenal negotiators have endangered their move for Pierre-Emerick Aubameyang by impertinently trying to discuss personal matters in their first face-to-face meeting with the Borussia Dortmund man's entourage.
The north London side are under pressure to find a high-profile star to bolster their flagging challenge and soften the blow of Alexis Sanchez's imminent departure, but the Gunners came off 'creepy' in their exchange with Aubameyang earlier today.
Sources close to Aubameyang have reported that after some scant pleasantries, Arsenal officials immediately set about asking a string of personal questions, leaving everyone in the room awkward and flushed.
"Pierre had only just sat down when Arsene Wenger popped his head around the door and asked him whether he'd ever wished he could fly," an inside source at the Emirates told FourFourTwo.
"Before his agent could interject, Pierre had reluctantly admitted that, in fact, he had a recurring dream in which he's a heron. Then, while he was still recovering from the question, one of the Arsenal delegation enquired as to whether Aubameyang believed in soul mates.
"That enquiry was barely aired before Wenger again chipped in requesting Aubameyang consider what he would take with him to a desert island.
"At this point, Aubameyang's agent intervened and bundled him towards the door with the question of whether he's a gentle or a dominant lover still echoing in the room."
While Arsenal's negotiators insist the breakdown over personal terms is a mere hiccup, experts have suggested that this approach may be why Arsenal have a poor recent record of completing mooted transfers.
"I was ready to put pen to paper for Arsenal and then Wenger tapped me on the shoulder and asked whether I'd ever eaten a Cornetto in the bath," Luis Suarez revealed to FourFourTwo.
"Then he whipped out [a Rorschach test] and asked me what I could see and whether I'd had a favourite childhood pet.
"The day after that I signed for Barcelona."
At the time of publication, Arsenal had not received an answer to their text asking Aubameyang which season of The Sopranos was his favourite and why.
Please note: This satirical news story is not real. Like, obviously.
Quizzes, features and footballing fun
Get the best features, fun and footballing frolics straight to your inbox every week.
Thank you for signing up to Four Four Two. You will receive a verification email shortly.
There was a problem. Please refresh the page and try again.