MLS' six worst big-name signings
Many of big-name European and international stars flopped in MLS. As first published on FourFourTwo USA, we look at the biggest failures.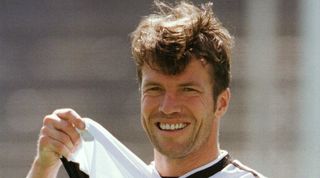 Is Frank Lampard the worst big-name MLS signing of them all? Hardly. No, the English midfielder, soon to be 38, hasn't done a whole lot since joining New York City FC last year on a reported $6 million-per-annum deal. There were a whole bunch of red flags before arriving -- what was that with the whole NYCFC/Man City contract fiasco? -- but there have been worse signings.
RECOMMENDED
Lampard hasn't made Patrick Vieira's 18 this season while dealing with a leg injury, but he's training now and could be available Wednesday night in Toronto, and he sure hopes he can top his production from last year, when he tallied one assist in 10 games.
There have been a lot of big-name signings that haven't worked in MLS -- the MetroStars/Red Bulls' club history is rife with them -- and Lampard's tale still has another chapter, maybe two, to be written. Let's give it another six months, OK?
The worst star-signings in MLS history? Here are six.
1. Lothar Matthäus (MetroStars, 2000)
The end-all, be-all of big-name busts, and that has as much to do with who he is -- an incredibly difficult prima donna -- than what he did. On the field, it made total sense, even if he was 39 by the time the season kicked off. He was at that point the most accomplished player to join the fledgling league -- has anyone who's done more in the international game arrived in MLS since? -- and is, unquestionably, one of the greatest late-20th century figures in the sport.
RECOMMENDED
The dynamic midfielder/sweeper is one of two men to have played in five World Cups, captained West Germany to the 1990 crown, and enjoyed a superb club career with Borussia Moenchengladbach, in two stints with Bayern Munich, and at Inter Milan, winning 22 trophies, including eight league titles. He was in 1990 the Ballon d'Or winner and in 1991 the FIFA World Player of the Year. Royalty. And there have been far worse players in MLS, some of them supposedly superstars (read below) but none so aggravating and disappointing as Matthäus, who we'd hoped would remind us of Beckenbauer but wasn't interested enough to try. He wanted to play in New York because it's New York, but playing was secondary: aiding his girlfriend's modeling career seemed the real focus, with the Manhattan nightlife not far behind.
He and the MetroStars started poorly, he hurt his back and went for rehab ... on the beaches of Saint-Tropez, model-girlfriend at his side. MetroStars brass nor teammates weren't pleased, but the team took off. They went 10-1-2 over the next two months -- Matthäus sandwiched one 59-minute appearance between seven-game absences -- and he was better when he returned for real in mid-August. They won the Eastern Division at 17-12-3, their best record yet, swept Dallas in the playoff opener, then lost to Chicago in the semifinals. He never fit in, never tried to fit in, and that was a problem in the locker room. He wouldn't be back in 2001.
2. Branco (MetroStars, 1997)
Claudio Ibrahim Vaz Leal was MLS' first World Cup champion, part of the 1994 Brazilian side that topped Italy on penalty kicks at the Rose Bowl. He was the Seleção's superstar left back before Roberto Carlos and a free-kick specialist who scored the goal that beat the Netherlands in the quarterfinals in Dallas.
RECOMMENDED
Branco had been well-traveled in his club career, lining up for five Brazilian clubs, Porto, Genoa and Middlesbrough, but had been flitting a few years from free transfer to free transfer when Carlos Alberto Parreira, Brazil's '94 boss, brought him to New Jersey. His stint was far worse that Matthäus': He played in just 11 games, scoring one goal – the winner in a mid-September triumph at L.A. – while picking up three red cards. He was sent off for a tackle from behind at Colorado in his third game, which started a brawl, then saw red three weeks later after a hard foul put out San Jose's Eddie Lewis. About three weeks after that, he made his final MLS appearance and was again expelled. His final action: spitting into Columbus defender Mike Lapper's face. Classy.
3. Denilson (FC Dallas, 2007)
RECOMMENDED
The Designated Player rule was in its infancy, created so David Beckham could join the Galaxy, and Dallas' first splash was for another Brazilian world champion. Denilson was a mercurial winger who had played in two World Cups, coming off the bench as the Seleção claimed their fifth title in 2002, and he was revered for his sensational skill -- was there a better juggler? -- and prized enough that Real Betis spent a then-record $35 million for his services in 1998. By the time he got to Dallas, for the final third of the 2007 campaign, he'd been bouncing around Europe and the Middle East for a couple of years, and he wasn't whatever he might have been before. He was nearly invisible over 10 appearances for the Hoops, including a playoff game and a U.S. Open Cup match, and scored just one goal, on a penalty kick in his initial start. Dallas had no interest in bringing him back in 2008.
4. Rafa Marquez (New York Red Bulls, 2010-12)
The Mexican star joined the Red Bulls as a $15 million DP after seven seasons at Barcelona, and it was not money well-spent. He played 50 MLS matches over three seasons, with a goal and nine assists, but what he's best remembered for is being a major a-hole. This didn't come as a shock -- we'd been watching him with El Tri against the U.S. national team for years, and we knew he was a miserable SOB -- but for all his talent (can't knock that), he was a detriment for New York, and his MLS epitaph could be simple -- two red cards in playoff games -- or more detailed, such as how he got that 2011 red card: hurling a ball at Landon Donovan, then feigning that he'd been slugged in the face. Or, better yet, in his own words: "I think this is a team game, and, unfortunately, there isn't an equal level between my teammates and I." Let's remember that his teammates included Thierry Henry.
5. John O'Brien (Chivas USA, 2006)
This is the saddest tale here. O'Brien is among the most talented players the U.S. has produced -- I'll go further and proclaim the L.A.-born, Ajax Amsterdam-bred midfielder/outside back the single most talented of American footballers -- but injury issues, mostly involving leg muscles, killed his career well before its time. He was one of the United States' stars at the 2002 World Cup, when the Americans came so close to the semifinals, but his ailments started adding up and he was released by Ajax in 2005 and ADO Den Haag, where he'd landed, in March 2006. He was 28 and should have been in his prime. Bob Bradley signed him for Chivas USA ahead of the 2006 World Cup, and he saw one five-minute stint off the bench before heading off to Germany, where he played the second half of the first-game loss to the Czech Republic, got hurt, and never saw the field again. Chivas didn't spend Lampard dollars, and they knew there was a risk, given O'Brien's injuries, but they expected more than five minutes.
6. Ruud Gullit (Los Angeles Galaxy, 2008)
MLS has seen a lot of superstar foreign coaches who didn't come close to winning -- Carlos Alberto Parreira, Carlos Queiroz, Bora Milutinovic, and that's just the MetroStars -- but worst of all was the "sexy" hire Alexi Lalas, then the GM of the Galaxy, made in November 2007. Dutch icon Ruud Gullit was his choice to turn the fortunes of a team that had missed the playoffs the previous two seasons but featured two of MLS' biggest stars, Landon Donovan and David Beckham.
RECOMMENDED
The dreadlocked Gullit was a force on the field for Holland and at AC Milan and celebrated off the field for his work in the fight against South African apartheid, but he'd not shown much in the way of coaching chops in stints with Chelsea, Newcastle United and Feyenoord, although his first season at Chelsea -- where he was player-coach -- had gone pretty well, with a sixth-place finish and the FA Cup trophy. Sexy? Perhaps, but the Galaxy needed a real leader, and Gullit wasn't that. He wasn't familiar with the nuances of MLS, its roster rules and cash limitations, and he didn't really have a feel for his players, what they could do and what they needed. His training sessions were notoriously disorganized, he feuded with his players, and it all led to an 8-13-9 campaign with 62 goals conceded in 30 games, by far the worst defensive record in the league. Gullit didn't even make it to the end -- he and Lalas were shipped out in August, when Bruce Arena arrived and began sowing toward the success LA has seen the past seven-plus seasons.
More features at FourFourTwo.com/us/ (opens in new tab)
Scott French is a reporter for FourFourTwo. Follow him on Twitter @ScottJFrench (opens in new tab).
Thank you for reading 5 articles this month* Join now for unlimited access
Enjoy your first month for just £1 / $1 / €1
*Read 5 free articles per month without a subscription
Join now for unlimited access
Try first month for just £1 / $1 / €1