The Parma story: Hernan, Hristro, Gigi and the dairy dream gone wrong
The club are set to play in Italy's fourth tier next season after failing to find a buyer. Alison Ratcliffe reflects on a better time of big-wig bankrolling, star names and silverware...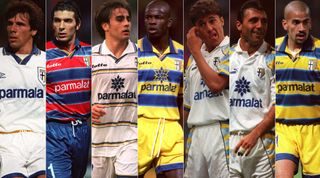 In one of Serie A's more dumbfounding refereeing decisions, Marcello Nicchi awarded a free-kick against Parma at Cremonese in October 1993, ruling that the Gialloblù's endless keep-ball constituted time wasting.
Calcio viewed the affair in an unsurprisingly dim light, and Nevio Scala's Parma went on hogging possession to charming effect, more than two decades before tiki-taka's naysayers worked up a Nicchi-esque strop.
Scala and success
ALSO ON FFT.COM
Thomas Brolin and Cláudio Taffarel might be the names that stand out in Parma's line-up from their first season in Serie A, 1990/91. But libero Lorenzo Minotti and regista Daniele Zoratto were the keys. Boss Scala, while all those around him were either mired in traditional man-marking systems or converting to zonal 4-4-2s, swerved off with his own brand of 5-3-2 (a forerunner of the 3-5-2 you may have seen knocking around in Turin in recent seasons).
He reprogrammed the catenaccio he'd absorbed from the ham-jawed godfather of Milan's coaching dynasty, Nereo Rocco, with Dutch instructions. Minotti had playmaking duties, while all traffic passed through Zoratto. Parma featured a footballing keeper, a high line and a high tempo; a willingness to lurk with the ball until space opened for the full-backs to dash into.
For a man famously more preoccupied with style ahead of results, Scala achieved some extremely impressive ones at Parma. The Emiliani had previously moseyed around divisions D, C and B for their entire existence; Scala took them to Serie A at his first attempt (albeit building on foundations laid by the Milan-bound Arrigo Sacchi). Once there he immediately steered them to fifth spot... then the 1992 Coppa Italia, the 1993 Cup Winners' Cup and European Super Cup, and the 1995 UEFA Cup.
Parma twice finished third in Serie A and reached the 1994 Cup Winners' Cup final. The Gialloblù whirled around in a virtuous circle of trophies and quality signings: Antonio Benarrivo, Alberto Di Chiara, Faustino Asprilla, Roberto Sensini and Gianfranco Zola. Dino Baggio arrived from Juventus, prompting Bianconeri owner and Fiat tycoon Gianni Agnelli to observe: "These days you get richer selling milk than cars."
Milk money
For Parma's splurge was comfortably bankrolled by burgeoning local dairy giants Parmalat, headed by Calisto Tanzi.
Tanzi had acquired a share in Parma in 1987 from venerated president Ernesto Ceresini, who died suddenly just three months before the club's ascension to Serie A, and whose majority share was ultimately bought by Parmalat.
According to Parmalat marketing guru Domenico Barili, owning a club and having the company name on the shirt was "the first example of perfect sponsorship". If Parma flirted with but never quite took home the scudetto, Parmalat were not so concerned: the club's European exploits were more commercially useful. "Almost all foreign commentators call the team Parmalat, not Parma," said Barili. "This is a virtuous error, which is very pleasing for the company."
Still, Parma's early achievements bloomed in the cosseted environment of the so-called 'happy island', where, as La Gazzetta dello Sport once put it: "Football is set like a precious stone in an already-gleaming piece of jewellery: the theatre, the high standard of living, the gastronomy, the monuments."
Sacchi dreamily recalled his time in charge: "Parma is an almost unique example of civility, education and joie de vivre, and not only in sport. At the stadium you never hear hostile chants."
The crowd famously celebrated elimination from the UEFA Cup in 1992. Parma's genteel sports fans were raised on rugby, volleyball and baseball, and the habitual playing of the Triumphal March from Aida at the city's football stadium (set at the head of a glorious tree-lined avenue) had as much to do with honouring local son Verdi, after whom Parma's founder club was originally named, than... well, triumphalism.
It was the perfect setting for Scala's modus operandi of patient construction. One which was interrupted when Parmelat's appetite sharpened, and in 1995 Tanzi bought Hristo Stoichkov for £10m (not so shy of the world transfer record). Stoichkov was an awkward fit for Scala's system, and left after one season – Parma's first without a trophy since promotion – followed by Scala himself.
Star-studded failure
Former player Carlo Ancelotti took over a Parma team of unprecedented pedigree and won nothing. Lilian Thuram, Enrico Chiesa and Hernán Crespo supplemented Fabio Cannavaro, who had arrived with Stoichkov. Gianluigi Buffon, handed his debut at 17 by Scala, became first choice. Then Parma butted up against Juventus again. Parma had beaten Giovanni Trapattoni's Juve in the 1992 Coppa Italia. In 1994/95, they faced Marcello Lippi's Bianconeri seven times, beating them in the UEFA Cup final, but losing the Coppa Italia.
Parma arrived in Turin three rounds from the end of the 1996/97 season, six points behind Juve. A Zinedine Zidane own goal put them ahead; a (whisper it) dodgy penalty awarded by Pierluigi Collina for a Cannavaro foul on Christian Vieri earned Juve a draw. The Bianconeri won the title by two points from the Gialloblù.
"At Parma it's not enough to try for a scudetto. You also have to demand stylish football," rumbled Tanzi. The scudetto was in any case further off after the sixth-placed finish of Ancelotti's second season, and his departure was assured by Champions League failure and his refusal to countenance the Roberto Baggio transfer orchestrated by Tanzi. Parma continued to flare brightly, but without ever achieving a consistent burn. Alberto Malesani guided them to three titles in 100 days (the Coppa Italia, the UEFA Cup and the Italian Super Cup), but these began to seem like bargain trophies for a blue-chip squad, now gilded further by Juan Sebastián Verón. And Malesani never quite fitted in at Parma. His departure triggered a snowball: four managerial appointments in a season-and-a-half.
The end
ALSO ON FFT.COM
And then came the crac, as the Italians call it. You may not be aware of the club's first bankruptcy in 1968, after which it was refounded. But no one missed the portentous combustion of Parmalat – and 1% of Italy's GDP – in 2003. The club was then unhitched from the milk wagon and reconstituted, limping between relegation fights, back to promotion and Serie A middle ground, and finally into the jaws of a much more vicious crac.
The reactions of Crespo, the club's top scorer and now youth coach, and Scala, its greatest manager, have been poignant. "If we have to take the boys to away games with our own money and our own cars, we will. We already are," said Crespo in February. "I saw this training centre built brick by brick; I scored the first goal here. It upsets me to see how it is. We'll honour this club to the end."
Scala has talked of returning from the farming life he has devoted himself to for the past decade to help the club. The famously thick Veneto skin deserts him when he contemplates the club's fate: "I'm shocked by the situation. Disappointed and demoralised. They have destroyed my baby... it's difficult to understand how they can have destroyed that little gem," he said. But, "There's one thing I must emphasise: Parma can fail on paper, but the emotions and the joy it gave its fans and the city – that will live on forever."
Quizzes, features and footballing fun
Get the best features, fun and footballing frolics straight to your inbox every week.
Thank you for signing up to Four Four Two. You will receive a verification email shortly.
There was a problem. Please refresh the page and try again.