Robbie Fowler: "I was happiest in my career when I got the chance to re-sign for Liverpool in 2006"
By Robbie Fowler published
The boyhood Blue and Red legend on diving, driving – and David Seaman stealing his thunder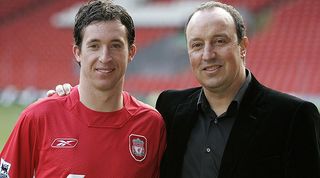 I knew I'd made it as a player when... I got a club car. I drove to my debut against Fulham in September 1993 in an A-Reg Ford Escort, which was a bit of a hand-me-down from Bruce Grobbelaar!
I was happiest in my career when... I got the chance to re-sign for Liverpool in 2006. Sometimes you take things for granted, and as much as I'd scored goals and done well at Leeds and Manchester City, it wasn't until I came back that I appreciated what Liverpool meant to me. I'd returned to the place that I never thought I'd see again.
The day football broke my heart was... When Liverpool lost the 1996 FA Cup Final against Manchester United. We'd beaten Aston Villa in the semis and were flying. I wanted to win the competition more than any other and was gutted when we lost. It was one of the saddest things I've ever been involved with.
My heroes growing up were... Everton players. Graeme Sharpe was a fantastic centre-forward; he could hold up the ball, was good in the air and could finish with both feet.
My proudest moment came... Against Fulham in the 1993/94 League Cup. I scored on my first-team debut in a 3-1 win, but in the return leg I got all five in a 5-0 win. Imagine a little skinny kid scoring five goals for Liverpool at Anfield.
Ian Rush was... Instrumental in my career. It sounds ridiculous but he told me how to run, when to run, where to run and even how to defend. The advice Rushy game me over the years was brilliant.
Not a lot of people know that... I was down to take the fifth penalty in the Euro '96 shootout against Spain. In fact, some people don't remember I was even in the squad! David Seaman was in goal and he didn't do me any favours by saving their fourth spot-kick. I was devastated, actually, because that could have been a great early marker on my England career, but it wasn't to be.
My biggest footballing regret was... Leaving Cardiff to join Blackburn. They were a really good club, but I'd missed games with injury and the contract I was offered wasn't what it had been in the first year. Blackburn came in, I liked the idea of heading back north and into the Premier League, but in hindsight I should have stayed longer in Wales.
The Graeme Le Saux incident was... Very childish. When you're young you carry around a bravado and don't realise the implications, but you become a better person by learning from these things.
Without football... I dread to think where I might be now. I wasn't bad in school but football always took centre stage. I'd carry a ball with me everywhere. It was, and still is, a big part of my life.
The item I cherish most... Is my FA Cup winner's medal from 2001. I didn't start, but the cup has always been so special to me.
If I could change one thing about football it would be... Diving. Players go over too easily. They get shoulder-charged and their feet give way. We need to look at that.
This interview originally appeared in the January 2014 issue of FourFourTwo. Subscribe!
Thank you for reading 5 articles this month* Join now for unlimited access
Enjoy your first month for just £1 / $1 / €1
*Read 5 free articles per month without a subscription
Join now for unlimited access
Try your first month for just £1 / $1 / €1
Quizzes, features and footballing fun
Get the best features, fun and footballing frolics straight to your inbox every week.
Thank you for signing up to Four Four Two. You will receive a verification email shortly.
There was a problem. Please refresh the page and try again.