Split loyalties for London's Turkish community as Istanbul comes to the capital
As Arsenal and Spurs prepare to face Turkish teams in Europe, Peter Watts looks into the special ties linking London and Istanbul due to north London's sizeable Turkish community...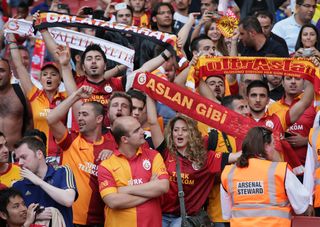 Amid tantalising aromas at the Akdeniz Bakery in Stoke Newington, two Chelsea fans are talking about football with an Arsenal supporter.
Or, to put it another way, a Galatasaray fan, a Fenerbahçe fan and a Beşiktaş fan are arguing about the week's big games, which pit Arsenal and Spurs against Galatasaray and Beşiktaş.
For this is the heart of Turkish North London, where a 300,000-500,000-strong Turkish community – firstly from Northern Cyprus but later from the mainland – have settled since the 1960s.
Many brought with them a love of Turkish football, especially Galatasaray and Fenerbahçe but also Trabzonspor and Beşiktaş, but on arrival adopted a local side, passing on a love of both through the generations. This week, these dual bonds will be tested as Arsenal face Galatasaray in the Champions League the day before Tottenham play Beşiktaş in the Europa League.
In north London's Turkish hammams, supermarkets, restaurants and bars – some named after football clubs, like Beşiktaş FC social club a few doors up from the Akdeniz Bakery – it's the Arsenal-Gala game that provokes most debate. "It's the big talking point: who are you going to support on Wednesday?" says Emre Sarigul, co-founder of London-based Turkish-football.com (opens in new tab).
Arsenal particularly have huge support among the Turkish community. "And I mean huge," says Sarigul. "60-70% of Turks support Arsenal. When the Turks arrived, Arsenal were the nearest team, but they also appealed because they played in red and white, so there was a similarity there with the national colours – that instantly connected with a lot of people. It was also easier to get in with the Arsenal fans in the 70s and 80s."
Arsenal's Turkish community of fans
Quite why Arsenal were so accepting to minorities isn't clear. In the early 70s, the North Bank was as susceptible to racism as any other terrace but that soon changed. Arsenal fans think it may have had something to do with the emergence of Brendon Batson and the influence of prominent black faces among the Arsenal away support as well as the club's strong Irish support paving the way.
Another key element was the location, as Finsbury Park became host to numerous incoming cultures, among them a sizeable Turkish community. These disparate groups generally get along well, although in 2006 Arsenal banned national flags from the Emirates after a Turkish Cypriot supporter brought the North Cyprus flag to the stadium, upsetting Arsenal's large Greek contingent.
London-born Ejber Ozkan, 41, has been a Gooner since the 1970s, travelling to games with his dad from Turnpike Lane. "There were a lot of minorities at Arsenal, more than other London clubs," he says. "You'd always see plenty of Turks, smoking cigars and passing around bottles on the North Bank."
It was the same story for Arsenal-supporting Mehmet Bayraktar, 38, who says: "Turks came to north London, saw the red and white of Arsenal and associated it with the Turkish flag."
Like many second-generation Turks, Ozkan also supports a Turkish side. Again, this was inherited through his father. "My dad was a huge Galatasaray fan," he recalls.
"He'd go to Arsenal and follow Gala through the radio. It was harder then, there was no cable TV, so I didn't get into Gala until 1989, when they played Monaco in the European Cup.
"For some reason it was on the BBC. I watched it, they won, the fans were a bit mad, and it looked like fun. I watched it because it was Gala, but I also wanted to see Hoddle and Waddle get beat."
UEFA Cup final and split loyalties... for some
In 1993, Ozkan was in Istanbul to see Galatasaray's 3-3 draw with Manchester United. "I'd never seen anything like it, the noise, everybody bouncing around." He was hooked, and began to follow Galatasaray more closely.
Crunch time came when Arsenal were beaten by Galatasaray in the final of the 2000 UEFA Cup. "It was excruciating," he admits. "I was happy for my friends and family in Turkey. But I was very upset for myself and my Arsenal friends. Who was I supporting? I can't say. I was supporting both, but it was difficult."
It was a similar story for Bayraktar, who will "support whatever Turkish team is playing in Europe" but in 2000 "desperately wanted Arsenal to win. For 20 minutes after the game I was really upset, but then when I saw what it meant to the Turkish people my feelings changed. If we were going to lose to anybody, I was glad it was them. The party went on for months."
Aziz Huseyin, 25, had no such qualms. A supporter of Spurs and Galatasaray, he still chuckles at the memory of that final, which heralded a great era for Turkish clubs and the national side.
"My dad got me into Galatasaray and also Spurs; they were the first London team he saw, but Arsenal are definitely more popular. Nearly all my friends support Arsenal. I don't know why, it might be the colours."
Where Huseyin, Ozkan and Bayraktar are united, however, is in their support for any Turkish club when they play in Europe – which is remarkable when you consider the violent rivalry between Turkish fans.
"When Liverpool played Trabzonspor [in 2010] I went to Anfield in the away end," says Huseyin. "I always try to get tickets when a Turkish team is over here. The crowds are crazy, I love it.
"At that Trabzonspor game there were Gala, Beşiktaş and Fenerbahçe fans, all wearing their shirts with no trouble. When Turkish clubs play in Europe we all become one group."
National pride
Bayraktar recalls: "When Arsenal played Galatasaray in the Emirates Cup, you had Turks there in every club shirt. The community really support a Turkish team in Europe, but when they play each other... I've seen blood spilt."
Galatasaray fan Ozkan is hoping to get a ticket in the Beşiktaş end for the Europa League game, partly because "it's always fun to see Spurs lose", but also because the Beşiktaş fans, who are renowned for their left-wing sympathies, will be having a blast. For London-born or -based Turks, the atmosphere is almost as important as – indeed, it is indivisible from – national pride.
"A lot of people will want to be at both games," says Emre Sarigul. "It's a big deal. The occasion is more important than supporting the club. For many, it's curiosity. They've heard stories from their friends about the atmosphere and they'll have seen it on TV and now they'll want to experience it themselves."
Having such a large and committed London-based community can have other benefits – for weeks before Chelsea's game against Galatasaray last season, stickers and graffiti appeared in the streets around Stamford Bridge as an advanced warning from London-based Galatasaray fans.
Both Ozkan and Bayraktar liken the atmosphere to the sort of noise that was typical on English terraces when they were growing up in the 1980s. Indeed, as Sarigul points out, Turkish Ultras model themselves on the old English ends.
The Emirates... 'like the cinema'
"I was at a Beşiktaş game last season and it was like going to Arsenal 20 years ago," says Bayraktar. "You'd get there an hour before, everybody's singing and hugging each other. It's not like Arsenal now where you get tapped on the shoulder and told to stop talking as if you were at the cinema."
Ozkan agrees. "When Arsenal played Beşiktaş [in Champions League qualifying] I went to both games and the atmosphere was amazing, everybody was drinking bottles of raki and singing the entire game."
Back in the Akdeniz Bakery, this last point is debated between Dogukan, a Chelsea and Fenerbahçe supporter, and Taner, who follows Chelsea and Beşiktaş.
While the younger Dogukan prefers the Turkish atmosphere – "there's no competition" – Taner says he likes going to games in England, precisely because there's "no violence. In Turkey, fans can't even be in the same stadium. It's much better here, you can take your kids."
That voluble Turkish support was particularly pronounced in 2002, when Turkey reached the semi-finals of the World Cup, bringing Green Lanes, Kingsland High Street and Stoke Newington to a standstill.
John Lewis, who lived in Green Lanes, recalls: "It was mad. You'd hear massive roars all over when they'd score. The games finished in the mornings or lunchtimes and the streets were chock full of Turkish fans blaring their car horns. I remember one guy walking out of his house wearing his pyjamas, going to his car just to turn it on and bib his horn."
So will this week's games prompt such celebrations? For many, it will be mixed emotions.
Huseyin will "be supporting Spurs on Thursday but wouldn't be too upset if Beşiktaş nicked a draw as it's only the group stages", while Hasan, a Turkish-born employee of the Akdeniz Bakery who supports Arsenal and Galatasaray will "definitely" support Gala. The two London-born Arsenal fans, however, are sticking with their local club.
"My support for Galatasaray has mellowed since 2000," says Ozkan. "I support Arsenal much more. I'd like Arsenal to win the home leg and Gala to get something from the away leg."
As for Bayraktar: "I'll be supporting Arsenal, no question. I was born here, but I consider myself Turkish and will support Turkey against England and any Turkish side in Europe, but when Arsenal are playing a Turkish club I'm 100% Arsenal.
"Turks are very patriotic, very passionate, but Arsenal are the team I grew up with and no matter how much of a proud Turk I am, I'd never trade that for my love of Arsenal."
Arsenal vs Galatasaray LIVE ANALYSIS with Stats Zone
Thank you for reading 5 articles this month* Join now for unlimited access
Enjoy your first month for just £1 / $1 / €1
*Read 5 free articles per month without a subscription
Join now for unlimited access
Try first month for just £1 / $1 / €1
Get FourFourTwo Newsletter
The best features, fun and footballing quizzes, straight to your inbox every week.