Watch out, Barça: Why their city rivals are on the march – and might want Mourinho
Espanyol have a new owner with cash to splash, but is he the man to lead them to future glory? Lee Roden examines where the Catalan club stand...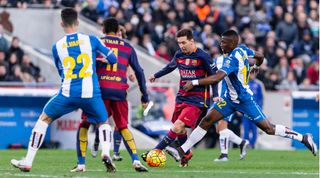 On Thursday morning, football fans in Barcelona will have woken up feeling optimistic about the future. For once, the people in question aren't Barça supporters.
After years of constant player sales thanks to the pressure of crippling debt, Espanyol may just have won the lottery. On Wednesday evening, Chinese billionaire Chen Yansheng completed a move to become the club's new majority shareholder. The takeover has the potential to be a significant moment not only for the Blanc-i-blaus, but for the footballing climate in the city of Barcelona.
One of Yansheng's first moves will be to settle the bill Espanyol owe the Spanish tax authorities, and he has promised further investment, saying his long-term goal is a spot in the Champions League. That would be a first in 116 years of the team's existence, and mean the Catalan capital finally has another genuinely competitive football side – a potential Manchester City or Atlético Madrid for Barcelona.
It's reasonable to ask why the businessman has chosen Espanyol in the first place, and the answer he has given is three-pronged: the club's history, its potential and its academy. With the right management, could those three areas combine to make this truly a successful venture?
History
The sixth-oldest active football club in Spain, Espanyol have 80 seasons in La Liga to their name. That's more than the likes of Atlético and Sevilla, and despite the Catalan side's difficulties in recent years, they still sit seventh in the all-time La Liga table.
Nine-time Copa del Rey finalists, Espanyol have won that trophy four times, and have also played in two UEFA Cup finals. The last time the stars aligned for them was in the mid-2000s. In the seven years between 2000 and 2007 they twice won the Copa del Rey, and came within a penalty shoot-out of winning the UEFA Cup (against Sevilla).
That was the club's most concentrated period of success ever, but it cost them. Over-spending on signings, along with investment in a new UEFA category four, 40,000-seater stadium, led to a huge amount of debt – their tax bill in particular was one of the largest in Spain. It's that financial trouble that has resulted in this year's takeover.
Potential
Building the stadium may have ultimately forced Espanyol to sell, but it's also a contributing factor to their significant potential. When they first moved into Cornellà-El Prat in 2009 they boasted 36,000 card-carrying members, better than more successful sides like Sevilla (33,000) and Valencia (35,000) have today.
As sporting performances dropped the membership numbers fell with them, but that brief peak proved that on a local level, there is a chance to tap into a group of fans in Barcelona who want an alternative to the all-conquering club. On an international level meanwhile, the club has the luxury of owning an attractive new stadium located in one of the most-visited cities in the world, where football tourism is already popular. That opens up opportunities. If Yansheng can connect with that global and local audience, there is money to be made.
The academy
One of the jewels in Espanyol's crown is their academy, and its strength will make Yansheng's task of turning them around much easier. Regularly out-performing Barça's at U19 level these days, the problems only tend to come further up the age scale, where talent has a habit of slipping through the net.
The likes of Cristian Tello, Jonathan Soriano and Marc Bartra all spent time in Espanyol's youth system, only to be scooped up by bigger dogs Barça. If the Blanc-i-blaus could make a better go at holding onto the high standard of player they already produce, the first team would ultimately end up in a much stronger position.
Going forward
Espanyol may have a strong, potentially marketable history, an audience waiting to be connected with and a helpfully sound youth academy, but that isn't going to convert them into a successful club overnight.
The turnaround will be a gradual one, if it happens, though Yansheng also has short-term issues to worry about. Principally, there is the threat of relegation to the Liga Adelante, and the new owner isn't keen to start his project in the second division. As such, it's thought that he is now in the market for a centre-back, left winger and one further additional signing in the January transfer window.
Keep Espanyol in La Liga, and from this summer onward, Yansheng can start building towards his goal of European football at Cornellà-El Prat. Some are already letting their imagination run wild with that prospect. One Catalan journalist claims that the new owner wants to bring in his "friend" Jose Mourinho as manager in the future. That sounds fanciful at this moment in time, but it is a reflection of the new world Espanyol may move into someday soon.
Going wrong?
For all that the prospect of a strong Espanyol excites, it is also worth being cynical. If recent years in La Liga have taught us one thing, it's that investors who promise the world don't always deliver on their word. Málaga's takeover by Abdullah Al Thani may have resulted in a dream year in the Champions League, but it also caused far more years of upheaval and constant player sales meaning they are now back where they started, battling relegation.
Peter Lim may have brought Valencia back to Spain's top four, but his friendship with Jorge Mendes and accumulation of unnecessary signings means los Che are heading for a poor second season under his ownership. The Yansheng era at Espanyol could be just as chaotic.
The suggestion, however, is that Yansheng is a patient, calculated man. If that's the case, his ownership is better positioned for success than some other takeovers were. Have Espanyol sold their soul to the devil? Or, will they grow and become Barcelona's exciting underdog side, capable of causing their city rvials problems and capturing the imagination of the public at large?
We don't yet know, but unlike before there is now potential for change. That's a start.
RECOMMENDED
La Preview: Why Barça need to get nasty, and G-Nev needs a games console reboot
Quizzes, features and footballing fun
Get the best features, fun and footballing frolics straight to your inbox every week.
Thank you for signing up to Four Four Two. You will receive a verification email shortly.
There was a problem. Please refresh the page and try again.