Why FC Santa Claus are flying high
Up in the frozen north, there's a heartwarming success story, reports Ben Johnson...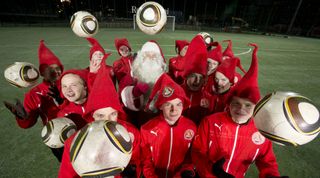 At first glance, it looks an elaborate wind-up. A team called FC Santa Claus, plying their trade in Lapland? Are you eight months late or four months early with that April Fool's Day jibe? Yet it's perfectly true, and there's no time like the present (ho ho!) to take a look at Finnish football's wonderfully-named side.
FC Santa Claus were formed in 1993 from an amalgamation of two sides: Rovaniemen Reipas and Rovaniemen Lappi. The Finnish city of Rovaniemi is the administrative capital of Lapland, just six miles south of the Arctic Circle – hence the name change. Since their formation, FC Santa Claus have had moderate success, flitting between the Kakkonen and Kolmonen leagues – Finland's third and fourth divisions respectively.
The club aren't just named after everyone's favourite festive figure: they embrace the seasonal silliness. The team play in red and white – of course – and the club crest depicts your traditional red-suited, white-bearded Santa, sat checking his list. Twice, obviously.
However, FC Santa Claus aren't just for Christmas. For understandable meteorological reasons the Nordic leagues take place in summer, and a year after their formation our heroes won the Midnattsolscupen (Midnight Sun Cup). The tournament – in which games are played in the evening and midnight, as the name suggests – is hosted every July in Sweden, with teams mainly from the host country, but also from Finland, Norway and Russia.
Bombs and promotion
Finland's most festive lower-leaguers play at a multi-purpose stadium called the Keskuskenttä. Built and opened in 1953, Kekuskenttä once hosted a European Cup Winners Cup game (between Rovaniemen Palloseura and Albanian KS Vllaznia Shkodër, in 1989) – but there was nearly a more explosive story here.
While digging up the stadium's grass pitch in the summer of 2009 – to be replaced by third-generation artificial turf with undersoil heating, both very necessary in these parts – the work crew discovered a German World War II artillery shell. It was 105 millimetres in size and quickly had to be removed and safely detonated by the Lapland Air Defence regiment, no less.
Presumably suffering a less lethal aerial bombardment, FC Santa Claus were relegated back into the Kolmonen back in 2012. But like Saint Nick rallying the workshop elves, the club worked hard together and this September, forward Jaako Paavilainen's goal gave them a 1-0 victory over Rotuaarin Pallo, confirming them as Kolmonen champions and sealing their return to the Kakkomen. From their 20 league games FC Santa Claus totted up 50 points and 104 goals: not a bad bunch of season's beatings.
Although the club and players are understandably involved mainly for the entertainment, promotion means a lot, as club spokesman Jouni Toyras confirms: "We're happy to show people that we're in this for fun, but we also take it seriously as you can see from our fine results."
Despite other strong contenders for strange names in world football – Club Deportivo Morón, the Botswana Meat Commission Football Club and Norwegian side Fart FL – FC Santa Claus has to be up there with the best of them. With the Kakkomen league looming once again, it would take a Scrooge not to wish this wonderful little club the best of luck in the coming seasons. After all, it is Christmas.
Thank you for reading 5 articles this month* Join now for unlimited access
Enjoy your first month for just £1 / $1 / €1
*Read 5 free articles per month without a subscription
Join now for unlimited access
Try first month for just £1 / $1 / €1