Why psychology could prove more decisive than tactics in the Champions League final
With the biggest ever Madrid derby looming, Champions Matchday editor Paul Simpson suggests keeping a cool head will be the key to success in the heat of Lisbon - and both managers seem to agree with him...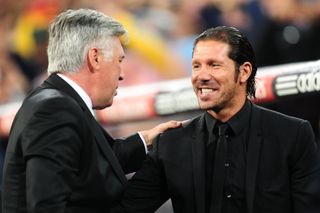 Diego Simeone knows who will win the UEFA Champions League in Lisbon. In an interview for the official match programme, Atlético Madrid's overachieving coach astutely remarked: "In these finals, the winner is the team that manages to remove itself from all the noise."
The noise surrounding this year's final is louder than ever. This is the first time the destiny of the European Cup will be decided by a local derby. When I Googled the words "Real Madrid décima", I found 2,390,000 mentions. Atlético Madrid are searching for their primero and, as they haven't reached this stage of the competition for 40 years, this is an opportunity that players, coaches and officials will be determined not to waste.
And then there is the small matter of Cristiano Ronaldo, whose phenomenal, record-breaking form in this campaign has done more than anything to drive Real Madrid to this final, playing in Lisbon, the city where he started learning his trade at Sporting, and the capital of the country whose national side he captains and for whom he is the all-time record goalscorer.
It's not as if the European Cup final is an easy game to start with. In 1976, a young Karl-Heinz Rummenigge was given a nerve-calming swig of cognac by a Bayern team-mate.
Twenty years later, Ajax started the final against Juventus like tyros, rather than young defending champions. They made many mistakes early on in Rome and didn't really calm down until they had been punished for one of them, Fabrizio Ravanelli scoring in the 12th minute after Frank de Boer had misjudged a header. De Boer atoned for his error, setting up Jari Litmanen's equaliser with a left-footed free-kick but the nerves returned in the shootout and Marcello Lippi's Bianconeri won 4-2 on spot-kicks.
If you watch the first match of the 1974 final between Bayern and Atlético – the 1-1 draw that set up the only replay in the fixture's history, which the Roten won 4-0 – both sides are, to use an overfamiliar cliché, playing the occasion and not the game.
Five of Bayern's side – Franz Beckenbauer, Paul Breitner, Uli Hoeness, Gerd Müller and Hans-Georg Schwarzenbeck – had already won the European Championship with West Germany in 1972 – yet they, like their opponents, played the first 90 minutes as if the uppermost thought in their minds was not making the mistake that could lose the trophy.
The denouement proved they were right to be worried. Luís Aragonés (whose name has been woven into Atleti's kit for the 2014 final) curled a free-kick into the Bayern net and, with seven seconds left, glory seemed to beckon for the Rojiblancos. And then Schwarzenbeck unleashed one last desperate shot from 35 yards. There is some dispute over whether Atleti keeper Miguel Reina (Pepe's dad) was distracted or unsighted, but either way he shouldn't have been beaten from that distance.
Inspired by this unexpected second chance, Bayern coasted to victory in the replay against exhausted opponents who played as if they knew they had effectively given the trophy away.
Fear vs inspiration
With almost one in four European Cup finals that are decided within 90 minutes ending 1-0, it is easy to understand why fear so often trumps inspiration. That is why Carlo Ancelotti, in his interview for the programme, suggested that in the final, psychology may prove more decisive than tactics.
Daniel Kahneman, the Nobel Prize-winning author of Thinking Fast And Slow, a classic tome on decision-making, points out that as a species we have an innate tendency to think what we see is all there is. So as fans, pundits and journalists, we will evaluate what happens in Lisbon in terms of tactics, systems, performances and luck.
What we don't see is the coach subtly calibrating the mood in the squad in the run up to the final. This is an intricate business that can, as Simeone suggests, be disrupted by all the noise surrounding the occasion. Even experienced coaches can get this process wrong – as Helenio Herrera notoriously did in 1967. Stuck in their claustrophobic ritiro, the Inter squad went stir crazy and, even though they went 1-0 up against Jock Stein's Celtic, never played with the self-belief of a side that had already won the competition twice. They were still ahead at the interval but, as their defender Tarcisio Burgnich recalled later: "Even in the dressing room at half-time, we looked at each other and we knew we were doomed."
So Ancelotti, in his preparation for the match, will probably not be keeping his players in quasi-solitary confinement. Nor is he likely to compile an inspirational video drawing on the movie Gladiator as Josep Guardiola did before Barcelona triumphed in Rome in 2009. The Italian coach believes it is his job to absorb the pressure – while maintaining his famous sangfroid – and ensure that, for his players, everything remains on an even keel.
The psychological contest in Lisbon will not be about who is 'up for it', a British bulldog-type motivational strategy that finds little favour in mainland Europe. The contest will be about focus. There is a paradox at work here. On the one hand, both coaches will encourage their players to treat this as if it is just another game yet they will also feel, as Stein said before the last Lisbon final in 1967, "We must play as if there are no more games, no more tomorrows."
If Real Madrid can turn their nine past triumphs into an inspiration, rather than a burden, La Décima could be theirs. Similarly, Atleti's first La Liga title since 1996 could help Simeone maintain his team's focus – they kick off the final secure in the knowledge that the most remarkable season in the club's history has already secured some silverware.
One of the many fascinating aspects of this final is that the coaches, as they watch their players steel themselves in the dressing room, may be the first to sense whether the night will go well or ill for their side. They will be decoding the subtle cues of body language, gestures and conversation even before kick-off. The rest of us just have to wait and see what unfolds.
It should be a fascinating contest. Let's hope that, whoever wins, we can say afterwards, in the famous words of the great Barry Davies: "No team has worked harder than the winners of that match – nor indeed the losers."
You can enjoy the digital version of the UEFA Champions League final programme here.