Wild Icardi: why the Inter striker's off-field dramas shouldn't put off Arsenal
The Nerazzurri captain is a target for Arsene Wenger and Diego Simeone among others, but drama in his personal life means he's seen as a risk. Adam Digby outlines why that shouldn't be the case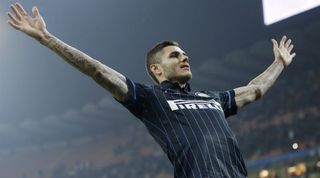 With Mauro Icardi, there are two ultimate truths. One: nothing about his career to date has been conventional. Two: his high-profile private life should not obscure the fact he is among the deadliest strikers in Europe. Only by accepting those two statements can you see a true picture of the Inter captain.
Controversial headlines mean Icardi's undeniable quality can go unappreciated. Yes, the Argentine striker is guilty of making some questionable decisions in his personal life. However, he has also scored goals. Lots and lots and lots of goals.
That simple fact doesn't excuse his actions outside of football, nor the mistakes he has made, but it is also noticeable that they haven't impeded his development as a player. When the 23-year-old's name crops up in day-to-day transfer tittle-tattle, that's something that should be considered – and often isn't.
In and out of Barcelona
Icardi was born in the Argentine city of Rosario in 1993. When he was only six years old, however, his family moved to the Canary Islands in order to escape the financial crisis engulfing their homeland. Three years later he enrolled in the youth team of Spanish side Union Deportiva Vecindario, before scoring a staggering 384 goals across six seasons. No, that isn't a typo. With such barely believable numbers alongside Icardi's name, it wasn't a huge surprise that Barcelona snapped him up at 14.
And so, the Argentine hotshot progressed through the ranks of youth football's Mecca, La Masia. It soon became evident, though, that there was no room at Camp Nou for a 'pure' striker.
Pep Guardiola was leading a cultural revolution at Barcelona, and Icardi was a throwback in a forward-thinking club. A manager who couldn't find space in his team for Zlatan Ibrahimovic, or even David Villa in his primary position, was never going to give this particular youngster a shot.
In January 2011, aged 17, Icardi moved to Sampdoria for €400,000 – and his life and career changed forever.
The good, the bad and the ugly
At Sampdoria, Icardi met Maxi Lopez and his wife, Wanda Nara. Lopez joined Samp 18 months later than the teenager and is nine years his senior, but he was nonetheless important to Icardi, who had complained of loneliness before his older countryman arrived.
With the pair both being Argentine forwards, outspoken characters and frustrated by their lack of opportunities at Barcelona, the two players had a lot in common – soon to be more than either of them had expected. Lopez, who'd been in Italy for two years, playing for Catania and Milan, helped his young team-mate in adapting to the local culture and even invited Icardi to live with Nara and him. It paid dividends, and the youngster's performances showed the qualities Guardiola had chosen to overlook.
Then, as now, Icardi combined speed with physicality and work rate, already beginning to resemble a complete modern forward. Following a goal on his first-team debut in May 2012, his first full season with Sampdoria saw him net 10 goals in Serie A, including two in a famous win at Juventus and four as Samp crushed Pescara 6-0.
It was enough to earn him a €11.7m move to Inter in the summer of 2013. His first goal came against Juventus, enhancing his reputation as the Old Lady's bête noire.
Hits the fan
But just a few weeks later, Italy's gossip magazines exploded with rumours that 20-year-old Icardi had been having an affair with Wanda Nara. He confirmed them as true – by declaring his love for her on Twitter. That coincided with an interview she gave to Revista People in which the model revealed: "It's been three months since my husband and I had sex. Maxi has neglected me. Although I have been living in luxury, I am also living with hidden pain." A quick divorce followed, then an even quicker marriage to Icardi.
Things got seriously ugly. Nara claimed Lopez cheated on her first. Lopez asked Sky to stop broadcasting photos of his three sons, who live with Icardi and Nara. Icardi subtweeted Lopez, saying, "The ones you haven't seen for a week or 10 days?", then posted a series of photos of the boys, including a picture of him falling asleep while cuddling one of them.
Chi ti da carica? Quelli che e' da 1 settimana o 10 giorni che non vedi? E neanche hai chiamato?? Hahaha @wanditanara#0carica
— MauroIcardi (@MauroIcardi) April 9, 2014
Ahoraa sii, a dormirr y de verdadd!! Les deseamos muy Buenas Noches!! #valu#mauro #@wanditanara en dibujo!pic.twitter.com/bdIzLnQjfv
— MauroIcardi (@MauroIcardi) April 9, 2014
Inter's next match against Sampdoria was dubbed 'The Wanda Derby'. The two men refused to shake hands before the game. Icardi scored twice; Lopez missed a penalty. "I really don't care what people say," Icardi said later, having been booked for celebrating one of his goals by cupping a hand to his ear in front of his former club's fans. "I go on the pitch to do my job. If they want to talk, whistle and boo, go ahead: talk, whistle and boo. It goes in one ear and out of the other. That's my strength."
And it does seem that Icardi has come out of the situation far stronger than Lopez, who upped his no-handshake ante ahead of their next meeting by grabbing his crotch instead. The younger man continued to, as he put it, do his job. He has now scored 47 goals in 88 Serie A appearances for Inter.
Sleeper agent
Icardi's second season with the Nerazzurri brought him 22 league goals and the Capocannoniere, and the summer of 2015 brought another bizarre sequence of events. Inter unexpectedly made their Argentine upstart club captain, while Icardi fired his agent and replaced him with none other than wife Wanda Nara, who swiftly renegotiated his contract (not a euphemism).
And in 2015/16 he was just as ruthless, scoring 16 league goals despite averaging just 1.7 shots per game. Only three players in the league scored more, but 42 made more attempts on goal. He told reporters mid-season: "In 10 matches I have received four chances to score and I've taken three. I think that's a good average." Roberto Mancini dropped him for the insolence, then saw his outspoken captain score four times in his next three outings following reinstatement. You just cannot stop Mauro Icardi scoring goals.
But then the summer brought yet more chaos. Like any good player representative would, Icardi's spouse/model/agent told fans on Twitter that they both wanted to stay but "the club needs to sell him". It was quickly denied by Inter's sporting director, Piero Ausilio.
Nara, having apparently decided Macbeth was a self-help manual, retorted by giving an interview in which she declared that Inter had put Icardi up for sale, saying: "Mauro would be very sorry to leave but we have got to know the financial situation of the club and evidently they can't keep him."
She pressed the point home by adding: "There is no buyout clause and we hope Inter don't price him out of the market." That's where the Arsenal links have come from.
"It's been fun," responded Ausilio in the manner of a man who clearly thinks otherwise, "but let's get serious. Icardi extended his contract a year ago. We gave him the captain's armband. He is unsellable." Cue Nara giving another interview, this time claiming Icardi was unappreciated by Inter and his contract – the one that she negotiated – wasn't good enough.
The future
It's easy, then, to see why off-field issues might cloud people's judgement of Icardi as a player. Certainly his own judgement appears to have been clouded; when even Agent Wifey is questioning her ability to represent you, it may be time for a rethink.
But the Suning consortium have bought Inter and promised a major cash influx, some of which the Icardis would clearly like to come their way. Meanwhile, Arsenal and Atletico Madrid add to a growing list of suitors, and if they can cope with contract talks being conducted via Twitter, the winner of that potential bidding war would be getting a top-class goalscorer capable of delivering trophies.
It's becoming increasingly difficult for clubs to take that big-picture view, as Nara continues to make private business public. But Icardi – who is still only 23, remember – has shown so far that off-field issues don't affect his performances on the pitch.
Just ask Maxi Lopez.
Thank you for reading 5 articles this month* Join now for unlimited access
Enjoy your first month for just £1 / $1 / €1
*Read 5 free articles per month without a subscription
Join now for unlimited access
Try first month for just £1 / $1 / €1