Football's age of personality scouting: why ability is only half of it these days
Football clubs are paying more and more attention to a potential signing's off-field traits before splashing out, explains Sam Rowe…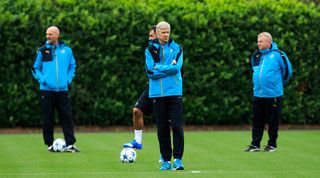 Date: May 2011.
Location: Udine, north-east Italy.
Target: Alexis Sanchez.
15:00 – Last player to exit the training ground, subject leaves in a sports car (white Audi R8). Shares joke with staff member, appears in good spirits.
15:20 – After a few minutes at home, subject emerges with two dogs (both Labrador, white/blond) and jogs through town. Still dressed in training gear.
16:30 – Plays tennis with friend. Wins with competent – if relaxed – performance (note: serve needs practice).
17:50 – Visits restaurant in city centre with girlfriend. Orders langoustines followed by pasta salad (no dressing). Drinks mineral water.
19:25 – Finishes with espresso (no dessert). Pays bill in cash. Signs autograph and poses for picture with fan upon exit.
20:15 – Subject plays the piano at home (melody unknown).
21:30 – Blinds are drawn, lights off. Subject believed to be asleep. Will remain until midnight to be certain.
In-depth dossier
If the above sounds like espionage – the sort of intrusive surveillance carried out by a private investigator or tabloid newspaper to land a pampered, well-heeled footballer in trouble – don't be misled. It isn't. Instead, such notes are a fictionalised, though only slightly, version of Manchester City (now Liverpool) scout Barry Hunter's reconnaissance mission to Italy in 2011, ahead of the club's proposed transfer of Alexis Sanchez.
The genuine investigation (which really did log the Chilean attacker's tennis and piano skills) formed part of an extensive, 56-page dossier on the then-Udinese winger, conducted with permission of the club and – to a lesser extent – player. But, as you will no doubt be aware, such snooping proved futile, with Sanchez joining Barcelona later that summer (then Arsenal in 2014). And yet, though unsuccessful, this is merely one example of the lengths top clubs now go to in order to get their man.
These days, on-pitch ability is but one piece of an ever-expanding puzzle. With football clubs routinely shelling out the type of sums on a player that could prop up a small nation's economy, an individual's personality is quickly becoming every bit as important as technical skill, with everything from mental toughness to the company they keep dissected carefully before a bid is made, let alone contract offered. Watching a player at an away fixture and reporting back to the manager is one thing, but what of his activities on a balmy summer's night in the Algarve? And what's his agent like? Are we sure his model girlfriend won't prove too much a distraction during the season's run-in?
Welcome to the age of personality scouting. Footballers with secrets to hide need not apply.
The bigger picture
"I used to go to the pub from two in the afternoon to nine or 10 at night when I was 16, because the young pros brought me and I just thought that's what you did," recalls former Norwich and Spurs midfielder, Paul McVeigh. "I got out of it very quickly, as I realised it wasn't good for me, but you'd never see a player do that now – it just wouldn't happen."
He might've only hung up his boots in 2010, after four clubs, 20 Northern Ireland caps and 16 years of service, but the modern football landscape is almost unrecognisable to McVeigh, with player recruitment becoming markedly more holistic.
"Before, it was just a case of phoning up a manager, saying 'What's he like?' and he'd give you a personality assessment," he explains. "Now it's probably more about looking into a player's background, what they get up to at the weekend, what they did at school, what their family life is like and what they're into. I think that's more available now through social media and other ways of finding out this information."
These are almost scouts turned secret agents.
"I suppose if you're putting £40 or 50m into an asset," McVeigh shrugs, "you're going to want to do your homework."
Rather than venture down the tried-and-trusted routes of punditry or coaching, the belief that mentality – not ability – holds the key to a footballer's potential, led McVeigh to launch sports psychology company, ThinkPRO.
Indeed, with the cash swilling around the game sometimes affording apprentices swimming pools and expensive watches before first-team bows – not to mention the British media's tendency to decree a homegrown talent as the messiah after their first well-timed volley – athleticism nor skill alone necessarily translates to on-field success. For every Wayne Rooney there is a Ravel Morrison, whereas the likes of Michael Owen, Jack Wilshere and (more recently) Raheem Sterling would all attest to feeling the weight of the nation's hopes while still teenagers.
According to McVeigh, the collateral damage of such pressure is often damning, regardless of a player's talent. "Just go back to the World Cup in 2014," he says. "You can't tell me the reason Germany beat Brazil 7-1 is purely because they were better technically. If you have players crying during the national anthem beforehand, they are not in the right frame of mind to go and win. Brazil were all over the place, whereas the German players were focused, calm and composed. They knew exactly what they needed to do."
The right profile
In the NFL, meanwhile, governing bodies have gone one step further. Such faith is put into character as a yardstick for ability, that this is measured via a 50-question, 12-minute test known as the Wonderlic. Combining maths, logic and vocabulary questions, American football's quiz du jour has been a staple part of the draft system since the 1970s, and though decades of reinforcement suggest otherwise, the idea is that IQ will directly correlate to an athlete's performance. Even if no correlation between the two has been proven. In 45 years.
Could such a system ever work here? Des Taylor, Bournemouth scout, is not convinced. "The NFL is a different kettle of fish altogether, because of the draft system," he claims. "We couldn't go through that profiling process, because the player doesn't belong to us until we get him to sign on the dotted line.
"What we have to do is use our network of resources – whether managers, players, or coaches – and we will go back as far as we need to, in order to build up the DNA of that player. That doesn't necessarily concern what he does on the pitch."
This stance isn't adopted at all football clubs. Dr. Steve Peters – the man who brought psychological zen to the Team GB cycling team – rose to prominence last year through his behind-the-scenes tinkering with Liverpool and England. Though in both cases the teams fell short on the pitch, Peters' 'Chimp Paradox' theory is lauded by numerous sportspeople – Steven Gerrard, Ronnie O'Sullivan and Victoria Pendleton alike. What's more, at certain clubs at least, NFL-style pop quizzes are already a standard fixture.
"We do psychological profiles," admits Tony Carr, previously West Ham academy boss, now a club ambassador. "I wouldn't say they're laying on a couch with a psychologist asking them what they dream about, but you can find out stuff about a player that you probably never would've otherwise found out."
With players as junior as academy scholars filling out questionnaires, plus one-to-one assessments carried out every six weeks to measure progress, Carr claims that by the time a player reaches the first team, their profile is comprehensive.
"It doesn't make the [manager's] job easier – in many respects it makes it much harder because of the vast amount of information you have," he says. "But we definitely act upon those profiles – little things like that give you a pointer about the player's personality."
On the tin
Watching football matches and playing James Bond for a career might sound fun, but life as a football scout or coach is no picnic. Charged with unearthing raw talent, often at an age where the player – and with a bit of luck their agent – isn't even aware of it, 'potential' is a term liberally used. But, given the new age constraints – of finding players with both technical and mental traits in abundance, just how is something so abstract judged?
"Ultimately, it isn't always what a player does with the ball, a lot of it is what they do without it," claims Bournemouth scout Taylor. "It comes down to work ethic, attitude and commitment. Are they a winner? How do they handle losing?
"You may have to look at a player who has flair, undoubted ability, but [you have to] consider what they would give you on a cold, wet winter's night away at Millwall. Would they still be that player? We can't get away from the fact that we can't have any passengers. We have to know they won't go missing."
Bar a few notable exceptions (messrs Suarez, Ronaldo, Ibrahimovic among the ever-shortening list), the pervasive trend at football clubs is that mavericks can at times represent too high a risk, whereas reliability is king. Just look at James Milner. A good old pro, the industrious midfielder inked a deal with Liverpool (whose owners tore up their mandate of solely buying young players with bags full of potential) last summer to make the 29-year-old their highest earner, on £150,000 a week. Meanwhile Raheem Sterling, England's newest poster child of hot young talent, was 'only' offered £100,000.
"Any manager or coach that I've come across wants to know what he's getting every week," says Carr. "Your James Milners, John Terrys and Frank Lampards of this world – they are top-class professionals because you know every week what you're going to get, and they're the players who are first on the teamsheet."
Risk factor
For some clubs, given the number of zeroes on the cheque, picking footballers can be as simple as damage limitation. "We can't afford to make mistakes, and mistakes are expensive the higher up the ladder you go," Bournemouth's Taylor concedes. "You want to minimise the risk, so that's why you do the background checks and go back as far as you can, to find out: are they receptive to coaching? Do they respond to tactics? All these things have to be factored in."
But just how much stock is really put into a footballer's non-curricular activities? Despite being shipped out of Merseyside on loan after a disappointing debut season, Mario Balotelli would not have Manchester City, Milan and Inter among his previous employers if he lacked ability. And yet the Italian striker is probably the dictionary definition of a maverick player, a man who would fail every personality test put before him, with not even the magic (or marauding ego, depending on opinion) of Mourinho, Mancini or Rodgers having quite worked on him to date.
It's the fireworks, the tantrums. It might sound antiquated, but in a 24-hour cycle of social media, smartphones and tabloid smear campaigns, it figures that football clubs would far sooner players settle down with a wife and kids than suck on 'hippie crack' in London nightclubs. To use a Harry Redknapp phrase, maybe a 'triffic lad' truly does make for a better footballer.
"As with an employee in any business, you want to know that person has a good family history, background and is a stable personality," admits scout Taylor. "We all know that marriage and children brings stability to a relationship, and you want to be aware of anything outside of the working environment that may distract the person from doing their job to the best of their ability."
Chemical reaction
Ask any manager, from pub level up to the Premier League, and chances are they'll espouse the noble idea of a team's chemistry. Catch Jose Mourinho talking about the tight-knit fabric of his teams and it almost verges on religious scripture – a genuine belief that transcends arrogance and that if the mood in the dressing room is not just so, it will all unravel rather quickly, as shown this season.
It could be why the Portugese manager is quick to bench or ship out players otherwise seen as remarkable (see: Iker Casillas, Juan Mata, Kevin De Bruyne), bringing in ageing stars from the brink of retirement (John Terry, Didier Drogba and, er, Mark Schwarzer) instead. A specially formulated club DNA – both Chiefs and Indians – is something that, like managers, scouting departments take very seriously.
"If we go out and recruit the wrong player, who's going to be a bad egg in the dressing room, then we're not doing our job right," claims Des Taylor. "We owe it to the other players to make sure the players we bring in are going to fit into the group – not just on the playing side, but in terms of psychology and mentality. We have to leave as little to chance as possible. That means we have to get good people with good mentalities, good attitudes – I don't think we'll ever forsake or err away from that."
Naturally, there are examples whereby a team of leaders has romped to victory (France, 1998; Man United, 1999), but an accumulation of alphas, swollen egos or inflated salaries can just as readily end in catastrophe. For evidence, simply revisit QPR's two brief stays in the top flight, and/or Real Madrid every other season. According to Paul McVeigh, the perfect team personality is like a first-rate cup of tea: a decent blend.
"I remember playing for Norwich and we'd have players bouncing off the walls before a match," he says. "And then you'd have other lads, like Adam Drury, sitting in the corner having a cup of tea, five minutes before you go out."
So, what's the future? Expect science. With sports psychologists, American-style quizzes and Moneyball-esque schemes having already penetrated the Premier League (with limited success, so far), more psychobabble, brain training and a great deal more snooping is likely to follow. But then, football clubs have been treated like businesses for a generation. And, you never know, injecting a little personality into the modern, monotone footballer – it might just turn out 'triffic.
This feature originally appeared in the August 2015 issue of FourFourTwo. Subscribe!
Thank you for reading 5 articles this month* Join now for unlimited access
Enjoy your first month for just £1 / $1 / €1
*Read 5 free articles per month without a subscription
Join now for unlimited access
Try first month for just £1 / $1 / €1