World Cup icons: Roberto Baggio – the miss that haunted a career (1994)
published
It wasn't quite the kick that killed a career, but there was no coming back from shootout heartbreak for the Divine Ponytail – who still can't shake the feeling today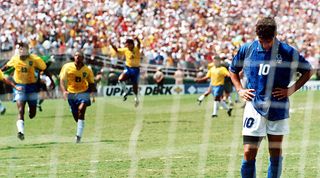 Less than three weeks after his infamous penalty miss in the USA '94 Final, Roberto Baggio was asked about the incident that should be seen as the defining moment of the competition.
"The murder of the Colombian player was the most upsetting thing during that time," he said of Andres Escobar's assassination. "An incredible, chilling incident which unfortunately will mark the tournament forever. And all for an own goal... Shocking, to die like that."
By way of surreal coincidence, it was among guns that Baggio had been seeking refuge from the whole ghastly post-final brouhaha. With a yearning to indulge his childhood passion for hunting, he headed to his newly acquired 900-acre ranch in La Pampa, one of Argentina's most sparsely populated provinces, deep in the heart of the country's vast, empty grasslands.
No escape
Suddenly, La Chiquita ranch sprouted a scourge of cameras and spotlights. Baggio was reduced to returning from hunting parties via a side entrance, two hours after his father and friends, to dodge the press. Not to mention the class of primary school kids whose teacher thought a trip to the Baggio residence would be educational.
Then there were the Jesuits and animal rights activists. An Italian Catholic magazine insisted Baggio be excommunicated for taking up Buddhism, while Italy's Anti-Vivisection League demanded to know what a Buddhist was doing shooting ducks.
Answering rumours that he had shot at journalists, Baggio replied to the "great fat lie" by quipping: "I'm a good shot. If I had [shot at them], the journalists I took aim at wouldn't be doing so well."
Who knows why Baggio thought he'd fare any better at his home in the upper-class Tuscan tourist destination of Forte dei Marmi, with its regiments of beach umbrellas. Besieged by fans at the thermal baths, the restaurant and under his windows, he bundled his family into his blue Mercedes and fled south to Maremma, where the rich go to be low key amid the vineyards and cattle pasture. Depending on where the family filled up, they would have been greeted by Baggio's own face plastered on some of the petrol pumps – the Divine Ponytail still beaming with pre-tournament anticipation.
As Italy awoke to its grinding disappointment each morning, every conversation sooner or later turned to the forward. "It's as if we never switched off after the World Cup," he said in September, seemingly surprised that a country which can cogitate on a Serie A incident for days should still be preoccupied by losing the first penalty shootout in a World Cup final.
A strange career
Baggio was already succumbing to his first injuries of a new season, following those that dogged his World Cup and his early career, and preceding those that ruined the remainder. There was a perception that they were almost psychosomatic.
In September 1994, Italian daily La Repubblica penned: "Around Roberto Baggio there is the tinkle of crystal shattering. Inside Roberto Baggio, there is still something cracking – it could be the dream of winning a cup, or the tired shiver of a missed penalty. Perhaps even a muscle. And so old and new weaknesses return – the physical and psychological limits of a young man used as a totem and a talisman, of a champion of whom too much has to be asked, and if it's not all, it's nothing. Every cure, now, seems like a palliative, an aspirin given to a dying man."
In his autobiography, the attacker described his battle to overcome self-pity. He frequently points out that with Italy pair Franco Baresi and Daniele Massaro having both missed their penalties, Brazil would still have won the World Cup if their last spot-kick was scored – even if Baggio had converted his.
"They had to choose one image from the finals and they chose my mistake," he wrote, seemingly unconscious of the irresistible dramatic tragedy he had served up.
"It's the same sense of bitterness as in 1994," he said last year. "It hasn't diminished and I don't think it will ever go away." When he sat down to record a video interview with FourFourTwo, he referred to the miss repeatedly, despite our efforts to steer him elsewhere.
If, like a lucky Argentine duck, Baggio had dodged that bullet, how would we remember him? Might he share a pedestal with Maradona and Pele? Surely he wouldn't have been left out of Euro '96, or drifted to Bologna. But then, Baggio has often seemed happier away from the glare. He scored a goal every other game during the twilight of his career at Brescia. When asked about the best team he'd played in, he used to say: "The Vicenza youth team. On the left wing we had Gianni Bonfante, who was much better than me."
Bonfante never made it above Serie C. The old pals were reunited as a surprise for Bonfante's 50th birthday. Asked about his unfulfilled potential, Bonfante sighed deeply. "I can't deny it. I have my regrets."
He might not be the only one.
World Cup Wonderland: stories, interviews and more
Thank you for reading 5 articles this month* Join now for unlimited access
Enjoy your first month for just £1 / $1 / €1
*Read 5 free articles per month without a subscription
Join now for unlimited access
Try first month for just £1 / $1 / €1
Quizzes, features and footballing fun
Get the best features, fun and footballing frolics straight to your inbox every week.
Thank you for signing up to Four Four Two. You will receive a verification email shortly.
There was a problem. Please refresh the page and try again.