Bullard takes swipe at former club Fulham
New Hull City signing Jimmy Bullard has taken a swipe at former club Fulham by claiming he's joined a bigger club in the top-flight newcomers.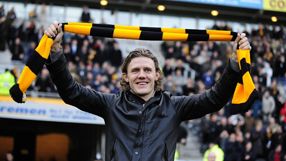 "Hull are the biggest club I've played for. I know all about their fanbase and great ambition. I felt at home here as soon as I arrived. It took me 10 minutes to decide to sign for them," said the 30-year-old midfielder.
"The league table doesn't lie and Hull have done fantastic so far this season. My next step is to play regularly for Hull and hopefully get back into the England squad, Hull can help me do this."
The former Wigan midfielder has signed a four-and-a-half year contract with the Tigers at the KC Stadium, worth an estimated £40,000 a week, with Fulham boss Roy Hodgson hitting out at Bullard, claiming he held the London club to ransom over a new contract.
"It wasn't just about his wage demands," said Hodgson. "It was about the length of the contract as well. He wanted a long-term contract. Had we conceded his wage demands it would have created problems for us."
FULHAM FANS! Check FourFourTwo.com's ever-expandinginterviews archivefor more stuff to read:
Ask A Silly Question Moritz Volz
My Secret Vice Jimmy Bullard, Barry Hayles, Moritz Volz

Plus! Rate Fulham players (and others) on Talentspotter
Thank you for reading 5 articles this month* Join now for unlimited access
Enjoy your first month for just £1 / $1 / €1
*Read 5 free articles per month without a subscription
Join now for unlimited access
Try first month for just £1 / $1 / €1