David Villa rules out Premier League move
Valencia striker David Villa says he will not be moving to a Premier League club this summer.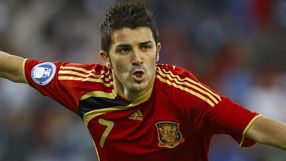 The former Sporting Gijon star - who netted 28 league goals last season - appeared set to become the third mega-money Real Madrid signing in a week following the Bernabeu outfit's bids for Kaka (£56 million) and Cristiano Ronaldo (£80 million).
However, the deal then stalled, with English big hitters Chelsea, Liverpool and Manchester United all still hopeful of landing the Euro 2008 Golden Boot winner, as well as Spanish treble winners Barcelona.
But the Spanish international, who is currently on Confederations Cup duty with his country in South Africa, has now ended any hopes Premier League clubs had of landing the front-man, after revealing he wants to continue playing in his homeland next season.
"A week ago my future was clear, and now it's not," Villa told Cuatro.
"I've been through some tough moments, which are partly my own fault, but I decided to put it all aside and I've not thought about it in the last five days.
"When I said I had taken a decision it was true, and this decision is that next season I will play in Spain because it is the league that is best for me, I will not go abroad."
NEWS: Villa - I know where my future lies
NEWS: Villa would only leave Spain for LiverpoolNEWS: Torres tells Rafa: Go get Villa
Thank you for reading 5 articles this month* Join now for unlimited access
Enjoy your first month for just £1 / $1 / €1
*Read 5 free articles per month without a subscription
Join now for unlimited access
Try first month for just £1 / $1 / €1