Eric Dier admits Qatar World Cup blighted by 'terrible situation' for migrant workers
England defender Eric Dier has highlighted the 'terrible situation' suffered by migrant workers in Qatar ahead of the World Cup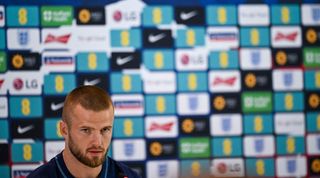 (Image credit: Getty Images)
England defender Eric Dier has highlighted the 'terrible situation' for migrant workers in Qatar and insists the players cannot ignore the non-football issues surrounding the 2022 World Cup.
A report by The Guardian in 2021 estimates that 6,500 migrant workers have lost their lives in the construction of infrastructure and stadium since Qatar won its bid to host the tournament back in 2010.
And although the Qatari government claims the figure is far lower, human rights groups have condemned the brutal working conditions and the treatment of LGBTQ people in the Asian nation.
"It's very difficult for players," Dier said at a press conference on Saturday. "We come here and know these topics are going to be addressed. I was looking today because I thought I would probably get this kind of question.
"The World Cup was awarded to Qatar in 2010. I was 16 at the time. We have absolutely no say in where we play."
And the Tottenham centre-back added: "Those decisions are made by people way above us and we're the ones who end up answering these kind of questions.
"It's disappointing. I carry the values I've been given by my family. At the same time I respect wherever I go."
The World Cup kicks off on Sunday as Qatar face Ecuador in the opening match, with England in action against Iran the following day.
Thank you for reading 5 articles this month* Join now for unlimited access
Enjoy your first month for just £1 / $1 / €1
*Read 5 free articles per month without a subscription
Join now for unlimited access
Try first month for just £1 / $1 / €1
Ben Hayward is Weekend Editor for FourFourTwo. A European football writer with over 15 years' experience, he has covered games all over the world - including three World Cups, several Champions League finals, Euros, Copa América - and has spent much of that time in Spain. He currently divides his time between Barcelona and London.