FIFA 23 World Cup Mode launched ahead of Qatar 2022
Everything you need to know about the FIFA 23 World Cup mode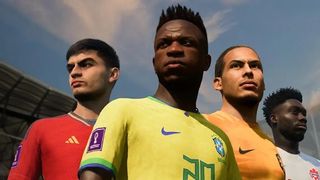 (Image credit: EA Sports)
FIFA 23's long-awaited World Cup mode goes live today, with gamers able to choose a nation and take them through their Qatar 2022 journey.
To celebrate its launch, new FIFA Ultimate Team card packs will be released on Friday at at 6pm GMT.
FIFA 23 REVIEW EA's final FIFA collaboration more immersive and wacky than ever (opens in new tab)
Other features in World Cup mode include online tournaments and the ability to play past or current fixtures as the real-world cup progresses. Check out the full trailer and a deep dive into FIFA 23's World Cup mode below.
Which FUT player cards will be released?
Here's the full lineup of cards and their corresponding stats:
Thank you for reading 5 articles this month* Join now for unlimited access
Enjoy your first month for just £1 / $1 / €1
*Read 5 free articles per month without a subscription
Join now for unlimited access
Try first month for just £1 / $1 / €1