Manchester City fans BOO Premier League anthem in protest at financial charges
The Premier League champions were charged earlier this week with over 100 alleged breaches of the competition's financial rules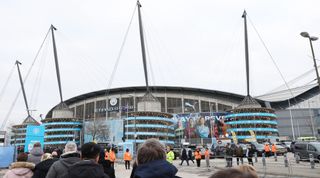 (Image credit: Clive Brunskill/Getty Images)
Manchester City fans booed the Premier League anthem ahead of their team's home match against Aston Villa on Sunday, at the end of a week in which the club were charged with more than 100 alleged breaches of the competition's financial rules.
News broke on Monday that City had been charged following a four-year investigation into their financial dealings between the 2009/10 and 2017/18 seasons – during which they won the first three of their Premier League titles.
Experts have said that it may be years before we know whether City are guilty as charged or not, but potential punishments range from fines to relegation. They could also be stripped of those titles.
Supporters' expression of dissatisfaction with the Premier League didn't stop at drowning out the anthem as the teams lined up for the pre-match handshake, either: they also unfurled a banner showing support for David Pannick, the lawyer the club have appointed to defend them.
Pep Guardiola has echoed the sentiments of the fan base, claiming that City have "already been condemned" by the Premier League's other 19 clubs – and citing the European ban City received in 2020 for alleged UEFA Financial Fair Play (FFP) breaches which was later overturned on appeal.
Thank you for reading 5 articles this month* Join now for unlimited access
Enjoy your first month for just £1 / $1 / €1
*Read 5 free articles per month without a subscription
Join now for unlimited access
Try first month for just £1 / $1 / €1