Muted response in States to Beckham quit rumours
LOS ANGELES - David Beckham's suggestion that he might not return to Los Angeles Galaxy after his loan stint at Italian club AC Milan did not spark much of a response in the United States on Wednesday.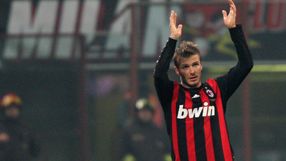 Neither Major League Soccer nor the Galaxy commented on statements made by Beckham earlier in the day while Tim Leiweke, chief executive of AEG, the entertainment conglomerate that owns the Galaxy, could not be reached by Reuters.
"Major League Soccer's policy is that we do not comment or provide information on MLS employee contracts, which includes all players," Dan Courtemanche, senior vice-president of marketing and communications for MLS, told Reuters.
"That's been the policy since 1996 and is unlikely to change."
A Galaxy media official gave a much terser reply to a Reuters inquiry: "No comment."
However, Leiweke vehemently asserted in Wednesday's edition of the Los Angeles Times that Beckham would be returning to the Galaxy once his two-month loan spell ended in early March.
"David is under contract to the Galaxy and I had a good, straightforward conversation with him before he left and he loves it in L.A.," Leiweke was quoted as saying.
"He wants a better Galaxy team, we're going to have a better team and David has no interest in going.
"We have a contract, we have a handshake, his kids go to school here, end of story. There is no story. He's going to return to the Galaxy."
Leiweke's comments are in line with those made to Reuters by Beckham's spokesman Simon Oliveira last week.
'ALWAYS SPECULATION'
"There is always going to be speculation in sports pages and newspapers," Oliveira said. "David is enjoying his time in Milan but he is contracted to return on March 9th to L.A.
"It still stands and absolutely no conversations have taken place regarding changing that."
For all the speculation, there can be no doubt that Beckham has relished competing again at a high level and Milan Chief Executive Adriano Galliani has said the seven-times European champions were willing to pay Galaxy a fee for him.
"Playing here is every footballer's dream," Beckham told Italian paper Corriere della Sera on Wednesday when asked if he would go back to the United States as initially planned in March.
"But it's not easy to decide. It's a matter that requires time. I'm under contract with, and have lots of respect for, Galaxy.
"But the possibility to play at Milan is something special. I knew I'd have fun but I didn't expect to have so much fun. Anyway, I am a very respectful person."
The 33-year-old midfielder scored his first Milan goal in the 4-1 win at Bologna last weekend before scoring again in Wednesday's 1-1 draw at home by Genoa.
England manager Fabio Capello, who flew to Italy to see Beckham play against Genoa, has hinted his good form would be rewarded with a call-up to his squad for the friendly in Spain on February 11.
One of the world's most marketable sports figures, Beckham joined the Galaxy in July 2007 on a five-year deal and had been expected to earn an estimated $250 million with the club, financed heavily by endorsements.
Thank you for reading 5 articles this month* Join now for unlimited access
Enjoy your first month for just £1 / $1 / €1
*Read 5 free articles per month without a subscription
Join now for unlimited access
Try first month for just £1 / $1 / €1
Get FourFourTwo Newsletter
The best features, fun and footballing quizzes, straight to your inbox every week.