Pompey sign Pele! (and Hayden Mullins)
Portsmouth announced a double signing on Monday as Portuguese midfielder Pele arrived on loan from Porto and Hayden Mullins was signed from West Ham United on a three-and-a-half-year deal.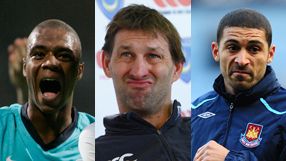 Pele, 21, a Portugal under-20 international, has joined the Premier League side until the end of the season with a view to a permanent deal.
See Pele's profile on the new expanded Talentspotter – now including Champions League and La Liga
"Hayden and Pele will add strength to our midfield," executive chairman Peter Storrie told the club's website (www.portsmouthfc.co.uk).
"Both players have been on our radar for a while but we wanted them here in time to beat Monday's midday deadline to play against Aston Villa (on Tuesday).
"Hayden is an experienced player who has played exceptionally well against us in the past. He's a guy with immense experience in the Premier League and that's what we need in this situation."
Mullins, 29, joined West Ham from Crystal Palace in 2003 and has been a regular in Gianfranco Zola's team. He joins Portsmouth for an undisclosed fee.
"Pele is an exciting young talent. He did well for Inter Milan before joining Porto," Storrie said.
"He's an expensive player so it's a deal with an option to buy so we can both have a look at each other."
Pele joined Porto at the start of the season having played for Inter as a teenager.
"The Portsmouth fans can expect to see a lot of work and dedication and hopefully some goals," Pele told the website.
PORTSMOUTH FANS! Check FourFourTwo.com's ever-expandinginterviews archivefor more stuff to read:
Boy's A Bit Special Armand Traore
Ask A Silly Question Peter Crouch
What Happened Next? Peter Marinello
Plus! Chris Kamara on Weekend Wonders (opens in new tab) and Pompey on Talentspotter (opens in new tab)
Thank you for reading 5 articles this month* Join now for unlimited access
Enjoy your first month for just £1 / $1 / €1
*Read 5 free articles per month without a subscription
Join now for unlimited access
Try first month for just £1 / $1 / €1