Silky Spain seek semi-final spot
BLOEMFONTEIN, South Africa - Spain would become the first team to qualify for the Confederations Cup semi-finals if they beat Iraq in their second Group A on Wednesday.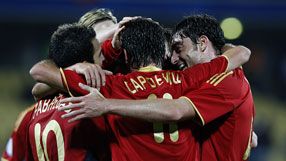 The European champions crushed Oceania champions New Zealand 5-0 on Sunday and are expected to extend their unbeaten run to 34 matches, one short of Brazil's all-time record of 35, when they face the Asian champions at the Free State Stadium.
A Spain victory would also extend their winning sequence to 14 matches and put them level at the top of FIFA's all-time list for successive victories with France, Brazil and Australia.
"The record is extra motivation but the most important thing is to get into the semi-finals" said Spain coach Vicente Del Bosque, who is planning several changes to the side which routed the Kiwis.
Iraq played negatively against South Africa to earn a point from a 0-0 draw on Sunday but the hosts will be looking to improve on that performance when they meet New Zealand in Rustenburg.
New Zealand were outclassed by Spain but the match against South Africa is likely to be tighter. South Africa will be under far more pressure to keep local interest alive in the tournament which has yet to produce a capacity crowd for any match.
FIFA president Sepp Blatter suggested on Monday that tickets should be given away for free to poorer or younger fans so they get the chance to see games.
Thank you for reading 5 articles this month* Join now for unlimited access
Enjoy your first month for just £1 / $1 / €1
*Read 5 free articles per month without a subscription
Join now for unlimited access
Try first month for just £1 / $1 / €1