Gabbiadini: How to stay calm in front of goal
The Southampton striker explains how to stay calm in front of goal and cope with high-pressure games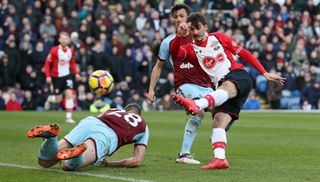 Hi Manolo. Are natural goalscorers just born or can they be developed?
Certain talents, in my opinion, you just have within you. However, training can improve certain skills, and you should always try to train as hard as you can. It's important to work on everything – your right foot, left foot, heading the ball, protecting the ball, everything. You must always give 100% to make sure you reach your potential. If your 100% is a 6/10 in terms of quality, that's ok. If it's 4/10, that's ok as well. The important thing is that, if you're capable of giving 4/10, you give 4/10, not 2/10. Then, if you're talented enough to reach 10/10, you better reach 10/10, not 7/10. That's my objective. My right foot might be a 4/10; but the important thing is that I hit that 4/10, never settling for 2/10. You have to train with that mindset.
You played under free-kick master Sinisa Mihajlovic during your time at Sampdoria. Did he help you to see the game from a defender's point of view?
To be honest, he loved to take part in free-kick competitions at the end of training sessions – so he was still very offensive in his thinking. He is still fantastic at taking free-kicks and it was great to have a manager who retained that enjoyment of playing the game.
Do you see similarities between your style and that of other strikers?
No. I say that because I don't like comparisons. I think it's a little bit ugly to compare yourself to another player. However, one thing that people have always said - although I never really saw him play because I was little - is that I play like the former Cagliari striker, Gigi Riva. But other people say that. I don't say it, because I never saw him. I know he was a great player, though, so that's nice to hear.
Do you think the role of the modern striker has changed in recent years?
I think the modern striker now has to be capable of doing everything. It isn't enough to just score goals. We are now expected to be the first line of defence, provide assists, and score put the ball in the back of the net. And we have to be able to do all of that in several formations. The more rounded you are as a player, the better chance you have of enjoying a long career.
Lots of players lose their nerve in front of goal – how do you stay calm?
It's not easy to stay calm, even the very best players in the world can struggle to keep their emotions in check. A lot of the time tiredness can play a major part. When you're short of breath, it affects your vision and you can't see the goal as well as you would when you're fresh at the start of the game. There are a lot of factors. So maybe today I'll score a goal, but tomorrow I'll miss. It happens. That's football. If I scored every time, I wouldn't be human and that wouldn't be football. You can mess up sometimes, and you can score other times. The important thing is that you react well to making a mistake and don't allow it to affect your confidence.
Are you the type of player that thrives under pressure during a big match?
I have to say that I do feel pressure, but I like to feel it before a match, because it allows me to enter the spirit of the game and adapt to the rhythm of the game quickly. But, when you're out there on the pitch, whether you're playing against a team like Manchester United, or you're playing a team from the Championship - it's the same thing, because everything disappears once the referee blows for kick-off. You just think about playing, you don't think about the pressure.
How do you adapt your game against different types of central defenders?
Here at Southampton we have performance analysts who study opponents and then show the players the footage on an iPad. Before every match I like to watch the goalkeeper and see how he moves at free-kicks and reacts to certain types of shots. I also look at the defenders, to see if one of them is faster and one is slower. The objective is to find their weakest point and exploit that.
The Premier League is very physical - did you do any extra work to get stronger before joining Southampton?
No. When I came here, I joined in with the usual team training, and that's it. I have never been - and will never be - a big, bulky striker. The most important thing is that I'm sharp in the final third and fast over short distances so I can pounce on chances. I felt I already had that in Serie A, so I didn't feel I needed to do additional work to get up to speed or anything like that.
Quizzes, features and footballing fun
Get the best features, fun and footballing frolics straight to your inbox every week.
Thank you for signing up to Four Four Two. You will receive a verification email shortly.
There was a problem. Please refresh the page and try again.