Leonardo Jardim's management masterclass
Monaco coach Leonardo Jardim talks to FFT about taking his first coaching job at 27, the secret to effective man-management and how to halt dressing room unrest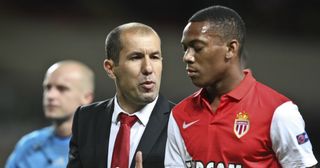 Your first managerial role came when you were just 27, has your vast experience given you an advantage as a coach?
I was coaching an under-13 side at 19-years-old and then I became an assistant manager at 21, before taking my first managerial job at Camacha at 27. I never stopped training. This has given me something that many don't understand: 15 years' experience. Listen, experience is not knowledge. Experience is experience by itself and nothing more, it's completely different from knowledge. Experience gives me the ability to make better decisions and fewer mistakes. That's what experience can give you - the capacity to make better decisions or to improve decision making as we repeat some of our decisions.
How were you able to command the respect of players who were older than you?
Honestly, I've never had big problems in my 15 years as a first team coach. I always try to be close to the action, so I don't allow problems to grow. I think that problems exist because people allow them to exist. In football, everything happens in the fast lane. Football is about emotions and if you don't pay attention a minor thing then it can suddenly become a big problem.
Is it important for a manager to be close to his players?
My secret is being close to my players and staff. It's so important to be close to everything that influences the performance. On other hand, being close by doesn't mean that I have a close relationship with the players. Those are two completely different things. The biggest risk is right there, on lowering or rising that distance between people, that's imperative. I don't believe that a coach that makes himself distant from his players can get the best out of each one.
Do you adapt your management style for different personalities?
It's vital. We are all the same and, at the same time, all different. The same feedback can cause one player to be anxious, another to relax or others to overthink things. That's why we have to know our players really well. To upgrade the performance of some players I have to motivate them and others I have to be more critical of so I can get a good reaction. Nowadays, football as an industry is more aware of the importance of this aspect. Scouting is more aware of this detail and for me personality and learning ability is essential. If a player has the last two aspects, he can get away with not having certain other qualities.
Do you think you can become a top manager without being a leader?
Leading is really important to me and to my work. It's one of the manager's most important tasks. We have to understand the game and have training knowledge. We even have to know something about the medical part of the game and about managing the media. We have to have knowledge of a number of different areas, but leading is the starting point. If you don't have leadership skills it's difficult to become a manager. Football management is all about leading a team, leading different working groups. It's also vital to transmit trust and confidence to the club's board and the fans.
Do you study great leaders in football and other fields?
In my career I've adapted myself to different experiences. Leading Monaco is different from leading Camacha, Desportivo de Chaves, Beira-Mar, Sporting or Olympiakos. Each situation is a new situation. You can't buy leadership. My leadership is my leadership. I know other leaders, I read about others, too, but my leadership is a self-made one. I think that it's a mistake to try to copy someone else's leadership style. Every manager should lead in the way that he feels most comfortable. Obviously, I identify myself with other leaders and I know some good leaders that behave in a way that I couldn't adapt to. But you don't get to really know the personality behind other leaders - you only know the image they transmit.
How often do you speak to players one-on-one?
Every day. I speak to them every day, but all methods of communication are important. We have collective messages, to the players, to the staff, and everyone that is part of the process. Sometimes I have specific messages for our defence, midfield or attack as a unit, but also by position. For example, I may have individual messages for my striker, left winger or central defender. I don't speak to each one individually on a daily basis, but I speak one-on-one to some players every day. It depends on the personality and the needs of the player.
Are modern players more difficult to manage than those at the start of your career?
Nowadays the world is more complex. There is a greater knowledge from all areas and, today, people actively seek new information. Now you cannot give false information to a player like some coaches did in the past because now your players will understand easily what is true and what is not. Thirty years ago your coach would say that eating a certain fruit was good for your performance and that would be a law. Today it's not. It's also important to understand that we now have social media, agents, and that each player is now a fan's institution. These are all problems that didn't exist in the past. Players have the individuality principle and today they have an appreciation of their image that didn't exist in the past. Falcao has 12 million followers on Twitter alone, which is more than some Ligue 1 clubs.
You've already worked in three different countries - do you think a coach can be successful without learning the language of the country they work in?
The biggest difficulty when moving to a new country is to deliver your message to the fans and the media. Inside the club, it's the same everywhere. In Monaco's squad we have Italian players, French, Brazilians, Spanish, Portuguese, etc. As a manager, we have to have the communication skills to transmit our idea to the club. To be successful abroad, you need a great knowledge of the country you are working in and the capacity to speak the native language fluently. If you don't have at least one of those things, you will struggle. Football is emotion, it's momentum.
When I was at Olympiakos, the president invested in Greek players and they didn't speak any English. In Greece I had to use a translator. To learn the language is always important to transmit your idea but the image is also important. I can give you an example. In the Champions League group phase we played Tottenham, who are managed by Mauricio Pochettino, a manager that I truly admire. In the beginning at Tottenham, he did use a translator, but I'm sure that he knew English. The question was if the knowledge that he had about the language was enough for him to transmit his ideas. Here in France I took a risk and spoke French from day one, even with some difficulty, but sometimes that's a key aspect.
Thank you for reading 5 articles this month* Join now for unlimited access
Enjoy your first month for just £1 / $1 / €1
*Read 5 free articles per month without a subscription
Join now for unlimited access
Try first month for just £1 / $1 / €1
Get FourFourTwo Newsletter
The best features, fun and footballing quizzes, straight to your inbox every week.