10 excellent FIFA 18 Ultimate Team bargains for under 2,000 coins
Bradley Russell scours the FUT 18 transfer market to bring you these budget-friendly players - snap them up fast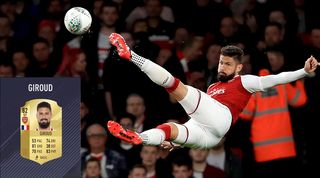 FIFA Ultimate Team is just as addictive as when you used to swap football stickers in the playground and, just like in the halcyon days of Got, Got, Need, it's going to cost you. If you're a little short in the way of virtual coin, though, here are the 10 best FIFA 18 Ultimate Team bargains you can pick up without breaking the bank.
The disclaimer: prices can and will fluctuate depending on Squad Building Challenges, demand, and even which platform you're playing on. Please take these prices as a guide only.
1. Tom Heaton (GK)
Potential cost: 700
Need to know: Fresh off producing the goalkeeping heroics for Burnley that earned him an England call-up, Heaton gets a much-deserved FIFA 18 Ultimate Team boost. Thankfully for your wallet, not many people have noticed his great stats. His 83 reflexes see him go to toe-to-toe (or should that be glove-to-glove) with the world's best keepers.
2. Mario Gaspar (RB)
Potential cost: 1,000
Need to know: There's a reason this guy is featured both here and on last year's FIFA 17 Ultimate Team bargains list: he's bloody good. Possessing some of the best all-round stats for any full-back in the game, as well as a frankly ridiculous 81 shot power, Gaspar will be a threat on the attack as well as rock solid at the back. A must-buy.
3. Layvin Kurzawa (LB)
Potential cost: 500
Need to know: Don't let his non-rare status fool you – this guy can mix it with the best of them. A snip at only 500 coins, if you're looking for an extremely cheap and reliable full-back then PSG's Kurzawa is your man. Sure, he may lack the abilities of some of his star-studded team-mates, but he's a fantastic tackler and solid on the ball to boot.
4. Sebastian Coates (CB)
Potential cost: 1,000
Need to know: The ex-Liverpool man has undergone something of a renaissance in recent times. Even so, we didn't realise he'd turned into a freakishly strong centre-half, as his 93 strength will attest. Even if you can somehow out-muscle the big man, he'll keep nipping at your heels with that 82 aggression of his.
5. Mamadou Sakho (CB)
Potential cost: 1,200
Need to know: After almost single-handedly keeping Crystal Palace in the Premier League at the back end of the 2016/17 season, Sakho is showing no signs of slowing down – on FIFA at least. What he lacks up for in technical ability he more than makes up for in his defending and physical stats. Simply put, he's one of the best Premier League defenders you can buy without taking out a small loan and worrying about hired goons breaking your kneecaps.
6. Jorginho (CM)
Potential cost: 1,300
Need to know: AKA the best player you've never heard of. Your opponents will remember the name, though, once you've let this swashbuckling central midfielder loose. Blessed with exceptional technical ability and touch-tight ball control, Jorginho will leave defenders scampering on their heels – and have them heading to Wikipedia.
7. Suso (RW)
Potential cost: 950
Need to know: Sticking with Serie A, Milan's Suso is yet another attack-minded player who will have you harking back to the romanticised days of Football Italia. No James Richardson sitting outside a cafe in Naples here, though. Just a plain old brilliant winger. He's got four-star skills too; a must for the final third in FIFA 18.
8. Olivier Giroud (ST)
Potential cost: 1,200
Need to know: With this year's FIFA entry offering up more chance to lump it into the mixer, Giroud could prove invaluable for fledgling squads. The Frenchman offers an extra dimension to any squad and, as he is an Arsenal player, his touch is silky smooth. That 82 reactions stat shouldn't be sniffed at either. Hey Bobby, what's the French for 'good touch for a big man'?
9. Samuel Eto'o (ST)
Potential cost: 650
Need to know: Yes, that Samuel Eto'o. You'd be forgiven for thinking he'd packed up and retired by now, but you'll be thanking your lucky stars he hasn't once you get your hands on the Cameroonian. Boasting lethal finishing ability and a remarkable 89 heading stat (perfect for this year's reliance on crosses into the box), Eto'o has no intention of going quietly into that good night.
10. Josip Ilicic (CF)
Potential cost: 1,000
Need to know: Francesco Totti may have departed Serie A but this guy plays like the second coming of Il Capitano. His pace may not be up to scratch, but he can do everything else. Set pieces, 30-yard screamers, cutting open a defence with a well-timed through ball – you name it. And just to add the cherry on top: he's got four-star skills. Bellissimo.
More FIFA 18...
REVEALED! FIFA 18 career mode transfer budgets for every Premier League team
FOURFOURTWO FILMS The Cult of FIFA: Inside the world of professional gaming
REVIEW FIFA 18: like Ronaldo, it's fashionable to hate but mostly exceptional
FIFA 17 11 brilliant FIFA 17 Ultimate Team bargains for under 2,000 coins
Quizzes, features and footballing fun
Get the best features, fun and footballing frolics straight to your inbox every week.
Thank you for signing up to Four Four Two. You will receive a verification email shortly.
There was a problem. Please refresh the page and try again.