Fear not, Hammers: 5 clubs who sold a star man... and then did better
By Robert O'Connor published
Dimitri Payet may be desperate for a way out of West Ham, but Robert O'Connor has picked out a clutch of clubs who thrived without their key man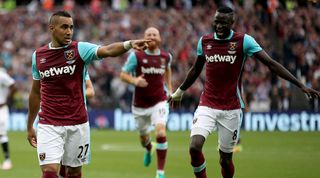 1. Thierry Henry, Arsenal (2007/08)
When Thierry Henry rose to plant a rare stoppage-time header past Edwin van der Sar in Arsenal's 2-1 win against Manchester United in February 2007, the last thing on anyone's mind was that a definitive chapter in the club's history was closing. Six months earlier the ribbon had been cut around the shimmering new Emirates Stadium which, said Arsene Wenger and his board, would mean renewed spending powers and a new age of plenty for the previously hamstrung Gunners.
HENRY POST-ARSENAL
Barcelona 2007-10 (121 apps, 49 goals)
New York Red Bulls 2010-14 (135 apps, 52 goals)
Arsenal (loan) (7 apps, 2 goals)
Trophies La Liga (2), Copa del Rey (1), Champions League (1), MLS Eastern Conference (2), MLS Supporters' Shield (1)
But by June the captain and record goalscorer was gone, Barcelona-bound for what seemed a modest £25 million, with insiders at the club acknowledging that Henry's final season in north London had been a gesture of kinship towards the club he loved in order to help shift season tickets for the Emirates' debut season.
Whatever the inside line, Arsenal defied the doom-mongers and were transformed. A young squad emerged from the shadow that the still-prolific Henry had cast, flourishing both as individuals and a collective. Cesc Fabregas revelled in his new role as the team's major creative hub, while a re-focused William Gallas inherited the captain's armband with purpose. Arsenal won seven of their first eight post-Henry league games with devastating intent, and sat a handsome six points clear in the New Year.
But a very public meltdown by Gallas and a horrific double leg break for Eduardo on a fateful February lunchtime at Birmingham sparked the late-season collapse that will always define 2007/08 for the Gunners. No Arsenal side since has come as close to claiming a fourth Premier League title.
2. Jimmy Floyd Hasselbaink, Leeds (1999/00)
JIMMY POST-LEEDS
Atletico Madrid 1999-00 (43 apps, 33 goals)
Chelsea 2000-04 (177 apps, 88 goals)
Middlesbrough 2004-06 (89 apps, 34 goals)
Charlton 2006-07 (29 apps, 4 goals)
Cardiff 2007-08 (44 apps, 9 goals)
Trophies N/a
Jimmy Floyd Hasselbaink was always something of a black sheep in David O'Leary's class of '99 at Leeds. In a team of fresh-faced youngsters reared in-house at Elland Road, Hasselbaink's ready-made star quality set him apart – not in terms of ability in what was a precocious team talented beyond its years, but rather as an imported finishing touch when all around him felt organic to the point of seeming accidental.
Even so, the summer 1999 departure of a player who'd averaged a goal every two games in two blistering seasons in West Yorkshire issued a major threat to the ambitions of O'Leary's upwardly mobile starlets. Many feared that the loss of the talismanic forward would leave an inexperienced side rudderless when the going got tough.
But those worries were groundless. Almost a year to the day after Hasselbaink had struck the winner against Arsenal on his Elland Road swansong, Michael Bridges scored against Everton to all but guarantee Champions League football for Leeds after an eight-year absence. The goal was Bridges' 21st of an electrifying season, fittingly taking him one ahead of the Dutchman's tally in his final season before he departed for Atletico Madrid, as fearless young Leeds scaled new heights.
3. Kieron Dyer, Ipswich (1999/00)
DYER POST-IPSWICH
Newcastle 1999-07 (250 apps, 36 goals)
West Ham 2007-11 (34 apps, 0 goals)
Ipswich (loan) 2011 (4 apps)
QPR 2011-13 (8 apps, 1 goal)
Middlesbrough 2013 (9 apps, 2 goals)
Trophies N/a
In late 1998, as Ipswich strained every sinew to break back into the Premier League, there was no hotter property in the First Division than Kieron Dyer. The industrious 20-year-old was the fulcrum of a team that came within a whisker of the top flight after a series of play-off failures, which made it all the more bizarre when a local reporter failed to recognise the Tractor Boys' starlet when out interviewing on the streets of Ipswich about the team's promotion prospects.
The hapless hack presumably didn't miss Dyer too much when he departed for Newcastle in summer 1999 after Town failed to make the top flight again, but the ease with which the team adapted to their star man's departure was as unexpected as it was creditable. Three seasons of play-off heartbreak were banished when Dutch forward Martijn Reuser smashed in Ipswich's fourth against Barnsley in the 2000 final; the following season Ipswich finished fifth to secure UEFA Cup football.
4. Patrick Vieira, Arsenal (2005/06)
VIEIRA POST-ARSENAL
Juventus 2005-06 (42 apps, 5 goals)
Inter 2006-10 (91 apps, 9 goals)
Man City 2010-11 (46 apps, 6 goals)
Trophies Serie A (1 with Juve, 3 at Inter), FA Cup (1)
It's difficult not to empathise with Patrick Vieira's decision to swap Arsenal for Juventus in summer 2005. After what had felt like a career's worth of speculation linking the mercurial captain with Europe's biggest hitters, and with the Gunners looking further than ever from cracking the Champions League riddle after a debacle of an exit to Bayern Munich in March, Vieira finally caved and told the club he saw his future elsewhere. With that, Arsenal's door to success in Europe seemed to slam shut audibly.
Instead, that rumble turned out to be the sound of something stirring in the Gunners' ranks. There can be few more stark examples of embarrassment in European football than the night Vieira was rendered ineffectual as Arsenal soared past Juve in the Champions League quarter-final at Highbury en route to setting up a showpiece final against Barcelona in Paris, where the former skipper had surely always imagined his European dreams would be realised. Both parties presumably still rue the way things turned out.
5. Roy Keane, Man United (2005/06)
KEANE POST-UNITED
Celtic 2005-06 (13 apps, 1 goal)
Trophies SPL (1), Scottish League Cup (1)
That the final five years of Roy Keane's tenure as Manchester United captain brought with them the bleakest Premier League era return for the Red Devils is one of the hidden quirks of Sir Alex Ferguson's reign. As United conceded the initiative first to Arsenal and then to early-Abramovich Chelsea, Keane took to the MUTV airwaves to lambast the struggling squad rather than take the side by the scruff and haul them back into line, as he had done following serious injury in 1999.
He'd already played his final game for the club by the time he tore into Rio Ferdinand after a shoddy performance at Middlesbrough – a TV interview that was ultimately pulled by the club hierarchy – as the Irishman's relationship with the United management slumped to an irredeemable low. By the time he departed for Celtic, most had seen the writing on the wall.
Far fewer, however, predicted the sudden return to dominance that the club pulled off no sooner than Keane was out of the door. Three successive titles followed, part of a run that would deliver five Premier League crowns in seven years, providing a puzzling footnote to the career of the club's most successful-ever skipper.
Now read this stuff
Thank you for reading 5 articles this month* Join now for unlimited access
Enjoy your first month for just £1 / $1 / €1
*Read 5 free articles per month without a subscription
Join now for unlimited access
Try your first month for just £1 / $1 / €1
Quizzes, features and footballing fun
Get the best features, fun and footballing frolics straight to your inbox every week.
Thank you for signing up to Four Four Two. You will receive a verification email shortly.
There was a problem. Please refresh the page and try again.