Matt Holland on World Cup 2002: "I still look back and think 'What if?'"
By Andy Greeves published
The former midfielder talks to Andy Greeves about some stirring performances from the Republic of Ireland in Korea and Japan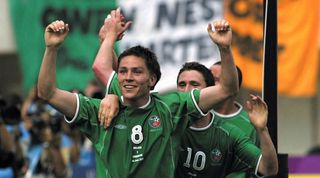 What were Japan and South Korea like as host nations for that tournament?
We only played the one game in South Korea, so I didn't spend a lot of time there. Japan was fantastic though. The people were very warm towards us and on the occasions we'd be looking to get somewhere, we'd ask directions and the locals would literally walk us to the door of where we needed to go.
You scored in Ireland's opening Group E match against Cameroon. What are your memories of that?
We were 1-0 down at half-time and in truth, we hadn't played that well in the first 45. We started the second half in a much better fashion and about seven minutes in, Kevin Kilbane put in a good cross which got headed out by one of their players into my path. The ball sat up nicely and it was one where you think "Just hit it".
Seeing it hit the back of the net was incredible. It was already a dream to be playing at the World Cup, let alone scoring at it. You just lose yourself for a moment after you've scored in such a massive tournament. It was an important goal too, as we got a draw rather than losing the first match. It's always important to get at least a point on the board in your first match of a tournament.
​
Ireland again came from behind to draw 1-1 with Germany in your second group game. How good a performance was that from you against the eventual tournament runners-up?
We'd more than matched them I though and we'd had decent possession. Going into stoppage time at the end of the 90 minutes and trailing to a Miroslav Klose goal though, I did start to wonder how we were going to break down a world-class team, with the likes of Oliver Kahn in goal, Dietmar Hamann and Michael Ballack in midfield etc.
It was great to have that option of bringing Niall Quinn on to support Robbie Keane and Damien Duff in attack though and that gave the Germans some problems. Robbie's goal came after a long ball was headed down into his path by Niall... cue some fantastic celebrations!
In your last group game you were expected to beat Saudi Arabia, who were already out of contention having lost to Germany and Cameroon. Were they dangerous opponents with nothing left to play for other than pride?
Yes, I think so. They'd been thrashed 8-0 by Germany in the group, so we knew their first priority was going to be keeping things tight at the back to stop such another heavy defeat. An early goal from Robbie [Keane] settled us down and I think we were confident of the win from there. We ended up winning 3-0 to go through to the knockout stages and a match against Spain.
As against Cameroon and Germany, Ireland came from behind to equalise against Spain in the last 16. What were your thoughts at that moment?
Robbie Keane scored a penalty to equalise on the 90th minute. Fernando Morientes had scored for Spain in the first 10 minutes, but we'd played really well all game and in extra time too. We just kept on going. I guess when you get late equalisers against the likes of Germany and Spain, you start to wonder just what you could achieve. We were more than a match for them, for sure.
What memories spring to mind of the penalty shootout?
I think there were five misses in total, so all in all, it wasn't a good shootout. I was the first player to miss and it's just the worst feeling you will ever experience as a professional. Spain won 3-2 on penalties and it was a devastating way to lose. We all felt we could have gone further.
How do you reflect back on the 2002 World Cup?
At the time, you are just so disappointed about being knocked out, you struggle to take positives away. Looking back though, we can reflect with pride on what were some great performances by us at that World Cup. It was an incredible time in our lives for sure.
You also reflect back and still think "What if" though. Thinking how well we played against Germany for one, who got to the final that year, we were certainly capable of matching any team at that tournament.
Thank you for reading 5 articles this month* Join now for unlimited access
Enjoy your first month for just £1 / $1 / €1
*Read 5 free articles per month without a subscription
Join now for unlimited access
Try first month for just £1 / $1 / €1
Quizzes, features and footballing fun
Get the best features, fun and footballing frolics straight to your inbox every week.
Thank you for signing up to Four Four Two. You will receive a verification email shortly.
There was a problem. Please refresh the page and try again.